Every issue of the Punchbowl News newsletter, including our special editions, right here at your fingertips.
Join the community, and get the morning edition delivered straight to your inbox.
Event Takeaways
Event Takeaways: Punchbowl News Pop-Up Conversation with Sen. Susan Collins
THE PREMIUM COMMUNITY AT
Thank you so much for joining our virtual pop-up Punchbowl News event with Sen. Susan Collins (R-Maine) yesterday. The conversation focused on the future of infrastructure investments and the importance of broadband access to communities across the country. Afterward, Comcast Executive Vice President of Public Policy & Executive Vice President of Digital Equity Broderick Johnson joined Anna for a fireside conversation.
Here are our key takeaways from the event:
→ Collins stressed the importance of broadband for rural states. 
The Maine Republican focused in particular on how high-speed internet is a difference maker when it comes to education, the economy and healthcare. She has seen that play out first hand in her home state, where some remote areas lack access to broadband. 
"It's become not a luxury, but a necessity. So in a rural state, that's a large rural state like Maine, having access to high speed internet and making it future-proofed so that we don't have to redo things in just a few years, makes a real difference in terms of the economy, health care, and education.

And that's why I'm so excited about the $65 billion that we negotiated, Jeanne [Shaheen] and I, negotiated with the Secretary of Commerce, Gina Raimondo, who was terrific. And I'll tell you, we were in my office at times till midnight working on this. It wasn't easy."
→ Collins said child care and immigration reform were potential areas for bipartisan legislation in 2022. 
Collins was part of the G10 working group that negotiated the bipartisan infrastructure law. Collins expressed optimism her group could work together again to lower child care costs while expanding access.
Collins also predicted there was a bipartisan opportunity to negotiate an immigration compromise that strengthens border security while offering a pathway to citizenship for Dreamers.
"There are issues there such as on child care, where we could reach an agreement that would involve increasing access and affordability to childcare. That would be one example.

Another really tough issue, but one that we're going to have to tackle sooner or later, is immigration reform. And to me, you could put together a border security section with a pathway to citizenship for Dreamers — those young people who are brought to this country by their parents at a very young age."
→ Collins said Sen. Joe Manchin (D-W.Va.) told her this week he was worried about the size of the Build Back Better package.
The two are close friends and have worked on bipartisan legislation in the past. And both of them, according to Collins, believe BBB will worsen the country's inflation crisis.
"Well, I don't presume to speak for Joe. But I do know from conversations I've had with him as recently as last night that he remains concerned, as many of us are, about the cost of the package and its impact on inflation, which is now at a 40-year high.

So I think that the bill is still being shaped to try to respond to those concerns. I also really wonder how the bill can be done in time for Christmas, when we don't even have final text yet."
→ Collins criticized the Child Tax Credit — a major Democratic legislative priority that the party has been touting in 2021.
The monthly payments to families are set to expire next month if Congress does not take action to extend the benefits, which are credited with lifting millions of children out of poverty.
"I am wary of severing the link between the credit and work. That's always been like the Earned Income Tax Credit. It's always had that link — you get assistance from the government, but you also try to encourage people to work."
→ Broderick Johnson spoke on the country's digital divide and pointed out that 20% of Americans do not have fixed broadband at home. 
"We know that there are two core parts of the digital divide. As the senator mentioned, there are unserved locations and there are millions of our fellow citizens who haven't adopted broadband. Now on the good news side, adoption rates — and adoption is extremely critical to focus on — but adoption rates for low income households, underrepresented minorities, rural households and individuals with lower levels of educational attainment have been increasing steadily over the last decade.

And yet, despite these gains, broadband adoption — not deployment, but adoption — remains the most significant barrier to achieving digital equity. While only approximately 2% of Americans lack access to fixed broadband, over 20% do not subscribe to fixed broadband at home."
A big thank you to Comcast for partnering with us on this event. Watch the full conversation here.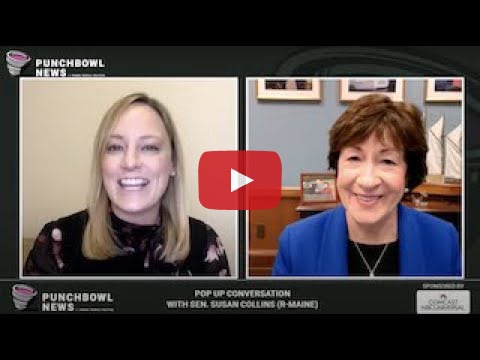 For those of you who aren't Punchbowl News subscribers, we hope you'll join the community. Our free morning newsletter comes out Monday through Friday. You can sign up here. We also invite you to consider our premium community — which includes a midday and evening wrap-up as well as lots of members-only events. 
Thanks again for joining!
Team Punchbowl News
Crucial Capitol Hill news AM, Midday, and PM—5 times a week
Join a community of some of the most powerful people in Washington and beyond. Exclusive newsmaker events, parties, in-person and virtual briefings and more.
Subscribe to Premium
The Canvass Year-End Report
And what senior aides and downtown figures believe will happen in 2023.
Check it out
THE PREMIUM COMMUNITY AT