Every issue of the Punchbowl News newsletter, including our special editions, right here at your fingertips.
Join the community, and get the morning edition delivered straight to your inbox.
Event Takeaways
Event Takeaways: Punchbowl News Pop-Up Conversation with Sen. Tom Carper
Thank you so much for joining our virtual pop-up Punchbowl News event with Sen. Tom Carper (D-Del.). The event focused on the role private capital is playing to spur investment in renewable energy and infrastructure. The American Investment Council partnered with us to make this conversation possible. Carper weighed in on the debt limit, the current state of the bipartisan infrastructure deal and key climate provisions within the bill.
→ Carper's willing to change the filibuster to solve the debt limit crisis:
"I've been reluctant to want to modify and change the filibuster and a whole lot of people I came and initially served with in the Senate felt that way as well, still feel that way. I like to say be careful the bed you make because you may get a chance to sleep in that bed. There are a couple of exceptions, I would be willing. I don't want us to default on our debt. And I would waive the filibuster or at least suspend the filibuster for a period of time so that we could make sure that we don't default on our debt."
→ Carper harped on the need to pass the infrastructure bill:
"I have the pleasure of leading the Committee on Environment and Public Works with Shelley Capito of West Virginia. Our legislation provides the foundation on which the bipartisan infrastructure bill is built. So a lot of goods there, a lot of good for our economy, roads, highways, bridges, climate change, drinking water, you name it, and I don't want to waste the opportunity to get that done we got to get that done. We've passed it with a bipartisan majority in the Senate, it's over in the house, I hope and pray they will pass it as well.
→ Carper wants to focus on policies that can encourage clean energy investments:
"We've introduced legislation that creates some coproduction tax credits, and investment tax credit for hydrogen that will be a game changer for the industry. Whether it has to be on cars, trucks and vans, frankly, in housing, and also in manufacturing. That is something that's just over the horizon, but not far over the horizon. And we have the opportunity. The key here is not just to do a tax revision for six months or 12 months and say well maybe we'll extend it beyond that. We have to provide certainty and predictability for a longer period of time. That's what businesses need certainty and predictability. And we have to make sure that we're doing that with our texts, whether it's investment tax credits or production tax credits."
→ Carper thinks the reconciliation package will be $2 trillion:
"I'm from West Virginia, Joe Manchin's from West Virginia. And we are pretty good friends. So I'm trying to play a constructive role as I think all of us are, so that we can get to where we need to be. I've said for months now, there's a number between zero and $3.5 trillion in terms of a reconciliation package to go along with our $1 trillion infrastructure."
→ Drew Maloney, American Investment Council CEO, discouraged Congress from raising taxes in reconciliation and expressed hope that the debt ceiling crisis would be resolved soon:
"I think we always believe that Congress will figure out a solution to this. It feels like, you know, every so many years that we have to address these debt ceiling issues. And I'm confident that they'll find a solution and hopefully we can get onto a bipartisan infrastructure bill. Very similar to what Senator Carper talked about during the interview."
A big thank you to AIC for partnering with us on this event. Watch the full conversation here.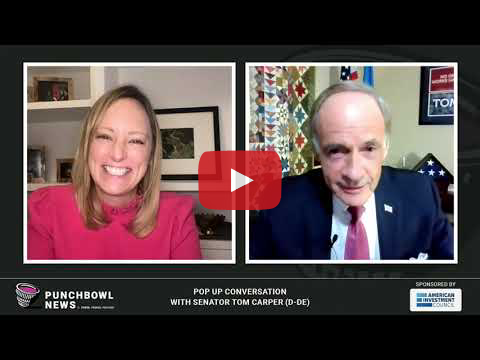 For those of you who aren't Punchbowl News subscribers, we hope you'll join the community. Our free morning newsletter comes out Monday through Friday. You can sign up here. We also invite you to consider our premium community — which includes a midday and evening wrap-up as well as lots of members-only events.
Thanks again for joining!
Team Punchbowl News
Crucial Capitol Hill news AM, Midday, and PM—5 times a week
Join a community of some of the most powerful people in Washington and beyond. Exclusive newsmaker events, parties, in-person and virtual briefings and more.
Subscribe to Premium
The Canvass Special Report
Analysis of how sentiment on Capitol Hill evolved this year. And what senior aides believe will happen in 2022.
Check it out
THE PREMIUM COMMUNITY AT