Every issue of the Punchbowl News newsletter, including our special editions, right here at your fingertips.
Join the community, and get the morning edition delivered straight to your inbox.
Event Takeaways
Event Takeaways: Punchbowl News Pop-Up Conversation with Rep. Suzan DelBene
Thank you so much for joining our virtual pop-up Punchbowl News event with Rep. Suzan DelBene (D-Wash.). The conversation focused on the state of childhood poverty and the impact of the Child and Earned Income Tax Credit on low-income communities. Afterward, Samuel Hammond, Director of Poverty and Welfare Policy for the Niskanen Center, and Jessica Fulton, Vice President of Policy at the Joint Center for Political and Economic Studies, joined Anna for a fireside conversation.
→ DelBene's explanation of the impact of the Child Tax Credit on parents: "Those are incredibly important to helping families get by — and not only get by, but be in a place where they can thrive."
→DelBene's message to Sen. Joe Manchin (D-W.Va.), who is indicating he doesn't want to pass BBB quickly: "We absolutely have to do it by the end of the year. There's a consequence to not getting it done earlier… The longer we wait, the longer we are not providing those resources."
→ DelBene's message on the need to raise the debt limit: "We should've dealt with this earlier, when we had the last vote to extend the debt ceiling for a couple of months."
The event also included a fireside chat with Samuel Hammond, director of Poverty and Welfare Policy at the Niskanen Center, and Jessica Fulton, vice president of policy at the Joint Center for Political and Economic Studies.
→ Hammond on the global history of child tax credits: "The United States is just playing catch up… This is a policy innovation in the U.S. context, but on the international stage it's the norm."
→ Fulton responding to criticism that tax credit policies are poorly suited for today's inflationary concerns: "If costs are rising for some families, this is precisely the time to make sure people have money in their pockets to make the payments they need to make.
A big thank you to the Rockefeller Foundation for partnering with us on this event. Watch the full conversation here.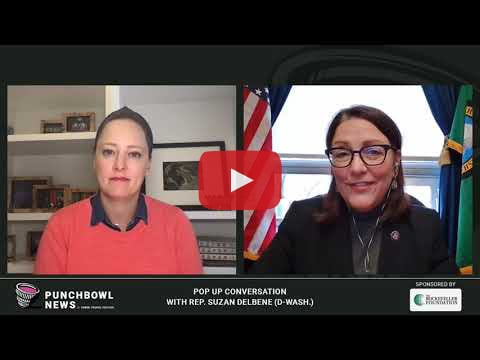 For those of you who aren't Punchbowl News subscribers, we hope you'll join the community. Our free morning newsletter comes out Monday through Friday. You can sign up here. We also invite you to consider our premium community — which includes a midday and evening wrap-up as well as lots of members-only events.
Thanks again for joining!
Team Punchbowl News
Crucial Capitol Hill news AM, Midday, and PM—5 times a week
Join a community of some of the most powerful people in Washington and beyond. Exclusive newsmaker events, parties, in-person and virtual briefings and more.
Subscribe to Premium
The Canvass Special Report
Analysis of how sentiment on Capitol Hill evolved this year. And what senior aides believe will happen in 2022.
Check it out
THE PREMIUM COMMUNITY AT