Every issue of the Punchbowl News newsletter, including our special editions, right here at your fingertips.
Join the community, and get the morning edition delivered straight to your inbox.
PRESENTED BY PRATT & WHITNEY, AN RTX BUSINESS
BY JOHN BRESNAHAN, ANNA PALMER AND JAKE SHERMAN
The Senate has been in session for just one day, and here's all we can say about impeachment: No Senate Republican we spoke to believes there are 16 votes to convict Donald Trump unless some new, unforeseen piece of evidence surfaces.
Beyond that, the Senate GOP has more questions than answers about the upcoming Trump trial.
Senate Minority Leader Mitch McConnell has made clear how upset he is over Trump's role in the deadly Jan. 6 attack on the Capitol, saying Trump "provoked" a "mob" to "stop a specific proceeding of the first branch of the federal government which they did not like." But in public and private, McConnell isn't telling fellow Republicans whether he'll vote to convict Trump, and he's saying it's up to them to decide for themselves. 
Yet Senate Republicans are still reeling from the twin debacles of Jan. 5 and Jan. 6. First the GOP lost their majority thanks to Trump. The next day, the Capitol was sacked by a pro-Trump mob. Then Trump — the man who has dominated their lives for the last five-plus years — went silent, banned from all social media. The House impeached him in a one-day proceeding, where Trump was not allowed to call witnesses, present evidence or have legal representation. Days later, Trump left Washington to begin his post-presidential life. 
It's "whiplash times 10," a Republican leadership aide said
"Some people are for censure, some are for [convicting Trump], some say it's unconstitutional. People are all over the place," a Republican senator complained to us Wednesday. 
No one on the Republican side is quite sure whether impeaching a former president is allowed under the Constitution — Senate GOP attorneys are consulting legal experts. No one has any idea who will run Trump's defense team. Will Trump try to challenge a conviction and seek Supreme Court intervention? Stay tuned.
"[Trump] said, 'I really don't know the lay of the land here,' and he's looking for some lawyers," Sen. Lindsey Graham (R-S.C.) said Wednesday afternoon after speaking to Trump. "I'm trying to help him there, and he's just trying to put together a team."
There's also the issue of whether Supreme Court Chief Justice John Roberts will preside over the trial, and if he doesn't, who does? Republicans would raise serious concerns if Vice President Kamala Harris or Sen. Patrick Leahy (D-Vt.) presided.
Speaker Nancy Pelosi (D-Calif.) hasn't formally sent the article of impeachment to the Senate yet, and there's little belief that a trial will start this week, GOP and Democratic aides said. Next week seems far more likely. 
Senate Republicans will hold a conference call Thursday, and this topic — as well as the state of talks between McConnell and Senate Majority Leader Chuck Schumer (D-N.Y.) — will dominate. 
Democrats will hold their normal Thursday call as well, but their job is a lot easier on impeachment. The vast majority of Democrats want to convict Trump and permanently bar him from holding future office.
PRESENTED BY THE NATIONAL RETAIL FEDERATION
To nibble, or to wait for the big bite
Here's a question that you'll hear a lot in Washington over the next two years: Is legislative incrementalism worth it? Should an all-Democratic Washington ever nibble, or should it wait for the opportunity to take a big bite? 
This question is coming up right now — as in this week, the first week of Democratic control. 
There are elements in the White House and figures in the House Democratic Caucus pushing to pass a bill next week to plus up vaccine money and send targeted, $1,400 direct checks to Americans. This would be an immediate victory for the Biden administration and a Democratic Congress that's just coming to power.
But there are some in the Senate and others in the House who have voiced concern over this strategy. They don't want to pass the popular stuff alone, they want to hold out for a larger deal that includes direct checks, vaccine money and a lot more. 
There are a lot of dynamics at play here. Those who want this piecemeal package say it would be a useful political bridge until Congress is able to cobble together a large Covid deal — and that won't happen until the end of February or March, realistically. Those opposed to the piecemeal package say it lets Republicans off the hook by allowing them to embrace broadly bipartisan initiatives like vaccine money and checks without forcing them to swallow some other big Democratic priorities. 
Furthermore, if they nibble, would Republicans come back to the table for another round or would they just give up? Unemployment insurance runs out at the end of February — and some Democrats worry that Republicans would just let it lapse if they have already gotten their vaccine money and targeted checks.
We're not suggesting this is an easy situation to solve by any stretch of the imagination. This is one-party control. It's tough, and all divides are amplified. 
And, of course, Americans are stuck in the middle. 
POLITICO's Heather Caygle, Sarah Ferris and Caitlin Emma touched on these themes also today.
RUPERT'S N.Y. POST CELEBRATES BIDEN
PRESENTED BY THE NATIONAL RETAIL FEDERATION
Retailers of all sizes have been serving customers, supporting communities and powering our economy throughout the pandemic. See how retailers have stepped up during the pandemic: nrf.com/RetailResiliency
GRIM MILESTONE FROM FAUCI
Milestone: Anthony Fauci told the WHO executive board this morning: "One year ago, to the day, the United States confirmed its first case of SARS-COV-2, in the State of Washington. Today, in my country and around the world, we have surpassed 90 million cases, a devastating number that continues to grow."
What Biden will sign today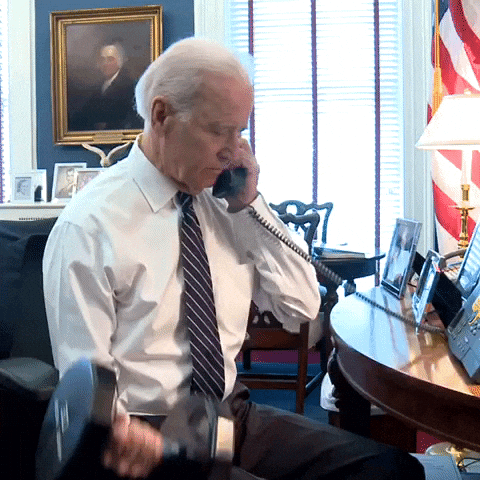 PRESENTED BY THE NATIONAL RETAIL FEDERATION
NYT: "A Call for Unity to a Nation Facing a Pandemic and Division," by David Sanger: "In the end, the inauguration triumphed over the insurrection. President Biden's plea for national unity in his Inaugural Address on Wednesday was rooted in a belief — born of decades working inside the fractious institutions of government — that America can return to an era where 'enough of us have come together to carry all of us forward.'
"It was a call for the restoration of the ordinary discord of democracy, with a reminder that 'politics doesn't have to be a raging fire, destroying everything in its path.' The words were made all the more potent because they were delivered from the same steps at the entrance to the Capitol where a violent attack two weeks ago shocked the nation into realizing the lengths to which some Americans would go to overturn the results of a democratic election."=
… "Jen Psaki's Debut: No Attacks, No Lectures, No Crowd Size Fixation," by Annie Karni: "As reporters asked questions about the Senate's coronavirus relief bill, former President Donald J. Trump's coming impeachment trial and President Biden's political future, Ms. Psaki dodged questions she didn't want to answer and engaged on the ones she did. The takeaway: A calm, boring press briefing wasn't necessarily a bad thing."
WaPo: "Proud Boys organizer Joe Biggs arrested as FBI alleges more possible planning in U.S. Capitol breach," by Spencer S. Hsu: "Proud Boys organizer Joseph Randall Biggs was arrested in Florida on Wednesday after the FBI alleged that members of the far-right nationalist group appeared equipped with walkie-talkie-style communication devices and earpieces that could enable 'real-time communication' during the breach of the U.S. Capitol on Jan. 6.
"Biggs, 37, of Florida, 'did aid, abet, counsel, command, induce, or procure others' to storm the Capitol, the FBI alleged in new charging papers. Biggs and others were among the first rioters to storm into the building, the FBI said. …
… "A look inside Biden's Oval Office," by Annie Linskey …
… "Controversial head of Voice of America resigns hours after President Biden takes office," by Paul Farhi … 
… "Former GOP operative Michael Ellis placed on administrative leave from NSA's top lawyer job," by Ellen Nakashima … 
… "Army falsely denied Flynn's brother was involved in key part of military response to Capitol riot," by Dan Lamothe, Paul Sonne, Carol Leonnig and Aaron Davis: "The Army falsely denied for days that Lt. Gen. Charles A. Flynn, the brother of disgraced former national security adviser Michael Flynn, was involved in a key meeting during its heavily scrutinized response to the deadly assault on the U.S. Capitol.
"Charles Flynn confirmed in a statement issued to The Washington Post on Wednesday that he was in the room for a tense Jan. 6 phone call during which the Capitol Police and D.C. officials pleaded with the Pentagon to dispatch the National Guard urgently, but top Army officials expressed concern about having the Guard at the Capitol."
AP: "'I'm just devastated': Biden's inauguration sows doubt among QAnon backers," by  Michael Kunzelman, Amanda Seitz and David Klepper: "For years, legions of QAnon conspiracy theory adherents encouraged one another to 'trust the plan' as they waited for the day when President Trump would orchestrate mass arrests, military tribunals and executions of his Satan-worshipping, child-sacrificing enemies.
"Keeping the faith wasn't easy when President Biden's inauguration didn't usher in 'The Storm,' the apocalyptic reckoning they believed was coming for prominent Democrats and Trump's 'deep state' foes. QAnon followers grappled with anger, confusion and disappointment Wednesday as Biden was sworn into office.
"Some believers found a way to twist the conspiracy theory's convoluted narrative even further to fit their belief that Biden's victory was an illusion and that Trump would secure a second term in office. Others clung to the notion that Trump would remain a 'shadow president' during Biden's term. Still others even floated the idea that the inauguration ceremony was computer-generated or that Biden himself could be the mysterious 'Q,' who is purportedly a government insider posting cryptic clues about the conspiracy."
WSJ: "United Airlines Offers Grim Outlook but Seeks to Rebuild," Alison Sider
Casper (Wyo.) Star Tribune: "Bouchard announces primary bid against Cheney in 2022," by Nick Reynolds: 
10 a.m.: The president, first lady, VP and second gentleman will watch a virtual prayer service in the Blue Room. Pete Buttigieg's confirmation hearing to be Transportation secretary begins in Senate Commerce. 
10:45 a.m.: Speaker Nancy Pelosi will hold a news conference.
11:30 a.m.: House Minority Leader Kevin McCarthy will hold a news conference.
12:45 p.m.: The president and VP will get their intelligence briefing.
2 p.m.:  The president will speak about Covid-19 and sign executive orders. The VP will be there.
2:25 p.m.: The president will get a Covid-19 briefing
4 p.m.: Jen Psaki will brief
PRESENTED BY THE NATIONAL RETAIL FEDERATION
The retail industry is resilient, but we must do more to support small and independent businesses that have been disproportionately impacted by the pandemic. Learn more: nrf.com/RetailsResponse
Subscribe 10 friends with your unique link (below) and get a Punchbowl News hat!
You currently have: 0 referrals
Crucial Capitol Hill news AM, Midday, and PM—5 times a week
Join a community of some of the most powerful people in Washington and beyond. Exclusive newsmaker events, parties, in-person and virtual briefings and more.
Subscribe to Premium
The Canvass Year-End Report
And what senior aides and downtown figures believe will happen in 2023.
Check it out
PRESENTED BY PRATT & WHITNEY, AN RTX BUSINESS