Every issue of the Punchbowl News newsletter, including our special editions, right here at your fingertips.
Join the community, and get the morning edition delivered straight to your inbox.
A message brought to you by SourceAmerica
SourceAmerica® connects government customers and other organizations to a national network of nonprofit agencies that hire a talented segment of the workforce – people with disabilities. To learn more, visit SourceAmerica.org.
BY JOHN BRESNAHAN, ANNA PALMER AND JAKE SHERMAN
WITH MAX COHEN AND CHRISTIAN HALL
Happy Monday morning. Today is Martin Luther King Jr. Day. Both the House and Senate are out of session. But after last week's Senate Democratic implosion, both chambers will be in session tomorrow.
This is our only edition of the day. We'll be back on our normal publishing schedule beginning Tuesday morning. The Daily Punch is off today as well and will be back tomorrow.
Speaker Nancy Pelosi, Martin Luther King III, Yolanda Renee King, CBC Chair Joyce Beatty (D-Ohio) and Rep. Terri Sewell (D-Ala.) will host a voting rights rally in Union Station at noon today. The King family and representatives from more than 100 groups will hold a "Peace Walk" to celebrate MLK's legacy before the rally.
What's next?
On this wintry morning in D.C., we figured now is as good a time as any to lay out how we see the next few months playing out on Capitol Hill and in Washington.
This week will be dominated by the Senate's battle over voting rights and the filibuster. Despite a big push by President Joe Biden, Senate Majority Leader Chuck Schumer and progressive groups, Democrats are not going to be able to overcome a GOP filibuster to pass a voting rights bill. And Sens. Joe Manchin (D-W.Va.) and Kyrsten Sinema (D-Ariz.) are firmly against getting rid of the filibuster, in case you somehow missed that last week. 
The question then becomes whether the bipartisan group looking at changing the Electoral Count Act of 1887 led by Sen. Susan Collins (R-Maine) picks up steam, and whether Democrats will settle for this. That group is currently looking at changes to the ECA, but also has its sights on bolstering protections for election workers and renewing election grants. Realistically, with the large-scale voting rights package that Democrats crafted unlikely to go anywhere, if Biden wants a victory, it may be with this bipartisan effort.
Next up after voting rights is government funding, which expires one month from tomorrow. The Four Corners – top lawmakers from both parties on the Senate and House Appropriations committees – met last week to begin to hashing out the outlines of a funding package that would keep the government open through September 2022. We're not sure an omnibus package can come together by the Feb. 18 deadline. We could see another stopgap funding bill being passed to give the leadership more time to put a deal together, although Democrats won't like that at all. There's also talk of another Covid relief bill that could be paired with disaster aid funding. But GOP opposition could doom the Covid funding push.
Our reporting leads us to believe that much of February will be dominated by an effort to revive some scaled-back version of the Build Back Better Act before Biden's State of the Union address on March 1. There are huge hurdles here. Inflation isn't getting any better, which will make Manchin less willing to deal. The question is can Democrats find a sweet spot between what they want and what Manchin is willing to accept?
Of course, the House Democratic leadership has some big decisions ahead as well. The Jan. 6 committee will need to decide whether to subpoena House Minority Leader Kevin McCarthy and Reps. Scott Perry (R-Pa.) and Jim Jordan (R-Ohio). Members of the panel are considering what "remedies" they may have if the trio of prominent Republicans don't comply with their demands. There are some huge political questions at stake here, so this will be a delicate issue for Democratic leaders.
Did you know more than half of every dollar spent on medicines goes to someone who doesn't make them? There's a long line of middlemen, like PBMs and insurers, collecting a significant portion of what you pay for medicine. The share of total spending for brand medicines received by the supply chain and other stakeholders increased from 33% in 2013 to 50.5% in 2020. Learn more.
Bipartisan Senate group in Ukraine, to meet with Zelensky
A bipartisan group of seven senators is in Ukraine to reaffirm U.S. support for the embattled country even as tens of thousands of Russian troops are massing on its eastern border preparing for a possible invasion.
The Senate delegation includes Sens. Rob Portman (R-Ohio) Jeanne Shaheen (D-N.H.), Chris Murphy (D-Conn.), Kevin Cramer (R-ND), Amy Klobuchar (D-Minn.), Roger Wicker (R-Miss.) and Richard Blumenthal (D-Conn.).
The bipartisan group will meet with Ukranian President Volodymyr Zelensky and other Ukrainian officials, according to a statement released by the senators. They're scheduled to return to D.C. in time for a big Senate showdown this week over voting rights and the filibuster.
"Ukraine continues to defend its territorial integrity against an increasingly aggressive Russia, while also striving to enact critical domestic reforms to solidify its democracy – it is more important than ever that the U.S. support Ukraine in its efforts," Portman said in a statement. "I look forward to reaffirming this commitment during our upcoming discussions with senior Ukrainian officials." 
Shaheen added: "Our bipartisan congressional delegation sends a clear message to the global community: the United States stands in unwavering support of our Ukrainian partners to defend their sovereignty and in the face of persistent Russian aggression."
Diplomatic talks between the United States, its European allies and Russia have failed to resolve the crisis. While President Joe Biden has warned of "severe consequences" if Russia invades, Russian President Vladimir Putin is keeping Western officials guessing about his intentions. U.S. officials have accused Russia of sending saboteurs into eastern Ukraine to stage attacks that would serve as a pretext for invasion. Microsoft also warned Saturday that "dozens of computer systems" at Ukrainian government agencies have been infected with malicious malware that could make those systems inoperable. 
The Senate last week rejected a proposal by Sen. Ted Cruz (R-Texas) to sanction Russia over the Nord Stream 2 natural gas pipeline. While a majority of the Senate voted for the measure, the White House lobbied hard to keep Democrats from backing the measure, and Cruz was unable to secure the 60 votes needed to pass the legislation. All the Democrats on the codel voted against the Cruz sanctions bill, while all the Republicans supported it, as did the Ukrainian government, according to media reports.
Who we're watching this week
→ Senate Majority Leader Chuck Schumer: We mentioned the Senate Democratic implosion above. And no one was more impacted by that than Schumer. As they did throughout 2021, Sens. Joe Manchin (D-W.Va.) and Kyrsten Sinema (D-Ariz.) threw a wrench into Schumer's plans last week, this time on voting rights and the filibuster. Schumer now faces a major question – go ahead with votes on both these issues knowing Democrats can't win. But Schumer is under enormous pressure from progressives and the base — especially African-American groups — to press ahead despite the strong likelihood of defeat. So we'll see what choices Schumer ends up making.
→ Rep. Zoe Lofgren (D-Calif.): On Friday afternoon, Speaker Nancy Pelosi's office said she'd have the Administration Committee study whether the House should stiffen penalties under the STOCK Act. Now Lofgren's panel will have to put Pelosi's directive into action. This comes as a number of members and senators have called for new laws restricting or even banning lawmakers from trading and holding stocks. Will the move be enough to satisfy reform-minded lawmakers, especially Democrats seeking to score points in a tough political environment for the party?
According to a new report, more than half of every dollar spent on brand medicines goes to someone who doesn't make them.
What's happening this week
→ Wednesday: House Small Business will hold a hearing called "The Power, Peril, and Promise of the Creative Economy." … House Rules will hold a hearing about "Using Budget Principles to Prepare for Future Pandemics and Other Disasters." … House Judiciary will hold a hearing on "The First Step Act, The Pandemic, and Compassionate Release: What Are the Next Steps for the Federal Bureau of Prisons?" … House Homeland Security has a hearing on America's seaports with the head of the port of Los Angeles among others.
→ Thursday: House Agriculture: Ag Secretary Tom Vilsack will be in front of the committee on the state of agriculture. … House Energy and Commerce has a hearing on the "energy impacts of Blockchains" and a hearing on threats to election infrastructure and voter confidence.. Senate Judiciary Committee has a markup on S. 2992, the American Innovation and Choice Online Act, an antitrust bill targeting Big Tech companies.
→ BlackRock, the investment giant, has signed up Akin Gump to lobby on banking issues. Brendan Dunn, the former top aide to Senate Minority Leader Mitch McConnell, will lobby for the New York-based firm. 
→ The City of Bloomington, Ill., enlisted Dentons to lobby for "COVID Funding, Infrastructure funding in American Rescue Plan Act and major infrastructure proposals."
→ Club for Growth is up with an advertisement in the Cincinnati, Cleveland-Akron and Columbus media markets whacking Ohio Senate GOP candidate Jane Timken. The spot seeks to remind voters that Timken – the former Ohio Republican Party chair – said she didn't know how she'd vote on former President Donald Trump's impeachment. The spot also noted that she defended Rep. Anthony Gonzalez (R-Ohio) when he voted to impeach Trump. Timken just formally filed to run in a tough GOP primary against Josh Mandel, J.D. Vance and others. Thanks to AdImpact for this.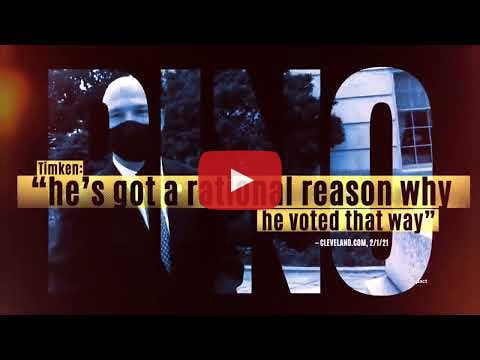 11:15 a.m.: Vice President Kamala Harris will speak virtually to the Historic Ebenezer Baptist Church for the Martin Luther King, Jr. Beloved Community Commemorative Service.
12:15 p.m.: Harris and Second Gentleman Doug Emhoff will volunteer at Martha's Table. 
7:25 p.m.: President Joe Biden will leave Delaware for Andrews.
8:25 p.m.: Biden will arrive at the White House.
Week ahead: Wednesday: Biden will hold a news conference. Thursday: Biden will meet with his "infrastructure task force." Friday: Biden will hold a virtual meeting with Japanese Prime Minister Fumio Kishida. Biden will speak to the U.S. Conference of Mayors.
Did you know that PBMs, hospitals, the government, insurers, and others received a larger share of total spending on medicines than biopharmaceutical companies? That's right, more than half of spending on brand medicines goes to someone who doesn't make them.  Let's fix the system the right way and ensure more of the savings go to patients, not middlemen. Read the new report.
Enjoying Punchbowl News AM?
Subscribe 10 friends with your unique link (below) and get a Punchbowl News hat!
You currently have: 0 referrals
Was this email forwarded to you? Sign up https://punchbowl.news
Punchbowl News All Rights Reserved
You are subscribed to our Punchbowl News AM list
Crucial Capitol Hill news AM, Midday, and PM—5 times a week
Join a community of some of the most powerful people in Washington and beyond. Exclusive newsmaker events, parties, in-person and virtual briefings and more.
Subscribe to Premium
The Canvass Year-End Report
And what senior aides and downtown figures believe will happen in 2023.
Check it out
A message brought to you by SourceAmerica
SourceAmerica® connects government customers and other organizations to a national network of nonprofit agencies that hire a talented segment of the workforce – people with disabilities. To learn more, visit SourceAmerica.org.