Every issue of the Punchbowl News newsletter, including our special editions, right here at your fingertips.
Join the community, and get the morning edition delivered straight to your inbox.
PRESENTED BY PRATT & WHITNEY, AN RTX BUSINESS
BY JOHN BRESNAHAN, ANNA PALMER AND JAKE SHERMAN
WITH MAX COHEN AND CHRISTIAN HALL
New: Punchbowl News Founders Anna Palmer and Jake Sherman will interview Sen. Joni Ernst (R-Iowa) on Tuesday, Oct. 19 at 8:30 a.m. about the uneven recovery of women small- business owners. The conversation is the final in a three-part series sponsored by Goldman Sachs 10,000 Small Businesses Voices. Iowa-based small-business owners Jenny Steffensmeier and Perlla Deluca will join Anna and Jake afterward for a fireside chat. RSVP to join here.
Where we stand on the debt limit
Will a dumb crisis end with a lame deal?
Senate Minority Leader Mitch McConnell's offer to lift the debt limit through November — and Senate Majority Leader Chuck Schumer's quick decision to take a win when he saw it — may help stave off an immediate economic and fiscal disaster for the U.S. economy. 
But first they have to make this less-than-impressive deal actually happen.
Shortly after midnight on Thursday morning, Schumer said he and McConnell were still negotiating on the agreement and would continue their talks today.
There are a couple of hang-ups. Sources familiar with the negotiations suggested Republicans aren't sure they can come up with 10 GOP votes needed to overcome their own filibuster on a "real number" — a dollar amount — to extend the debt limit until December. They haven't cobbled together the votes up to this point, anyway. Most lawmakers would rather vote to suspend the debt limit until a date certain. Democrats are also pushing Republicans in negotiations to extend the new debt limit deadline past December, which Republicans oppose.
When the Senate will vote on whatever deal the two leaders reach remains fluid too. The vote could slide until Friday or even the weekend, depending on how long these talks go on, the sources cautioned. So stay tuned.
"We're making good progress, we're not there yet, but I hope we can come to an agreement tomorrow morning," Schumer told reporters, per our friend Tony Romm at the Washington Post. The Senate will come into session at 10 a.m. and remains scheduled for a week-long recess beginning after today.
A vote to break a filibuster on the House-passed bill to suspend the debt limit until Dec. 2022 is still pending; it's been delayed for the Schumer-McConnell talks.
The debt limit will be reached on Oct. 18, according to Treasury Secretary Janet Yellen.
Remember: The House will have to pass this debt-limit increase. We imagine they will try to pass it by voice vote.
The truth is Schumer and McConnell are both playing flawed hands here. 
Schumer has been trying to push a message that lifting the debt ceiling as part of reconciliation is "very, very risky" even as his party tries to assemble a $3.5 trillion reconciliation package. McConnell is threatening a "catastrophic" debt default in order to force Democrats to use reconciliation to pass a debt-limit increase, a convoluted message that wouldn't play outside Washington. And McConnell was in danger of uniting Democrats to weaken or eliminate the filibuster, something he definitely didn't want. 
Once the Senate formally ratifies this agreement, Schumer will get nearly seven more weeks to work on the multi-trillion dollar reconciliation package, the crown jewel of President Joe Biden's legislative agenda.
But in reality, the deadline for Democrats is much shorter. This buys them perhaps only two to three weeks to strike a House-Senate deal on a "topline" number and begin drafting their reconciliation package, an enormously complex task. They'll be lucky to get that done before the debt war flares back up.
Schumer also gets out of a political box that he and Speaker Nancy Pelosi constructed for themselves. McConnell warned for months that Senate Republicans, furious over the barrage of expensive new social programs being proposed by Democrats, would demand the majority party use reconciliation to pass a debt-limit increase. Democrats ignored this, believing they could win the showdown with the Kentucky Republican. They did for now, but it may prove to be a Pyrrhic victory. McConnell is still hoping to use Democrats' debt-driven spending spree as a major campaign theme in 2022. 
Schumer has yet to figure out how to boost the debt limit in December or January; we've been told it could be delayed a month due to an influx of tax revenue. Democrats continue to say they won't use reconciliation to do this, a predictable if inexplicable position. And there's a pretty decent chance that a debt-limit fight gets paired up with government funding and Democrats' efforts to wrap up their massive infrastructure package. "The Nightmare Before Christmas" anyone?
There's definitely some grumbling in the GOP ranks over their strategy. McConnell ginned up everyone for a fight during the last few weeks and then pulled the plug on it at the last minute. 
McConnell also gave in even before Democrats' failed to get 60 votes for cloture. There are some Senate Republicans privately upset that he did. These GOP senators wanted McConnell to go through with that vote in order to demonstrate party unity. Wait at least another day or two, they said. But they may still get that wish if the Schumer-McConnell talks falter.
So what does McConnell win here? A chance for chaos. Prolonged chaos, at that. He lines up another fight over debt after a relatively brief lull — and it comes around the same time as a government funding fight. McConnell isn't really concerned about giving Democrats some additional time for their internal negotiations. Like we said, there's a good chance that Democrats won't be finished with their proposal by the time this debt crisis pops up again.
Here's something else we picked up on yesterday: McConnell was truly worried that Sens. Joe Manchin (D-W.Va.) and Kyrsten Sinema (D-Ariz.) could be convinced to blow up the filibuster if the debt-limit standoff continued. McConnell spoke to both Democratic senators on Wednesday before he publicly announced his offer to Schumer, GOP sources said.
So yes, McConnell blinked. And yes, Schumer accepted it. No, neither rank-and-file is totally happy. But this fight is far from over. 
The Coverage
→ NYT: "Senate Nears Agreement to Stave Off Debt Crisis Until December," by Jonathan Weisman and Emily Cochrane
→ WaPo: "Senate Democrats appear open to short-term debt ceiling reprieve from GOP," by Tony Romm
→ Politico: "Dems take GOP's short-term debt fix offer, kicking deadline to December," by Burgess Everett, Marianne Levine and Caitlin Emma
October is Energy Awareness Month. At Chevron, we're lowering the carbon emissions intensity of our operations. In fact, we've set 2028 emissions reduction targets and are expected to deliver a 35% reduction from our 2016 baseline, including a 53% reduction in methane intensity and a 66% reduction in flaring intensity. Because it's only human to want to power a brighter tomorrow.
The Punchbowl News community got together last night for a Fall Fête in partnership with Live Nation. Senior Capitol Hill and White House aides, along with K streeters gathered to toast a busy Fall in Washington. 
Anna and Kelly Flanigan of Live Nation discussed the impacts of the pandemic and the future of the live music industry.
Raising a glass: Katie Peters, Symone Sanders, Shawn Townsend, Richard Lopez, Heather Podesta, Andrew Bianchi, Lauren Crawford Shaver,  Mark Isakowitz,  Manu Raju, Carl Hulse, Josh Dawsey, Tiffany Moore, Liz Johnson, Sena Fitzmaurice, Clare Flannery, Chanse Jones, Gwen Fuller, Tasha Cole, Rick VanMeter, Will Kinzel, Libby Greer, David and Jenny Drucker, Ron Bonjean, Jay Perron, Kaitlin Conant and Alex Conant
Why won't Democrats use reconciliation to lift the debt limit?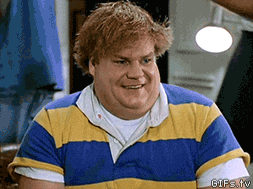 For months now, Democrats have said they don't want to use the reconciliation process to lift the debt limit. It would seem like a no brainer. It requires 50 votes to lift the debt ceiling using this fast-track method. And now that Democrats have some additional time, they certainly can insert a hike of the borrowing cap in the reconciliation bill.
Yet Democrats are still opposed to slapping the debt limit in reconciliation. We had no idea why, so we asked.
Here's what we were told:
→ Democrats still believe reconciliation is too arduous a process. It's subject to vote-a-ramas and multiple votes in both chambers. In other words, they believe it's a pain.
→ Democrats insist it would take too long to complete.
→ Most interestingly, they say it sets a bad precedent. 
Sen. Chris Murphy (D-Conn.) gave us an interesting reason to not use it:
"Because it takes an enormous amount of time. You only have one reconciliation a year. So you have to hope that the debt ceiling comes up at a moment when you have a [budget resolution] available."
Alternatively, you can just lift the debt ceiling as part of reconciliation every year, or whenever Congress passes a major reconciliation package, which has happened dozens of times in congressional history. Anyhow, we'll be having this debate a LOT over the next few months.
Federal judge blocks Texas abortion law
In a legal victory for the Biden administration and abortion rights activists, a federal judge in San Antonio on Wednesday blocked enforcement of a controversial Texas law that bars almost all abortions at six weeks.
Texas officials will appeal U.S. District Judge Robert Pitman's decision — which you can read here, via the NYT.
"From the moment S.B. 8 went into effect, women have been unlawfully prevented from exercising control over their own lives in ways that are protected by the Constitution," Pitman said in his decision.
Abortion has jumped to the top of the national political agenda following the Supreme Court's decision not to intervene in legal challenges to Texas' "fetal heartbeat" law. 
GOP-controlled state legislatures and anti-abortion rights groups have stepped up their attacks on Roe v. Wade since the confirmation of Supreme Court Justice Amy Coney Barrett  in late Oct. 2020. With a solid 6-3 conservative majority on the high court, anti-abortion groups see their best chance in decades to overturn the landmark 1973 case and shift the issue back to individual states. That would lead to large areas of the country where abortions would be illegal or severely restricted.
Pro-abortion rights lawmakers in Congress have pushed legislation to guarantee a national right to abortion access, but GOP opposition in the Senate will block these measures from ever becoming law.
The Justice Department sued Texas last month, calling the measure a violation of federal law and the Constitution. Attorney General Merrick Garland has said the department will seek to defend abortion rights, but the Supreme Court could have a far greater say in what will happen on this issue.
→ Rep. Sharice Davids (D-Kan.) — one of House Republicans' top targets in 2022 — raised more than $825,000 in the third quarter. 
→ Rep. Ashley Hinson (R-Iowa) raised $1 million last quarter, as we scooped in Punchbowl News Midday yesterday. She's the first House Republican incumbent to announce a $1 million quarter, per NJ's Kirk Bado.
9:30 a.m.: President Joe Biden will get his daily intelligence briefing.
11 a.m.: Vice President Kamala Harris and Labor Secretary Marty Walsh will host a meeting of the White House Task Force on Worker Organizing and Empowerment. 
Noon: Biden will leave the White House for Andrews where he'll fly to Chicago. He'll arrive at 2 p.m. east coast time. Karine Jean-Pierre will brief en route to O'Hare. 
3:10 p.m.: Biden will visit a Clayco construction site in Elk Grove Village.
3:45 p.m.: Biden will speak about Covid-19 vaccine requirements. 
5:15 p.m.: Biden will leave Chicago and arrive at the White House at 7:20 p.m.
Energy Awareness Month is a great time to reflect on our energy goals for the future. At Chevron, we've invested more than $1 billion in CCUS research, development, and deployment to reduce our greenhouse gas emissions intensity. By 2028, we expect to invest over $2 billion in carbon-reduction projects. It's just one of the many ways we're working to reduce the carbon emissions intensity of our operations. Because it's only human to help power a better future.
PUNCHBOWL NEWS POP UP CONVERSATION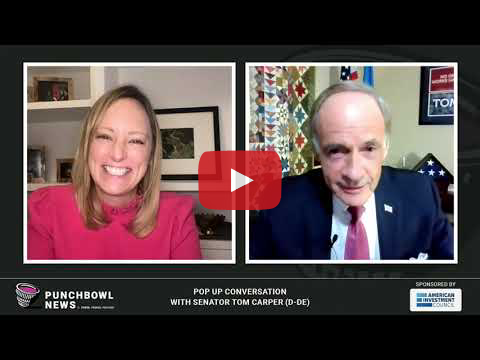 Sen. Tom Carper (D-Del.) joined us for a virtual pop-up Punchbowl News event yesterday afternoon focused on the role private capital is playing to spur investment in renewable energy and infrastructure. The American Investment Council partnered with us to make this conversation possible. Watch the event.
Enjoying Punchbowl News AM?
Subscribe 10 friends with your unique link (below) and get a Punchbowl News hat!
You currently have: 0 referrals
Was this email forwarded to you? Sign up https://punchbowl.news
Punchbowl News All Rights Reserved
You are subscribed to our Punchbowl News AM list
Crucial Capitol Hill news AM, Midday, and PM—5 times a week
Join a community of some of the most powerful people in Washington and beyond. Exclusive newsmaker events, parties, in-person and virtual briefings and more.
Subscribe to Premium
The Canvass Year-End Report
And what senior aides and downtown figures believe will happen in 2023.
Check it out
PRESENTED BY PRATT & WHITNEY, AN RTX BUSINESS