Every issue of the Punchbowl News newsletter, including our special editions, right here at your fingertips.
Join the community, and get the morning edition delivered straight to your inbox.
A message brought to you by RTX
We're taking smarter steps toward a sustainable future. By investing in hybrid-electric propulsion and developing systems that operate on alternative fuels, we're creating a safer, more connected world. Learn more at RTX.com
BY JOHN BRESNAHAN, ANNA PALMER AND JAKE SHERMAN
After sometimes bitter debates and months of delays, Congress passed five key Covid relief bills last year with big bipartisan margins.
Yet now with Joe Biden in the White House calling for another nearly $2 trillion in federal aid to "crush the virus" and finally get the U.S. economy back on its feet, Republicans are balking. 
Senior House GOP lawmakers and aides tell us that it's possible just a handful of Republicans — single digits, perhaps — will vote for the Biden proposal. The Budget Committee will consider it this week, and it's expected on the floor next week.
"People will vote for a Covid bill, but they want it more targeted," a top Republican told us Monday. "It's what they have in here that makes it hard." There have already been party line votes in several committees that crafted key parts of the reconciliation package, including Education and Labor and Ways and Means.
There's plenty of political peril for the GOP in opposing a package like this. The United States is reeling from a one-in-a-lifetime virus that's killed nearly 500,000 people, devastated the economy and remade the political landscape. The Democrats' Covid package will include tens of billions of dollars for vaccine funding and ramped-up testing, crucial unemployment benefits and $1,400 stimulus checks for Americans. Republicans have supported every one of these priorities in the past year, but now will vote no. 
The GOP clearly thinks they can oppose this package with little political fallout. Republicans say the minimum wage should not be hiked to $15 — especially in a Covid-related package. They say the state and local aid being pushed by Democrats is overly generous and a chunk of the aid Congress approved has not even been spent. Republicans say more should be done to get schools to reopen quickly. And they complain the overall price tag — $1.9 trillion — is way too high. At this point, any congressional relief bill should be more targeted, they argue.
However, the White House and Democratic leaders counter this is exactly what Biden promised when he ran for the White House. Senate Democrats also note this is what Raphael Warnock and Jon Ossoff ran on when they won Senate seats in Georgia in January.  And they're hell bent on delivering.
If you ask Democratic leaders, they think their GOP counterparts are making a huge miscalculation opposing this bill. Republicans may have offered some good "messaging" amendments on the Senate floor and in House committees, Democrats say, but at the end of the day, anyone who votes against stimulus checks and unemployment payments is going to pay for it in 2022. For Democrats, if Republicans want to vote no, that's fine with them.
Consider this: Republicans are adrift at the moment. The lowest common denominator to get back on the same page will be opposing Biden and his agenda — especially a package of this size. We saw them do this in 2009 with the stimulus. And we expect the same here.
News: Sens. Mitt Romney (R-Utah) and Tom Cotton (R-Ark.) are working on legislation to raise the minimum wage but at the same time mandate e-Verify for workers. They expect to release a bill soon. This has long been a priority of Romney's — he sees it as a way to hike the minimum wage, and strengthen labor markets. And Cotton is widely assumed as a presidential candidate in 2024, so this is illustrative of the politics on the right — even if it is exceedingly unlikely to become law. Democrats may face a decision this week whether to move forward with a minimum-wage boost.
At 1600 Penn.: Biden will announce today that he will extend the foreclosure moratorium for homeowners and the mortgage payment forbearance window through June 30. He will also give six months of additional forbearance in three month increments for people who got forbearance by June 30, 2020.
Voters of both parties support wage increases. 
The most recent elections made it clear—across the country, voters in both political parties support a higher minimum wage. The federal minimum wage hasn't changed in 12 years, despite significant cost-of-living increases and, now, the devastating toll of COVID-19. At Amazon, we saw the need to do more for our employees and communities and established a $15/hour starting wage in 2018.
We're calling on Congress to do the same. The Raise the Wage Act would increase the federal minimum wage to $15/hour over the next four years.
The president heads to Milwaukee
Joe Biden will take the first major trip of his presidency today when he heads to Milwaukee for a CNN town hall. 
Here's the Milwaukee Journal Sentinel's Bill Glauber on the event:
The event will be socially distanced, with the president fielding questions from a small, invitation-only audience of Democrats, Republicans and independents. Anderson Cooper will serve as moderator. It's scheduled to run for an hour. … 

Mark Preston, CNN's vice president of political special event programming, said the network approached the Biden team after the election to see if the president would want to discuss his agenda. Preston said the White House was interested in doing an event in the Midwest and mentioned several cities, including Milwaukee.

"Milwaukee is a great city to work in," Preston said. "People are very easy to work with, they're smart and know the issues. It reminds me of home. I'm from Boston."  … "We're definitely blessed that we have the president at this time in history willing to come out and take questions right now," Preston said. "We just got over the second impeachment trial of the former president. COVID is on the decline … the economy is a mess."
Something to watch: Outside groups have taken an interest in Biden's visit. Here is a full page ad from the Association of Equipment Manufacturers … And, "Opportunity Wisconsin" has launched a $1 million ad campaign urging Sen. Ron Johnson (R-Wis.) to support Covid relief checks.
Pelosi makes 1/6 commission official
Speaker Nancy Pelosi made official last night two things that we broke in Punchbowl News a few weeks ago: That Congress will create a commission to study the deadly Capitol attack on Jan. 6, as well as passing a new spending bill to help pay for security changes to the Capitol structure. 
It is clear from his findings and from the impeachment trial that we must get to the truth of how this happened.  To protect our security, our security, our security, our next step will be to establish an outside, independent 9/11-type Commission to "investigate and report on the facts and causes relating to the January 6, 2021 domestic terrorist attack upon the United States Capitol Complex… and relating to the interference with the peaceful transfer of power, including facts and causes relating to the preparedness and response of the United States Capitol Police and other Federal, State, and local law enforcement in the National Capitol Region."

As we prepare for the Commission, it is also clear from General Honoré's interim reporting that we must put forth a supplemental appropriation to provide for the safety of Members and the security of the Capitol.
Here's some of what we know, and some questions about the panel.
1) It will be diverse: The 9/11 Commission was all white men and one white woman. This committee will better represent America, aides say
2) This is mostly being run out of the House Administration Committee at the moment.
3) Will Congress give the commission subpoena power and the ability to refer criminal matters to DOJ? This would give the panel real teeth.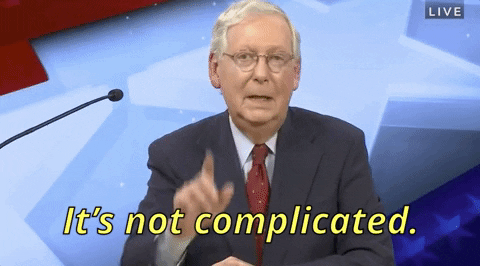 Mitch McConnell is continuing his media tour with an op-ed in the Wall Street Journal this morning. The headline — "Acquittal Vindicated the Constitution, Not Trump" — is in line with where he has been positioning himself in recent days. 
There is no question former President Trump bears moral responsibility. His supporters stormed the Capitol because of the unhinged falsehoods he shouted into the world's largest megaphone. His behavior during and after the chaos was also unconscionable, from attacking Vice President Mike Pence during the riot to praising the criminals after it ended. … 

The nation needs real constitutional champions, not fair-weather institutionalists. The Senate's duty last week was clear. It wasn't to guarantee a specific punishment at any cost. Our job was to defend the Constitution and respect its limits. That is what our acquittal delivered.
George Will in the Washington Post: "Now begins McConnell's project to shrink Trump's GOP influence"
Amazon started a movement in 2018 by increasing starting wages to $15 an hour.
Other major companies have followed suit, and now we're calling on Congress to continue this movement, which will benefit 32 million hard-working people and boost our economic recovery.
NYT: "How Joe Neguse and Stacey Plaskett Plan to Wield Their Influence After Impeachment," by Emily Cochrane
"Adam Kinzinger's Lonely Mission," by Reid Epstein
WaPo: "Ambassador sweepstakes underway as figures jockey for plum posts," by Matt Viser and Anne Gearan
"A GOP donor gave $2.5 million for a voter fraud investigation. Now he wants his money back," by Shawn Boburg and Jon Swaine
WSJ: "McConnell Doesn't Care About Trump Brand in 2022, He Just Wants Electable Candidates," Siobhan Hughes
"Parler Resurfaces Online After Monthlong Service Disruption," by Jeff Horwitz and Robert McMillan
AP: "Dozens charged in Capitol riots spewed extremist rhetoric," by Michael Kunzelman and Amanda Seitz: "In nearly half of the more than 200 federal cases stemming from the attack on the Capitol, authorities have cited evidence that an insurrectionist appeared to be inspired by conspiracy theories or extremist ideologies, according to an Associated Press review of court records.
"The FBI has linked at least 40 defendants to extremist groups or movements, including at least 16 members or associates of the neo-fascist Proud Boys and at least five connected to the anti-government Oath Keepers. FBI agents also explicitly tied at least 10 defendants to QAnon, a pro-Trump conspiracy theory that has grown beyond its fringe origins to penetrate mainstream Republican politics."
"Hospitals still ration medical N95 masks as stockpiles swell," by Jason Dearen, Juliet Linderman and Martha Mendoza
AJC: "Perdue explores Senate comeback bid against Warnock in 2022," by Greg Bluestein: "A senior Perdue adviser characterized the filing as a necessary legal step, but added that the former senator is 'leaning heavily toward' running again. If Perdue runs, the adviser said, he will decide by March 1, put together a campaign team and announce in April."
Politico: "Nevada Democrats move to end presidential caucuses," by Tyler Pager and David Siders
"Covid wars launch DeSantis into GOP 'top tier," by Marc Caputo in Miami: "By scrapping with reporters and President Joe Biden's White House — which has singled out Florida and the governor in recent weeks — the wonky but combative governor has elevated his profile at a time when other big-state governors have been laid low.
"With a Covid death count cover up consuming New York Gov. Andrew Cuomoand a pandemic-related recall effort haunting California Gov. Gavin Newsom, Republicans are embracing DeSantis as a red-state exemplar, pointing to rates of Covid deaths, vaccinations and unemployment in the most-populous blue states.
"'Ron DeSantis is having a moment with conservatives,' said Josh Holmes, a top adviser to Senate Republican Leader Mitch McConnell. 'Part of this is liberals tried to cast this in the yin-and-yang comparison with Cuomo … It's policy and it's partly stylistic, the way he handles the news media and his blue-collar appeal.'"
11:30 a.m.: Jen Psaki will brief.
12:30 p.m.: President Joe Biden and VP Kamala Harris will receive the daily briefing.
5:30 p.m.: Biden will leave the White House for Andrews.
5:50 p.m.: Biden will fly from Andrews to Milwaukee.
6:30 p.m.: Biden will arrive in Milwaukee.
8 p.m.: Biden will participate in a CNN town hall with Anderson Cooper.
9:50 p.m.: Biden will leave Milwaukee for D.C.
12:30 a.m.: Biden will arrive at Andrews.
12:50 a.m.: Biden will arrive at the White House.
Amazon has created more U.S. jobs in the last decade than any other company, and we're committed to investing in our employees. That's why we spend over $700 million to provide free skills training to employees—helping them further their careers through tech. We also raised our starting wage to $15 an hour in 2018—something we're now calling on Congress to do for the entire country.
In 2020, we created more than 275,000 new jobs across the U.S. and currently provide over 800,000 Americans with industry-leading pay and benefits. We believe $15 an hour is the minimum anyone in the U.S. should be paid for an hour of labor.
Raising the federal minimum wage will provide immediate relief to America's hourly workers and their families, boost spending and fuel our long-term economic recovery.
Subscribe 10 friends with your unique link (below) and get a Punchbowl News hat!
You currently have: 0 referrals
Was this email forwarded to you? Sign up https://punchbowl.news
Punchbowl News All Rights Reserved
You are subscribed to our Punchbowl AM list
Crucial Capitol Hill news AM, Midday, and PM—5 times a week
Join a community of some of the most powerful people in Washington and beyond. Exclusive newsmaker events, parties, in-person and virtual briefings and more.
Subscribe to Premium
The Canvass Year-End Report
And what senior aides and downtown figures believe will happen in 2023.
Check it out
A message brought to you by RTX
We're taking smarter steps toward a sustainable future. By investing in hybrid-electric propulsion and developing systems that operate on alternative fuels, we're creating a safer, more connected world. Learn more at RTX.com