Every issue of the Punchbowl News newsletter, including our special editions, right here at your fingertips.
Join the community, and get the morning edition delivered straight to your inbox.
A message brought to you by RTX
We're taking smarter steps toward a sustainable future. By investing in hybrid-electric propulsion and developing systems that operate on alternative fuels, we're creating a safer, more connected world. Learn more at RTX.com
BY JOHN BRESNAHAN, ANNA PALMER AND JAKE SHERMAN
WITH MAX COHEN AND CHRISTIAN HALL
Happy Monday morning.
The Russian invasion of Ukraine is dominating global news and reshifting the international geopolitical landscape to an astonishing degree. There were protests worldwide on Sunday, "From Berlin to Baghdad to Quito." Volodymyr Zelensky has become the face of Ukraine's defiant stand. The U.N. Security Council voted to convene an emergency meeting of the General Assembly over the Ukraine crisis, only the 11th such session since 1950. Germany is dramatically ramping up its defense budget, while the European Union – yes, the EU – has shut down its airspace to Russian civilian flights and approved sending arms to the Ukrainians. The United States is openly sending weapons to the Ukrainians, including Stinger anti-aircraft missiles.
Russia faces an unprecedented array of economic sanctions as the backlash over its attack on Ukraine grows. Where this will lead is impossible to predict, and it won't be good for the U.S. economy or average Americans. The ruble collapsed and the Bank of Russian doubled interest rates overnight. The White House and EU nations joined to expel a number of Russian banks from the SWIFT financial transaction system, a move that several European countries were balking at only a week ago. The United States and Western nations are also moving to restrict how Russia's central bank can use it foreign currency reserves, undermining one of Russian President Vladimir Putin's key tools for blunting sanctions. The crisis will have a big impact on the world economy, especially oil and food prices. British oil company BP is "exiting" a big stake in Rosneft, a Russian oil company.
Faced with this overwhelming response from the United States and its allies, as well as a potentially "humiliating military fiasco" in Ukraine, Putin ordered Russian nuclear forces on alert. This rattled Washington and other NATO members, but White House officials at the same time downplayed it as part of Putin's effort to justify the attack on Ukraine. "This is exactly the kind of manufactured threats that President Putin has been using since the beginning of this crisis to justify further aggressive action," White House Press Secretary Jen Psaki said on MSNBC. "What is fact here is that Russia is under no threat from NATO, has never been, is under no threat from Ukraine, has never been."
Russian and Ukrainain delegations will meet today for peace talks, although neither side expects much from the discussions. Zelensky has demanded an immediate ceasefire and withdrawal of Russian troops. But the opposite is happening. Russian troops and equipment – joined now by Belarussian forces – continue to pour into Ukraine. Ukrainian forces are defending Kyiv and other cities tenaciously, yet still face long odds. Millions of Ukrainians could find themselves refugees because of the fighting, potentially the worst humanitarian crisis for Europe in decades.
So how should we think about this crisis? What will President Joe Biden do next? Putin? And what will happen in Washington now that the House and Senate are back in town?
→ Biden is shockingly weak in the latest public opinion polls. A new Washington Post-ABC News poll had Biden at 37% approval, 55% disapproval. A USA Today-Suffolk University poll had similar findings. Fifty-one percent of respondents said the U.S. economy is in a depression or a recession. These are disastrous numbers for Democrats looking at the November midterm election, and the Ukraine emergency doesn't look like it will change that. It may even make it worse for them.
Yet Biden has done a good job of rallying Western support against Putin. Most of what lawmakers had been calling for even before the start of the Russian invasion – more military aid to the Ukrainians, kicking Russian banks out of SWIFT, ending Nord Stream 2, reinforcing NATO's eastern flank – is being done or has already been implemented. Much of the developed world has shut Russian planes out of their airspace. The Russian stock market is closed today because of the crippling sanctions. Republicans won't give Biden credit for it. They continue hitting him for perceived weakness following the disastrous Afghanistan withdrawal that may have helped spur the present crisis. It's a debate worth having, although maybe not now.
How Biden handles all this in Tuesday's State of the Union address will be incredibly important. Republicans will want to bash him over Covid mandates, inflation and government spending, but he's also a U.S. president in the midst of a global crisis that's now taken on a nuclear angle. Is there any chance that the two parties can move past the current hyper partisanship to show some unity over Ukraine, at least for one night?
→ The Republican Party is in a mess over Ukraine. Former President Donald Trump has repeatedly praised Putin as a "genius" and trashed Biden. Trump has all but formally launched his own 2024 campaign. Yes, this is the leader of the Republican Party doing this in the middle of a global crisis. If this was anyone other than Trump, it would be the end of their political career. With Trump, though, who knows? 
We're also trying to imagine what Republicans would do to their Democratic counterparts if a senior Democrat –  former President Barack Obama or Hillary Clinton, for instance – had said what Trump did. Yeah.
There's two points here worth looking at: 1) Every senior Republican lawmaker will be asked about Trump's comments and will have to respond. We're thinking here mainly about the House GOP leadership and 2024 GOP hopefuls; 2) Senate Minority Leader Mitch McConnell isn't going to have any problem with this question. He broke with Trump long ago. A lot of other Republicans are probably wishing they'd done the same.
→ Members and senators will receive classified briefings on the situation in Ukraine today. Briefers are expected to include Secretary of State Antony Blinken, Defense Secretary Lloyd Austin, Director of National Intelligence Avril Haines, Homeland Security Secretary Alejandro Mayorkas, Energy Secretary Jennifer Granholm, Commerce Secretary Gina Raimondo, Deputy Treasury Secretary Wally Adeyemo and USAID Deputy Administrator Isobel Coleman.
We expect leaders in both parties to unite behind a Ukrainian assistance package and to include that proposal in the FY 2022 omnibus, which is supposed to be done by March 11. We'll also see how much each side tries to one-up the other over who can be more anti-Putin in new Russian sanctions legislation.
Note: House Minority Leader Kevin McCarthy has included Indiana Rep. Victoria Spartz in the party that will escort the president into the State of the Union. Spartz is Ukrainian-American.
Also: Masks are now optional in the Capitol and for the State of the Union tomorrow night. As you can see above, there is a new temporary fence around the Capitol. As you can see below, there is heavy security around the D.C. area in advance of the State of the Union. 
Check it out: Our State of the Union special edition went out yesterday. Read it here.
We're making investments in safety and security—and seeing results
Facebook has invested $13 billion over the last 5 years to help keep you safe. Since July, we've taken action on:
34.7M pieces of explicit adult content
26.6M pieces of violent and graphic content
9.8M pieces of terrorism-related content
Shaheen: Ukraine crisis shows how important NATO is to U.S. security
We had the opportunity to catch up with Sen. Jeanne Shaheen (D-N.H.) on the Ukraine crisis. Shaheen, a member of the Ukraine Caucus, helped draft a resolution along with Sen. Rob Portman (R-Ohio) expressing bipartisan support for Ukraine's sovereignty, including continued U.S. backing for a "free and independent" Ukraine.
Shaheen, who just returned from the Munich Security Conference, is one of the top Senate voices on security issues, especially when it comes to Europe and NATO. She has seats on the Armed Services, Appropriations and Foreign Relations panels. Shaheen and Sen. Thom Tillis (R-N.C.) helped restart the Senate NATO Observer Group in 2018. She was in Ukraine only about six weeks ago.
Here's one nugget from Shaheen: "When there is a dictator like Vladimir Putin, who has no regard for the sovereignty of individual countries, who who has no regard for human rights, who has no regard for freedoms that we enjoy in the West and in democracies, then it's important to be able to defend against that kind of authoritarianism and that kind of dictator. That's exactly what the NATO alliance is about. And I think that's why Americans support it."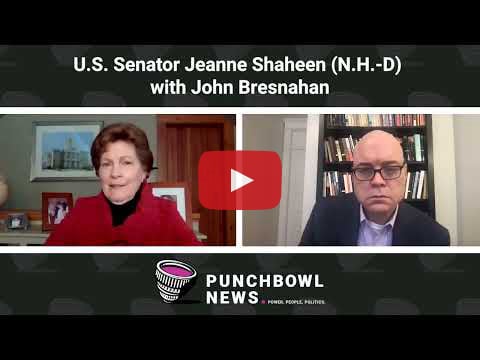 → President Joe Biden. Biden faces an enormous week ahead. There's the State of the Union address on Tuesday, of course. The White House is also launching its effort this week to confirm Ketanji Brown Jackson to the Supreme Court; courtesy calls with senators begin in a few days. And there's the issue of passing the fiscal year 2022 government funding bill. Also, Republicans are blocking Biden's Federal Reserve nominees with a big meeting on interest rates looming.
→ House Minority Leader Kevin McCarthy. McCarthy will have to deal with two major problems. The first is former President Donald Trump's comments on Ukraine (see above.) The second is GOP Reps. Marjorie Taylor Greene (Ga.) and Paul Gosar (Ariz.) attending a conference of white nationalists and anti-semites. How long can McCarthy continue to ignore this? 
→ Sen. Pat Toomey (R-Pa.): Toomey led a GOP boycott of the Senate Banking Committee confirmation votes on Federal Reserve nominees over his opposition to Sarah Bloom Raskin. Jay Powell – now the "chair pro tempore" of the Federal Reserve because he hasn't been confirmed to a new term – is set to testify before the panel on Thursday.
→ Tuesday: The Senate Armed Services Committee will hold a hearing on global security challenges with Michèle Flournoy and Roger Zakheim. The House Oversight and Reform Committee will hold a hearing on the American Rescue Plan. Among those testifying: Illinois Gov. J.B. Pritzker. The Senate Foreign Affairs Committee will have a closed hearing on hostage policy. House Energy and Commerce has a hearing on "holding big tech accountable."
→ Wednesday: Jay Powell will be at the House Financial Services panel to talk about the state of the U.S. economy. Senate EPW will have Transportation Secretary Pete Buttigieg to talk about the infrastructure bill implementation. 
→ Thursday: Powell will be at Senate Banking to talk about the state of the economy.
→ The Progressive Change Committee is up with an ad bashing House Minority Leader Kevin McCarthy for Republican economic policies under Donald Trump and George W. Bush. The ad is running on Fox News, CNN and MSNBC in the D.C. market today, tomorrow and through the State of the Union.
→ Here's a new spot from Sarah Huckabee Sanders' gubernatorial campaign. This one talks up her ties to Arkansas. It features both her father, Mike Huckabee, and former President Donald Trump. The spot is running in the Ft. Smith-Fayetteville-Springdale-Rogers media market. 
→ Sen. John Boozman (R-Ark.), who has a primary challenger this cycle, is up with an ad that says he's helping save lives by working to finish the border wall between the United States and Mexico. 
→ Longtime Idaho GOP Rep. Mike Simpson is up with an ad in his primary race against Bryan Smith. Thanks to AdImpact for all three of these ads.
8:55 a.m.: President Joe Biden will leave Delaware for the White House. He will arrive at 9:50 a.m.
10:30 a.m.: Biden and Vice President Kamala Harris will get their daily intelligence briefing.
11:15 a.m.: Biden will speak with "allies and partners" about Ukraine.
2 p.m.: Biden and Harris will host a celebration for Black History Month.
3 p.m.: Jen Psaki will brief.
Week ahead: Wednesday: Biden will travel to Superior, Wis., to discuss "Building a Better America and how the Bipartisan Infrastructure Law delivers for the American people by rebuilding roads and bridges and creating good-paying, union jobs." Thursday: Biden will hold a Cabinet meeting.
NYT
→ "10 Consequential Days: How Biden Navigated War, Covid and the Supreme Court," by Michael D. Shear, Zolan Kanno-Youngs and Katie Rogers
→ "'Blood Red': How Lopsided New District Lines Are Deepening America's Divide," by Shane Goldmacher
WaPo
→ "Four women on the Supreme Court would bring historic, near gender parity for institution long dominated by White men," by Robert Barnes
WSJ
→ "Car Parts, Chips, Sunflower Oil: War in Ukraine Threatens New Shortages," by Alistar MacDonald and William Boston
→ "Russia's Ruble, Financial Markets Are Hammered by Sanctions," by Caitlin Ostroff
AP 
→ "Quiet night in Ukraine capital even as Russia tensions flare," by Yuras Karmanau, Jim Heintz, Vladimir Isachenkov and Dasha Litvinova in Kyiv, Ukraine
Politico
→ "First Capitol riot trial set to open in D.C.," by Josh Gerstein and Kyle Cheney
We're making investments in safety and security—and seeing results
Facebook has invested $13 billion over the last 5 years to help keep you safe. Since July, we've taken action on:
34.7M pieces of explicit adult content
26.6M pieces of violent and graphic content
9.8M pieces of terrorism-related content
Enjoying Punchbowl News AM?
Subscribe 10 friends with your unique link (below) and get a Punchbowl News hat!
You currently have: 0 referrals
Was this email forwarded to you? Sign up https://punchbowl.news
Punchbowl News All Rights Reserved
You are subscribed to our Punchbowl News AM list
Crucial Capitol Hill news AM, Midday, and PM—5 times a week
Join a community of some of the most powerful people in Washington and beyond. Exclusive newsmaker events, parties, in-person and virtual briefings and more.
Subscribe to Premium
The Canvass Year-End Report
And what senior aides and downtown figures believe will happen in 2023.
Check it out
A message brought to you by RTX
We're taking smarter steps toward a sustainable future. By investing in hybrid-electric propulsion and developing systems that operate on alternative fuels, we're creating a safer, more connected world. Learn more at RTX.com