Every issue of the Punchbowl News newsletter, including our special editions, right here at your fingertips.
Join the community, and get the morning edition delivered straight to your inbox.
Finding the news you care about has never been easier!
From polling to policy, explore the top stories and trending topics that matter most to you.
Check out our content here.
BY JOHN BRESNAHAN, ANNA PALMER AND JAKE SHERMAN
We got our hands on former Speaker John Boehner's book "On the House" and it's every bit as interesting as you think it would be. There are tons of behind-the-scenes stories about the Ohio Republican's three decades in D.C.
As the former speaker alludes to in the opening, this isn't a book about changing the world. It's a book of stories. And Boehner is all about telling stories.
Here's one about Donald Trump:
I was House minority leader then and on a fundraising run, scheduled to play golf with two high-profile insurance executives. We needed a fourth, and out of nowhere, we were informed that Donald Trump himself would be playing with us. I didn't know Donald Trump at all, except from television. But his name was on the door of the club, and if he wanted to come out with us, none of us were going to say no. I had no idea what to think. The big loud guy I had seen on TV did not strike me as an ideal companion for 18 holes of golf. When we got to the course to hit some warm-up balls, there he was: the man himself, with the shock of bright yellow hair, tanned face, dressed in a typical golfing outfit, ready to hit the links.

He was very friendly, but in an in-your-face, this-is-how-they-talk-in-New-York kind of a way that I was not used to at all. Direct, loud, intense. Pretty much the same guy who got elected to the White House. I can tell you that with Trump, what you saw was what you got — for better or worse.

"Boehner!" Trump said when we were ready to start. "You and I are gonna take these two turkeys on and whip 'em." That was okay with me.

As we were getting ready to start, Trump went over to John Criscuolo, a young staffer of mine who came out with us and whom we called "BJ," and asked for the insurance executives' names. "I think they're Joe and Jeff," BJ told him. So Trump said hello to Joe and hello to Jeff and we set off. (Their actual names, by the way, have been changed to protect the innocent.)

Then we went around sharing our handicaps. One of the guys was a 12, one was a 14. I was a 10.

"What's your handicap?" I asked Trump.

"Five," he said, matter-of-factly.

There's no way this guy is a five handicap, I thought to myself. I'm going to have to carry him around on my back all day.

But Trump ended up birdying three of the first five holes — that's going one under par three times, or one under the standard number of strokes a hole usually needs, for those rusty at golf terms. It absolutely blew me away. Holy shit, I thought, this guy can play golf. He and I won that day, beating Joe and Jeff soundly. Over 18 holes, we talked about this and that. Nothing particularly memorable, but had I known back then I was walking around with the 45th president, I might have paid better attention.

As we were coming off the course Trump was in a great mood, as winners generally tend to be. We shook hands — "Good match, Joe," "Well done, Jeff." Finally, one of the guys stopped us. He had kind of a weird look on his face, and I could see something awkward was coming. "Guys," he said, "our names are Mike and David." We had been calling these guys the wrong names over and over, all day long, and they were either too polite or too shy to correct us the whole time.

All I could do was laugh. Sure, it was a little embarrassing. But was it my fault these guys just let us walk around for 18 holes looking like assholes because we were spouting the wrong names? They could have said something earlier, but they didn't.

But Donald — well, Trump did not laugh. This sort of glower fell across his face. The kind of look I could tell that you didn't want to see too often if you happened to work for him. He marched over to BJ and got right in his face to the point that BJ might have had to take a step or two back. Then Trump shouted, "What are you, some kind of idiot?" He pointed to the rest of our impromptu foursome. "These guys' names are Mike and David!" Then he gave the young man a piece of advice that he — and I — have never forgotten. And I hesitate to put an expletive in the mouth of a former president of the United States, but here it goes anyway. "You want to know how to remember somebody's name?" Trump asked. "You fucking LISTEN!" Poor BJ — he looked like he wanted to melt into the ground and pull the turf over his head.

We laughed about that at the time, and since — BJ still works with me —  but there was something dark about it too. I'd never seen anybody treat a staffer like that — not in politics, not ever. This was more than New York bluster. This was real anger, over something very, very small. We had no idea then what that anger would do to our country.
The book will be out next week. It's available on Amazon for $18. As of early this morning, it was No. 30 on the Amazon sales list. Having written a book and having spent weeks obsessing over the Amazon top 100 list, we can tell you that's pretty damn good.
PRESENTED BY SOUTHERN COMPANY
Southern Company is committed to reducing our greenhouse gas emissions to net zero and providing the customers and communities we serve with reliable, affordable energy.
We've set a goal of net zero emissions by 2050 and expect to achieve our intermediate 2030 goal of a 50% reduction by 2025, if not sooner.
Have you heard the news? The White House says it wants to negotiate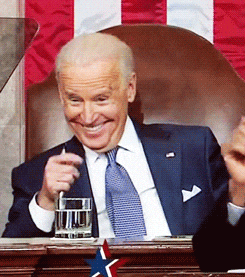 Last week, the White House released the first half of its new infrastructure proposal, the American Jobs Plan. The partisan tradeoff was quite clear: it called for a corporate tax hike to pay for a $2.5 trillion in infrastructure spending. For the most part, Democrats rallied around it, and the White House privately made the case that it was good policy to soak corporations.
Until something interesting happened this week: President Joe Biden and his allies began signaling that they were open — even eager — to negotiate on some key planks in the plan. 
→ Biden during a speech Wednesday: "Democrats, Republicans will have ideas about what they like and what they don't like about our plan. That's — that's a good thing. That's the American way. That's the way democracy works. Debate is welcome. Compromise is inevitable. Changes are certain. In the next few weeks, the vice president and I will be meeting with Republicans and Democrats to hear from everyone. And we'll be listening. We'll be open to good ideas and good-faith negotiations."
→ Commerce Secretary Gina Raimondo showed extreme flexibility on the corporate rate while at a White House press conference: "So, there is room for compromise, that is clear.  The   president has said a few things. We have to get this investment done. He's charged us to work across the aisle and in a bipartisan way, and to — and we need to pay for what we're doing.  Like, our proposal is to invest in eight years and pay it back over 15. Now, we can have a discussion about that. Should we pay it back over 20 instead of 15? Is the [corporate] rate not quite 28 [%]? Is it something, you know, lower? So we're — we want to compromise."
→ Sen. Chris Coons (D-Del.) — one of Biden's closest allies on the Hill — proposed scrapping the tax hike all together and paring back the package in order to win GOP support.
So here's the deal, as Biden frequently says. The White House says at this point it really wants this bill to be collaborative and bipartisan, and Biden and VP Kamala Harris are really down for a negotiation. 
There are some potential downsides to this stance. How long will Biden seek a deal with Republicans? Every move to the right loses Biden support from the left on Capitol Hill, and the House majority is super, super thin. Plus, bipartisanship is slow — really slow. It requires patience that many on the Hill won't have. And Democratic leaders are convinced Republicans are so focused on 2022 that they may talk, yet in the end won't make a deal. Think former Sen. Olympia Snowe (R-Maine) and Obamacare in 2009. But we're far from that at the moment.
If you're a Republican, you are going to be super wary of Biden right now. The GOP thinks Biden is baiting them to get into a negotiation, and then will throw them under the bus when the whole thing goes awry. 
The ten GOP senators who went to the White House in February to meet with Biden on his Covid relief bill released a statement suggesting the president sounds bipartisan, but isn't governing that way at all. 
Here's their statement:
"In good faith, our group of 10 Republicans worked together to draft a sixth Covid-19 relief package earlier this year.  Our $618 billion proposal was a first offer to the White House designed to open bipartisan negotiations.  Our package included the core Covid relief elements of the Biden Administration's plan, such as providing an identical amount—$160 billion—to support vaccines and testing.  In addition, we later upped our offer to $650 billion to increase the size of the stimulus checks.

"The Administration roundly dismissed our effort as wholly inadequate in order to justify its go-it-alone strategy.  Fewer than 24 hours after our meeting in the Oval Office, the Senate Democratic Leader began the process of triggering reconciliation which precluded Republican participation and allowed for the package to pass without a single Republican vote."
To be fair, Team Biden has been telling us for weeks that they'd like to see the infrastructure bill go through a deliberative process on Capitol Hill. The rescue package was emergency legislation. It was built on work already done by Congress. The American Jobs Plan is tailor made for congressional input. Senior White House officials say Biden is eager to negotiate. Now he'll have to find a way to show that. 
Amy Swonger is going back to Invariant
Amy Swonger, a veteran Republican operative who served for years in the Trump administration, is rejoining the lobbying and communications firm Invariant.
Swonger most recently served as Trump's director of legislative affairs. Swonger led Trump's Capitol Hill operation, and she was responsible for developing legislative strategy and pushing the president's agenda with Congress. Swonger is expected to focus on advising clients in the health care, energy, tax and financial services sectors. She previously worked for former VP Dick Cheney, then-Senate Majority Whip Mitch McConnell (R-Ky.) and former Senate Minority Whip Trent Lott (R-Miss.).
Manchin takes to WaPo to remind us he's not blowing up the filibuster
Sen. Joe Manchin (D-W.Va.) has said roughly 10,000,000 times that he'll oppose any attempt  to get rid of the filibuster.
Now he has said it again, this time in a Washington Post op-ed. It came a day after Sen. Kyrsten Sinema (D-Ariz.) said the same thing to the Wall Street Journal. So with Congress returning to town next week and pressure from progressives growing to eliminate the filibuster, the two Democratic moderates are trying to shut down the debate.
Manchin also signaled — again repeating something he's said plenty of times to Hill reporters — that he's not in favor of using reconciliation to pass legislation by a majority vote rather than 60 votes. "I simply do not believe budget reconciliation should replace regular order in the Senate," Manchin said. "How is that good for the future of this nation?"  
Here's Manchin on the filibuster:
"The filibuster is a critical tool to protecting that input and our democratic form of government. That is why I have said it before and will say it again to remove any shred of doubt: There is no circumstance in which I will vote to eliminate or weaken the filibuster. The time has come to end these political games, and to usher a new era of bipartisanship where we find common ground on the major policy debates facing our nation. … 

"We will not solve our nation's problems in one Congress if we seek only partisan solutions. Instead of fixating on eliminating the filibuster or shortcutting the legislative process through budget reconciliation, it is time we do our jobs."
Keeping the filibuster would effectively put a stop to many of Joe Biden's and the Senate Democratic majority's top legislative priorities. 
Inside Biden's executive actions on guns
With Congress no closer to reaching a deal on new gun control legislation, the White House on Wednesday night announced six executive actions on guns, and a nominee to run the Bureau of Alcohol, Tobacco, Firearms and Explosives (ATF) who's backed by gun-control groups. It's not the background checks bill that Democrats in Congress and pro gun-control advocates badly want, but the White House is anxious to show some movement on this issue.
→ The Justice Department will issue a proposed rule within 30 days to "help stop the proliferation of ghost guns," according to the White House. These untraceable guns are made from kits or 3D printers. Administration officials didn't specify what the new rule will do, although gun-control advocates have called for background checks on sales of these increasingly popular kits.
→ DOJ will also issue a new proposed rule that will state that "stabilizing braces" attached to pistols turn those weapons into short-barreled rifles. Short-barrel rifles are are more strictly regulated by the government. This is in response to the deadly March 23 shooting in Boulder, Colo., that left 10 people dead. The suspect used a pistol version similar to an AR-15 rifle, which he was able to buy after a standard background check. Under this new proposal, these weapons — increasingly popular with gun manufacturers — will come under the National Firearms Act and buying them will require far more stringent checks.
→ Over the next 60 days, DOJ officials will draft model "red flag" legislation for states. These laws — also known as "extreme risk protection orders" — allow families or law-enforcement officials to seek a court order temporarily preventing someone from access to guns if they present a danger to themselves or others. Nineteen states and the District of Columbia currently have red flag laws.
→ The Biden administration will put more money and resources into community violence prevention programs. The American Jobs Plan calls for $5 billion for such programs.
→ DOJ will issue a new report on illegal weapons trafficking, updating a 20-year-old federal study.
→ President Joe Biden will nominate David Chipman to run ATF. Chipman worked at ATF for 25 years, and he's now a senior policy adviser at Giffords, the pro-gun control group started by former Rep. Gabby Giffords (D-Ariz.). Giffords was seriously wounded in a Jan. 2011 mass shooting that left six people dead. "David has spent his career serving the public, combating violent crime, and striving to make our nation and our communities safer," she said in a statement praising Chipman's nomination. "As a responsible gun owner, decorated law enforcement professional, and gun safety expert, David is the perfect choice for ATF director."
Gun rights groups are already complaining about the White House's moves, so the gun debate is only going to grow more intense as the year goes on.
WaPo's Seung Min Kim and Tyler Pager: "Biden to take a flurry of actions on gun control"
10:45 a.m.: President Joe Biden and VP Kamala Harris will get their daily intelligence briefing.
11:45 a.m.: Biden, Harris and Attorney General Merrick Garland will speak about new gun regulations.
12:30 p.m.: Jen Psaki and Energy Secretary Jennifer Granholm will brief reporters.
1 p.m.: Biden will have lunch with Harris.
2 p.m.: Speaker Nancy Pelosi will hold her weekly press briefing virtually.
4:15 p.m.: Biden and Harris will get a Covid-19 briefing.
PRESENTED BY SOUTHERN COMPANY
Our diverse energy portfolio and industry-leading innovation make resilience possible.
CBS 
→ "Matt Gaetz trip to Bahamas is part of federal probe into sex trafficking, sources say" by Major Garrett, Michael Kaplan, Clare Hymes, Jessica Kegu: "Federal investigators are looking into a Bahamas trip Matt Gaetz allegedly took in late 2018 or early 2019 as part of an inquiry into whether the Florida representative violated sex trafficking laws, multiple sources told CBS News.
"Gaetz was on that trip with a marijuana entrepreneur and hand surgeon named Jason Pirozzolo, who allegedly paid for the travel expenses, accommodations, and female escorts, the sources said. Investigators are trying to determine if the escorts were illegally trafficked across state or international lines for the purpose of sex with the congressman."
FT
→ "US offers new plan in global corporate tax talks," by James Politi and Aime Williams in Washington and Chris Giles in London: "The Biden administration has proposed a new model for taxing multinational corporations, calling for the world's biggest businesses to pay levies to national governments based on their sales in each country as part of a deal on a global minimum tax. 
"In documents sent to the 135 countries negotiating international taxation at the OECD in Paris and obtained by the Financial Times on Wednesday, the US Treasury laid out a plan that would apply to the global profits of the very largest companies, including big US technology groups, regardless of their physical presence in a given country."
NYT
→ "Kemp Seizes on Georgia Voting Law to Try to Win Back Trump and His Base," by Lisa Lerer and Reid Epstein
→ "Andrew Giuliani, Political Novice, Is Considering a Run for Governor," by Jesse McKinley in Albany
→ Ezra Klein column: "Four Ways of Looking at the Radicalism of Joe Biden"
WaPo
→ "China builds advanced weapons systems using American chip technology," by  Ellen Nakashima and Gerry Shih
AP
→ AP Exclusive: Northam endorses McAuliffe for Va. governor" by Sarah Rankin: "Democratic Virginia Gov. Ralph Northam announced Thursday that he is backing Terry McAuliffe in the race to succeed him, handing his predecessor one of the contest's most coveted endorsements."
→ "Biden seems ready to extend US troop presence in Afghanistan," by Robert Burns: "Without coming right out and saying it, President Joe Biden seems ready to let lapse a May 1 deadline for completing a withdrawal of U.S. troops from Afghanistan. Orderly withdrawals take time, and Biden is running out of it.
"Biden has inched so close to the deadline that his indecision amounts almost to a decision to put off, at least for a number of months, a pullout of the remaining 2,500 troops and continue supporting the Afghan military at the risk of a Taliban backlash. Removing all of the troops and their equipment in the next three weeks — along with coalition partners who can't get out on their own — would be difficult logistically, as Biden himself suggested in late March."
LAT
→ "Former Rep. Katie Hill loses first round in her lawsuit alleging revenge porn," by Seema Mehta
PRESENTED BY SOUTHERN COMPANY
Southern Company believes the future of energy is clean, efficient and resilient. For more than five decades, our research and development organization has remained at the forefront of innovation, delivering greater value to customers in the ever-changing energy landscape. 
With strategic partners in industry, government and academia, Southern Company is inventing, shaping and accelerating emerging energy technologies to build the future of energy and improve the lives of customers.
Enjoying Punchbowl News AM?
Subscribe 10 friends with your unique link (below) and get a Punchbowl News hat!
You currently have: 0 referrals
Was this email forwarded to you? Sign up https://punchbowl.news
Punchbowl News All Rights Reserved
You are subscribed to our Punchbowl News AM list
Crucial Capitol Hill news AM, Midday, and PM—5 times a week
Join a community of some of the most powerful people in Washington and beyond. Exclusive newsmaker events, parties, in-person and virtual briefings and more.
Subscribe to Premium
The Canvass Year-End Report
And what senior aides and downtown figures believe will happen in 2023.
Check it out
Finding the news you care about has never been easier!
From polling to policy, explore the top stories and trending topics that matter most to you.
Check out our content here.