Every issue of the Punchbowl News newsletter, including our special editions, right here at your fingertips.
Join the community, and get the morning edition delivered straight to your inbox.
A message brought to you by RTX
We're taking smarter steps toward a sustainable future. By investing in hybrid-electric propulsion and developing systems that operate on alternative fuels, we're creating a safer, more connected world. Learn more at RTX.com
BY JOHN BRESNAHAN, ANNA PALMER AND JAKE SHERMAN
WITH MAX COHEN AND CHRISTIAN HALL
Happy Thursday. Now that the Senate is pretty deep into the infrastructure debate, we thought it might be useful to lay out how we see the next two weeks unfolding. This is based on talking to top Republicans and top Democrats in the Capitol.
As you've heard approximately 400,000,000 times in the past few weeks, the Senate is going to stay in town until it passes the bipartisan infrastructure bill and the Democrats' budget resolution. 
Let's say Senate Majority Leader Chuck Schumer files cloture to end the amendment process today — not a sure thing, but certainly possible bordering on probable. 
↓ Friday — Not much will happen then. This will be the intervening day before the cloture vote. And a number of senators will be in Wyoming for former Sen. Mike Enzi's funeral. So no action here. ↓
That takes us to Saturday, when the Senate will vote on cloture. Yep, another weekend session. Not ideal. It's possible that there could be amendment votes over the weekend even after Schumer files cloture, but that would require an agreement between the two leaders.
↓ Up to 30 hours of post-cloture debate. ↓
That probably takes us to Sunday or Monday, when the Senate would vote on adoption of the substitute amendment at a simple majority threshold. At that point, cloture will have ripened on the underlying bill (a House infrastructure package, if you were wondering) and the Senate would vote on that at a 60-vote threshold.
↓ Up to 30 hours of post-cloture debate. ↓
Final passage, which could occur sometime Monday or Tuesday. Remember, there are procedural maneuvers that can change this, but cooperation can speed things up too. It just depends on how long GOP opponents of the $1 trillion bipartisan infrastructure package want to string things out. But all signs point to this measure passing, a major win for the G10 group of senators, Schumer and President Joe Biden.
Then we move onto the Democrats' budget resolution
Assuming the infrastructure bill passes, the Senate will vote on the motion to proceed to the $3.5 trillion budget resolution. This is a simple majority vote that Democrats will be able to clear easily.
↓ Up to 50 hours of debate on the resolution. Democrats probably won't take all of their time, but Republicans most likely will. Sometimes the two Senate leaders sidestep the 50 hours of debate and decide together when to begin the vote-a-rama — the unlimited amendment vote session. So you should assume the vote-a-rama may begin Wednesday or Thursday. ↓
The vote-a-rama basically lasts until Republicans get sick of it. There is no formal time limit. There were two vote-a-ramas earlier this year as part of the debate over the American Rescue Plan. We imagine that this vote-a-rama will go until late next week or early next weekend. Why? Because Republicans are extraordinarily dug in against the budget resolution — as the minority typically is — and they are going to want to express that on the Senate floor via the amendment process. 
The budget resolution is going to pass, barring something extraordinarily surprising. 
The reconciliation package — which will contain the social portion of Biden's agenda — will then be a fall priority for the House, Senate and White House.
Now we get to another thorny question: When will the House take up the bipartisan infrastructure package? When, how and if they will pass this will be a major focus of the Punchbowl News coverage over the next several months. Well, all of this will, but you get our point. 
Speaker Nancy Pelosi has been completely firm on this. Pelosi has said repeatedly that the House will not take up the infrastructure bill until the reconciliation package is passed by the Senate, which, again, is a fall priority. She reiterated this again to CNN's Ryan Nobles Wednesday afternoon. There is a conspiracy theory that she'll buckle at some point and allow an immediate vote on the infrastructure bill, but we truly don't see that. Pelosi is usually as good as her word.
Smart story here by our pal Emily Cochrane at the NYT about the "rocky path" in the House.
An infrastructure fall/winter — are you ready?
The internet has changed a lot since 1996 – internet regulations should too
It's been 25 years since comprehensive internet regulations passed. See why we support updated regulations on key issues, including:
– Protecting people's privacy
– Enabling safe and easy data portability between platforms
– Preventing election interference
– Reforming Section 230
Will there be a debt limit showdown in September?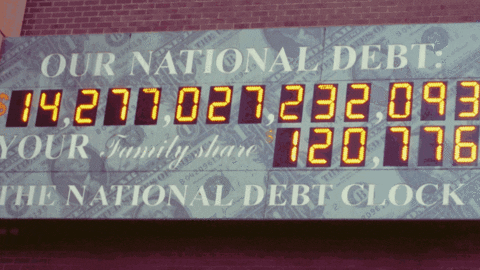 Writing that headline is painful for anyone who went through the 2011 debt crisis, which we all covered. It was scary to see the nation's leaders risk the country's economic future in order to score political points, especially the intransigence of Tea Party Republicans. But a decade later, the pieces are starting to fall into place to do it again. We're not saying it'll happen; we're just saying the signs aren't great right now.
This Politico story by our friends Cailtin Emma and Jennifer Scholtes on Wednesday set off some intense questioning of senators in both parties. Senate Democrats may not include a provision lifting or suspending the debt ceiling in their upcoming $3.5 trillion budget resolution, which could hit the floor next week (see above.) Democratic leaders instead would add a debt limit boost in a stopgap funding bill that could be taken up by Congress in late September in order to avoid a government shutdown. The fiscal year ends Sept. 30, while CBO has projected that the Treasury Department would exhaust its ability to borrow additional money sometime in October or November.
If Democratic congressional leaders and the White House use this approach, it'd be a huge political gamble. They'd be setting a new government funding-debt limit "cliff" in just about six weeks from now, and daring the Republicans to stop them.
It's not confirmed that Democrats will employ this risky tactic, although it's been under consideration for weeks — as we and others have reported. Neither Senate Majority Leader Chuck Schumer nor Budget Committee Chair Bernie Sanders (I-Vt.) would comment on the issue.
Yet this is exactly what Senate Minority Leader Mitch McConnell warned against in an interview we did with him on July 21. McConnell said at that time that no Senate Republican would vote for a debt limit increase if Democrats went ahead with their massive reconciliation package, which House and Senate committees will begin assembling once party leaders push through a budget resolution.
Senators in both parties took a hard line on the debt limit issue Wednesday, saying the other side would be to blame for any economic fallout from a possible debt crisis.
"That [Democrats] can avoid entirely. They can avoid that entirely by taking action during reconciliation," Sen. Mitt Romney (R-Utah) said. "They're the ones seeking to spend three-and-a-half trillion dollars. They're the ones massively adding to the debt." Government debt now exceeds $28 trillion.
Romney added: "There's no need for a compromise when they can do it by themselves."
Sen. Steve Daines (R-Mont.) suggested the only way Republicans would support a debt limit boost would be if there were "structural reforms" to the federal budget, which is similar to what many House Republicans demanded in 2011.
"What needs to be done, though, is you can't keep increasing the debt limit over and over again without some kind of reform that starts to address the fundamental issue, and that is deficit spending that goes out as far as we can see," Daines said. "So the most responsible thing that can be done is to attach some kind of [budget] reform that we can get agreement as a condition of raising the debt ceiling." 
Democrats, for their part, have the memory of the 2011 debt crisis under former President Barack Obama seared into their collective memory. They see Republicans trying to repeat this tactic in order to hobble another Democratic president. Democrats note that when the 2017 GOP tax cuts added trillions to the debt despite a growing economy, they didn't seek to undermine Trump in this way, and they vow not to stand for it under Biden.
Senate Finance Committee Chair Ron Wyden (D-Ore.) has taken to calling the Republicans' position "stall ball." He constantly reminds us that he went to college on a basketball scholarship and he knows what "stall ball" is. 
"What I can tell you is that we're gonna make sure Mitch McConnell can't do to President Biden what was done to Barack Obama, which was holding him in effect hostage," Wyden said. He noted that some Republicans want a bipartisan commission on entitlement reform in order to go along with a debt limit increase, an approach Democrats reject.
Sen. Mark Warner (D-Va.) said it would be the "epitome of stupidity" to provoke a debt crisis as the United States tries to move past the Covid-19 pandemic, only to face a resurgence in infections due to the more dangerous Delta variant.
"The rules that existed under Donald Trump, that we weren't going to mess with the full faith and credit of the United States of America, was the appropriate and prudent thing," Warner said. "To create a fake crisis at this moment, with this much going on in the world, with this much going on in this country, coming out of Covid and dealing with the variant, would be the epitome of irresponsibility."
The real issue here is a philosophical one. Under Biden, Democrats are moving forward with the biggest expansion of government since the Great Society. The party base, which has been increasingly more progressive, demands this. Republicans, still reeling from the chaos of the Donald Trump era, are strongly opposed. Many GOP lawmakers believe the Democrats' efforts are not only hurting the economy, but will help propel them back into power. 
And the Covid-19 pandemic has exacerbated this enormous political fight due to the trillions of dollars in government aid — and red ink — unleashed to avoid an economic implosion. The historic effort staved off a disaster, yet the pandemic has quickened the pace of economic reorientation as well, something both parties are struggling with now.
The federal government has run up enormous deficits the last two years under a Republican and now Democratic president. At roughly $3 trillion for FY 2021 alone, this is the largest yearly deficit compared to the overall size of the U.S. economy since World War II. Only 2020 was bigger, using this same metric, in that 75-year-period.
The 2019 agreement to raise the debt limit expired on July 31, and the Treasury Department has begun using "extraordinary measures" to continue to borrow money to finance operations.
WHAT 1600 PENNSYVLANIA IS TALKING ABOUT TODAY
President Joe Biden will sign an executive order that sets a voluntary target calling for half of cars sold in the United States by 2030 to be electric vehicles. 
Biden will speak about this plan this afternoon at 3 p.m. at the White House. This came off an embargo an hour ago. Of course, this is a goal, not a mandate — it's not enforceable. 
Biden's "Build Back Better" agenda calls for the U.S. government  to help build a nationwide car-charging network, and it includes incentives for Americans to buy more fuel efficient vehicles. 
Check out the details of what Biden will talk about here, and supportive statements from car manufacturers here.
As 20th anniversary of 9/11 nears, families push government for info
This Sept. 11 will be the 20th anniversary of the worst terrorist attacks in the nation's history, and victim families are still seeking release of all the information the U.S. government has on the Saudi Arabian government's ties to the attackers.
Sens. Bob Menendez (D-N.J.), Richard Blumnenthal (D-Conn.), John Cornyn (R-Texas), Chuck Grassley (R-Iowa) and others will unveil the September 11th Transparency Act this morning. The new legislation calls on the Biden administration — including the Justice Department and FBI — to declassify and release the Saudi files. Citing the "state secrets privilege," the government has refused to publicly release a number of documents in a lawsuit by 9/11 victim families against the Saudi Arabian government.
A new website by 9/11 victim families and survivors is also being launched today. You can see it here. The group is seeking an in-person meeting with President Joe Biden, but that hasn't happened yet.
9:30 a.m.: President Joe Biden will receive his daily intelligence briefing.
11 a.m.: The Covid-19 team will bref reporters.
11:30 a.m.: Biden and Vice President Kamala Harris will meet with Asian American, Hawaiian and Pacific Islander civil rights leaders … The Sept. 11 Transparency Act will be unveiled at the Senate Swamp.
1 p.m.: Jen Psaki will brief reporters.
3 p.m.: Biden will speak about steps the administration is taking to strengthen "American leadership on clean cars and trucks."
4:30 p.m.: Biden will sign a bill into law that awards the Congressional Gold Medal to U.S. Capitol Police and other officers who protected the Capitol on Jan. 6.
NYT
→ Political memo: "In String of Wins, 'Biden Democrats' See a Reality Check for the Left," by Alex Burns
→ "Biden Administration Planning to Require Foreign Travelers to Be Vaccinated," by Katie Rogers
→ "Debate Over Presidential War Powers Sets Up Test for a Divided G.O.P.," by Catie Edmondson 
→ "CNN's Cuomo Conundrum: A Star Anchor With a Brother in Trouble," by Michael Grynbaum
WaPo
→ Paul Kane column: "Pelosi faces energized left wing on top of razor-thin House margin"
→ "How Cuomo's office sought help from prominent liberal advocates as it pushed to discredit an accuser," by Michael Scherer and Josh Dawsey
→ "With eviction victory in hand, congressional Democrats turn attention to student loans," by Tony Romm
WSJ
→ "Legal Battle Looms Over New Eviction Moratorium," by Brent Kendall
AP
→ "Immigrant detentions soar despite Biden campaign promises," by Philip Marcelo and Gerald Herbert in Winnfield, La.
Politico
→ "The Senate GOP's one-man infrastructure test case," by Burgess Everett
Why Facebook supports updated internet regulations
2021 is the 25th anniversary of the Telecommunications Act of 1996, the last major update to internet regulation. It's time for an update to set clear rules for addressing today's toughest challenges.
See how we're taking action on key issues and why we support updated internet regulations.
Enjoying Punchbowl News AM?
Subscribe 10 friends with your unique link (below) and get a Punchbowl News hat!
You currently have: 0 referrals
Was this email forwarded to you? Sign up https://punchbowl.news
Punchbowl News All Rights Reserved
You are subscribed to our Punchbowl News AM list
Crucial Capitol Hill news AM, Midday, and PM—5 times a week
Join a community of some of the most powerful people in Washington and beyond. Exclusive newsmaker events, parties, in-person and virtual briefings and more.
Subscribe to Premium
The Canvass Year-End Report
And what senior aides and downtown figures believe will happen in 2023.
Check it out
A message brought to you by RTX
We're taking smarter steps toward a sustainable future. By investing in hybrid-electric propulsion and developing systems that operate on alternative fuels, we're creating a safer, more connected world. Learn more at RTX.com