Every issue of the Punchbowl News newsletter, including our special editions, right here at your fingertips.
Join the community, and get the morning edition delivered straight to your inbox.
PRESENTED BY PRATT & WHITNEY, AN RTX BUSINESS
BY JOHN BRESNAHAN, ANNA PALMER AND JAKE SHERMAN
So what do we think about the prospects of President Joe Biden's big coronavirus relief bill? 
Well, here is something you've probably picked up about us — we're skeptics. And you won't be surprised here that we're skeptical Biden can get anything resembling his $1.9 trillion "American Rescue Plan" through Congress. At least not in its current form.
We're also skeptical that Democrats will be able to pass anything by March 14, which is when $300 weekly federal unemployment payments run out. Reconciliation — the wonky budget mechanism that triggers a 51-vote threshold for passage in the Senate — is complicated. It takes time. Democrats and the White House would need everything to break their way. And nothing like this ever goes off without a hitch.
Let us explain what you should expect:
→ The House Budget Committee may begin work next week on a budget resolution that would include reconciliation instructions — this is the beginning of the process that allows for the 51-vote threshold in the Senate. To meet the mid-March target date, Democrats gotta move fast. Expect some decisions this week on what their plan is.
→ The Senate Budget Committee will be led by Sen. Bernie Sanders (I-Vt.) in this Congress, and he's anxious to get to work. "What we cannot do is wait weeks and weeks and months to go forward. We have to act now," Sanders said in CNN's "State on the Union" on Sunday. Senate Majority Leader Chuck Schumer (D-N.Y.) and Senate Minority Leader Mitch McConnell (R-Ky.) are still clashing over the future of the filibuster, and the Senate is not yet organized. But a Senate source working on the issue said "Democrats can bring a budget resolution no matter what."
→ Yet bringing a budget resolution to the Senate floor means there will be a "vote-a-rama" — wahoo! That means any senator can offer an amendment to the budget. In 2017, there were more than 700 amendments to the budget resolution. There's gonna be more this time, bank on it. Our sources tell us to expect more than 1,000. These amendments are mainly for messaging purposes and only a fraction will get an actual vote. But they slow the process down big time.
→ Once both chambers have gotten past this hurdle — and it will be time-consuming — the House and Senate committees have to get down to writing the actual bill. The Ways and Means Committee has a big chunk of the work to do in the House — same with the Senate Finance panel — but Biden's proposal is so broad, other committees will get pulled in too. Vaccination and testing programs, food stamps, school aid, raising the minimum wage to $15 per hour — the Biden plan is hugely ambitious. The House passed many of these provisions as part of the Heroes Act last Congress, yet it all has to be passed again. And then it all has to withstand Byrd Rule challenges in the Senate. The Byrd Rule limits what kind of policies can be included as part of reconciliation. So Democrats could see some critical elements of their bill — like the minimum wage — knocked out.
Bottom line: Democrats and the White House could meet their target. It's not impossible. But it's unlikely. They'll have to come close to a perfect game to do it.
Also: The Senate Sweet 16™  met with NEC Director Brian Deese Sunday. The general vibe was they needed vaccine money to start moving. (Read POLITICO's Laura Barron-Lopez and Burgess Everett on that.)
So this is an interesting opportunity for the Senate bipartisan group and the Problem Solvers Caucus. This is the kind of space in which they can have an impact. Do they push their leaders to move a vaccine funding bill ASAP? That would be smart. But it would steepen the hill for a big package. Decisions, decisions, decisions.
Trump's 2nd impeachment trial begins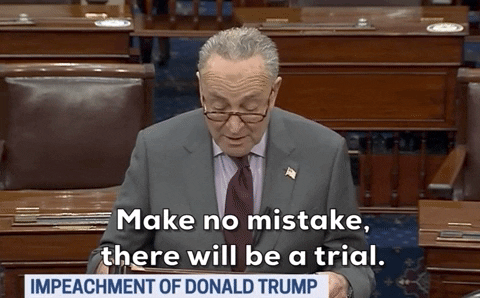 At just before 7 p.m. tonight, the House managers will march their article to impeach former President Donald Trump to the Senate chamber, triggering the formal start of the trial. Senators will be sworn in tomorrow. However, the really important part of the proceedings will not begin until the week of Feb. 8. 
Here are a few things we're watching out for:
→ Trump's operation: During the last impeachment, Trump had then-Rep. Mark Meadows, lead lawyer Jay Sekulow and White House leg affairs director Eric Ueland running his Hill operation. Who will be the point person for him on the Hill this time around? Trump has been talking to Sen. Lindsey Graham (R-S.C.), who helped him find lawyer Butch Bowers. Bowers will coordinate with leadership lawyers on timing and the overall legal strategy.
→ How long does the trial last? The trial guidelines that Senate Majority Leader Chuck Schumer and Minority Leader Mitch McConnell announced Friday were a compromise and simply an outline. McConnell wants to give Trump more time to prepare; Schumer wants it over as quickly as possible. The Senate is set for the week-long Presidents' Day recess beginning Feb. 15; does the trial extend into a second week? Are witnesses called? Lots of questions on this front. Few answers. 
→ Of course, we're all going to be watching out for the small number of GOP senators who may be in play this time around. They're going to get quieter once the trial begins because they'll say they are jurors now. We really don't believe there will be 17 Republicans who could vote to convict, but here are some senators we will be watching out for: 
→ McConnell and his leadership team — we think he's unlikely to vote to convict, but he's the leader, so you gotta keep an eye on him. …
→ Potential "Yes" votes: Sens. Mitt Romney (Utah), Ben Sasse (Neb.), Susan Collins (Maine), Lisa Murkowski (Alaska) and Pat Toomey (Pa.) are all on this list so far.
→ Those Republicans up for reelection in 2022 make up a key bloc too. Todd Young of Indiana, Roy Blunt of Missouri, Mike Crapo of Idaho, Jerry Moran of Kansas, Rob Portman of Ohio, and James Lankford of Oklahoma are in this category, and they all know a vote to convict Trump could have big political implications, despite their outrage at what happened on Jan. 6. Richard Shelby of Alabama and Chuck Grassley of Iowa are on retirement watch. Richard Burr of North Carolina has already announced he's not running.
Biden's buy America agenda
Read our plan to learn how we can commit to closing the homework gap together and connect students to brighter futures.
It doesn't get more tepid sounding than this: House Minority Leader Kevin McCarthy told Greta Van Susteren on her Sunday show "Full Court Press with Greta Van Susteren" that he supports Rep. Liz Cheney's bid to stay as House Republican Conference chair — but with lots of qualifications.
Take it away, Kevin: 
Look, I support her, but I also have concerns. She took a position as a number three member in conference, she never told me ahead of time. One thing about leadership, if we're going to work together, we should understand. We know that this is going to become a difficulty. She can have a difference of opinion, but the one thing if we're going to lead within the conference, we should work together on that as a whole conference because we're representative of that conference. So I support her, but I do think she has a lot of questions she has to answer to the conference.
So, let's extend this construct a bit. What questions can she answer to make people happy? She runs the party's communication arm, voted to impeach the president and didn't tell McCarthy about it. So, it's not entirely clear what people will want to hear and what will get her out of the situation. Will she promise not to do it again — LOL? McCarthy's remarks here leave the door wide open for Cheney's opposition to continue their steady march to removing her. Of course, McCarthy has his own internal politics to play — and that's obvious here. 
Does Cheney want to be in leadership? She has already supported a primary challenger to a sitting member — Rep. Tom Massie (R-Ky.) — and now she's against a GOP president. Her people insist she does. 
Punch List: Axios' Alayna Treene had an item yesterday with McCarthy's office suggesting that they have been taking it on the chin recently. 
BECOME A PUNCHBOWL PREMIUM MEMBER
Have you been enjoying Punchbowl Midday and PM?
Starting next Monday, Feb. 1, only Punchbowl Premium members will continue receiving Midday and PM (as well as access to exclusive events, breaking news, etc.).  We know you've been reading and we'd love to have you in the Premium community. Subscribing is easy, and we promise we'll make it worth your while.
And don't worry Punchbowl AM will always be free and we'll continue to be in your inbox when you wake up Monday through Friday.
"JOSH HAWLEY, PRESIDENT 2024"
K.C. Star goes deep on Hawley
Check out this very deeply reported profile in the K.C. Star about Sen. Josh Hawley (R-Mo.). It traces his ideological makeup from high school to now. It includes the delicious nugget that Hawley signed his high school yearbook "Josh Hawley, president 2024." And his Stanford thesis adviser with this quote:
"I am more than a little bamboozled by it, certainly distressed by it," said David Kennedy, the Stanford professor emeritus of history who served as Hawley's academic adviser and wrote the foreword to his 2008 book on Teddy Roosevelt.
Talk to Hawley allies and they'll tell you they never get a fair shake from the Star. Typical pol-versus-press stuff. But this is a pretty detailed story. 
ABC News: "Biden to replace White House doctor with long-time physician," by Molly Nagle: "O'Connor has served as Biden's primary care physician since 2009, when he was appointed physician to the vice president and was chosen by Biden for the new role due to their long history, and personal relationship, according to a White House official.
"O'Connor served 22 years in the Army, including tours of duty with the 82nd Airborne Division, 75th Ranger Regiment, and United States Army Special Operations Command, and over a decade at the White House — an eight-year extension at Biden's request to what was supposed to be a three-year gig. 
"O'Connor retired from the military following the Obama administration and continued as Biden's doctor while serving as the Founding Director of Executive Medicine at George Washington University."
NYT: "Jeffrey Clark Was Considered Unassuming. Then He Plotted With Trump," by Katie Benner and Charlie Savage: "The department's senior leaders were shocked when Mr. Clark's machinations came to light. They have spent recent weeks debating how he came to betray Mr. Rosen, his biggest champion at the department, and what blend of ambition and conviction led him to reject the results of the election and embrace Mr. Trump's claims, despite all evidence to the contrary, including inside the department itself.
"The plot devised by Mr. Clark and Mr. Trump would have ousted Mr. Rosen and used the Justice Department to pressure lawmakers in Georgia to overturn the state's election results. But Mr. Trump ultimately decided against firing Mr. Rosen after top department leaders pledged to resign en masse." …
… "How Democrats Planned for Doomsday," by Alex Burns …
… Ben Smith's Media Equation column: "Trump Wants Back on Facebook. This Star-Studded Jury Might Let Him." … 
… "As Protests Shake Russia, Kremlin Drops Its 'Navalny Who?' Tack," by Anton  Troianovski in Moscow
WaPo: "Fight over the rules grinds the Senate to a halt, imperiling Biden's legislative agenda," by Mike DeBonis and Seung Min Kim …
… "Return of the technocrats: Biden aims for 'normal' after four years of tumult," by Annie Linskey and Ashley Parker … 
… "After Capitol riot, police chiefs work to root out officers with ties to extremist groups," by Kimberly Kindy, Mark Berman and Kim Bellware: "The revelation that the Capitol mob — covered in emblems of extremist groups — included off-duty law enforcement officers possibly assisted by working police is escalating pressure on sheriffs and police chiefs nationwide to root out staff with ties to white supremacist and far-right armed groups.
"Law enforcement leaders have faced criticism in the past for failing to police their own officers' involvement with extremist groups. However, the selfie photos that off-duty officers took inside the Capitol during the violent siege, which left one police officer dead and dozens of others injured, were a wake-up call for many who have long denied the extent of the problem within policing."
WSJ: "China Overtakes U.S. as World's Leading Destination for Foreign Direct Investment," by Paul Hannon and Eun-Young Jeong
AP: "AP source: Lawmakers threatened ahead of impeachment trial," by Michael Balsamo: "Federal law enforcement officials are examining a number of threats aimed at members of Congress as the second trial of former President Donald Trump nears, including ominous chatter about killing legislators or attacking them outside of the U.S. Capitol, a U.S. official told The Associated Press.
"The threats, and concerns that armed protesters could return to sack the Capitol anew, have prompted the U.S. Capitol Police and other federal law enforcement to insist thousands of National Guard troops remain in Washington as the Senate moves forward with plans for Trump's trial, the official said Sunday."
9:30 a.m.: The president and VP will get the daily briefing.
11:30 a.m.: The president and VP will meet with Defense Secretary Lloyd Austin and Chairman of the Joint Chiefs Mark Milley. There will be a pool spray at the end, around 12:05 p.m.
12:30 p.m.: The VP will hold a ceremonial swearing-in for Austin in the Roosevelt Room. 
1 p.m.: Jen Psaki will brief. … First Lady Jill Biden will participate in a virtual conversation with governors' spouses.
2:15 p.m.: The first lady will "participate in a virtual 'Charla' with young Latinos."
3:45 p.m.: President Joe Biden will speak about "strengthening American manufacturing." VP Kamala Harris will attend. 
6:55 p.m.: The impeachment managers will walk the article of impeachment to the Senate. They'll go through Statuary Hall at 6:56 p.m. and in the Rotunda at 6:57 p.m.
Nearly 17 million kids don't have the high-speed internet they need to connect to learning. The homework gap has existed for decades, but the pandemic made the problem – and the need for a solution – more pressing. AT&T has invested $125 billion in American infrastructure over the past five years and is backed by one of the largest private full-time union workforces in the country. We've made progress, but there's more to do. Read our plan to learn how we can commit to closing the homework gap together and connect students to brighter futures.
Manu Raju, CNN's chief congressional correspodent, joined the Punchbowl team for last night's The Lookahead. Check out the full recording here. 
Subscribe 10 friends with your unique link (below) and get a Punchbowl News hat!
You currently have: 0 referrals
Crucial Capitol Hill news AM, Midday, and PM—5 times a week
Join a community of some of the most powerful people in Washington and beyond. Exclusive newsmaker events, parties, in-person and virtual briefings and more.
Subscribe to Premium
The Canvass Year-End Report
And what senior aides and downtown figures believe will happen in 2023.
Check it out
PRESENTED BY PRATT & WHITNEY, AN RTX BUSINESS