Every issue of the Punchbowl News newsletter, including our special editions, right here at your fingertips.
Join the community, and get the morning edition delivered straight to your inbox.
A message brought to you by SourceAmerica
SourceAmerica® connects government customers and other organizations to a national network of nonprofit agencies that hire a talented segment of the workforce – people with disabilities. To learn more, visit SourceAmerica.org.
BY JOHN BRESNAHAN, ANNA PALMER AND JAKE SHERMAN
WITH MAX COHEN AND CHRISTIAN HALL
Happy Wednesday morning!
President Joe Biden will head to Kentucky this morning to survey the damage from this weekend's deadly tornadoes. At least 74 people were killed in Kentucky alone during these horrific storms. Property damage could total billions of dollars across five states. Biden will tour the hard-hit cities of Mayfield and Dawson Springs and meet with local officials there. The president has already approved a disaster declaration for the state.
What's next? The House has all but finished its business for the year with no votes scheduled until Jan. 10. Senate is in session and will vote on the National Defense Authorization Act and confirm two more judges. 
Then what? It's a big guessing game right now.
The debt limit has been raised by $2.5 trillion, which is designed to avert a default showdown until 2023. Federal agencies are funded until Feb. 18. Congress has kept intact its record of successfully passing NDAAs every year since 1961. So all the must-pass legislation that was on the December to-do list is completed. Senate Majority Leader Chuck Schumer should get credit for that. Republicans cut bipartisan deals, so they get some credit too. The White House did its part.
That just leaves the $1.7 trillion Build Back Better Act, which isn't "must pass." It may even fall into "can't pass" territory at this point.
Despite heavy lobbying by Schumer and President Joe Biden, it doesn't appear that Senate Democrats are that close to getting the Build Back Better Act done by Christmas. Sen. Joe Manchin (D-W.Va.) hasn't committed to voting for the $1.7 trillion package, or even beginning debate on it. Some of the Senate panels have yet to meet with the parliamentarian's office to begin vetting their committee titles to make sure they're in compliance with the Byrd Rule, which controls consideration of reconciliation bills. And Democrats don't have consensus on the state and local tax deduction (SALT), a major issue for blue state Democrats like Schumer, who is also up for reelection this cycle.
Schumer isn't yet acknowledging that BBB can't be done by Christmas, although it's becoming clear that may be the case. Schumer is doing what he can to put the Senate in a position to pass the package, if everything were to fall into place. But it just may be a bridge too far.
One of the keys, of course, are the talks between Manchin and Biden. They spoke Monday and Tuesday. As far as we can tell, there hasn't been much progress made. In fact, Manchin told us during a gaggle Tuesday that the White House isn't moving in his direction at the moment. 
Our friend Manu Raju of CNN asked Manchin that — if the White House is moving in his direction. He said, "Well, I wouldn't say that. … In general, there are still a lot of talks." When we asked Manchin how he feels about the Christmas timeline, Manchin said: ""I wouldn't know. I've always said that I'm not in charge of the timeline." He kind of is in charge of the timeline — and we reminded him that Schumer is waiting on him to make his mind up. He said, "I don't think so, Jake."
Schumer will face a choice in the next few days. Does he keep the Senate in session, grinding through nominations on the floor — which needs to be done in the face of continued opposition from some Republicans — while pressing for a BBB deal behind-the-scenes? Or does he acknowledge that BBB isn't happening right now, send his colleagues home for Christmas and come back Jan. 3 to try again?
At the moment, Schumer is in the "Let's stay and grind it out" mode. He's threatened night and weekend votes over nominations, but that's a threat he's employed a lot this year without doing it. There are discussions about a broad package of ambassadorial and national security nominations being cleared if Republicans are allowed a vote on Nord Stream 2 pipeline sanctions. Sen. Ted Cruz (R-Texas), who has been holding up these nominations, spoke with Secretary of State Antony Blinken on Tuesday in a bid to shake things loose.
Schumer may also have trouble keeping senators in town — especially those up for reelection in 11 months — if a BBB vote looks unlikely.
The Christmas deadline is important to Schumer, but less so to the White House, which is more focused on getting a deal than the arbitrary timeline. In fact, our White House sources tell us they don't much care about the Christmas deadline. They appreciate that Schumer set it, because it helps inject some urgency into the situation. But they aren't concerned with blowing the deadline as long as they make the next one.
The reality is that floor action on BBB won't be possible this week — as Democrats had originally been planning — and may not be ready in time next week.
Take Sen. Tom Carper (D-Del.), the chair of the Environment and Public Works Committee. Carper told us Tuesday that his committee won't even meet with the parliamentarian until "later this week." That meeting will actually be over the weekend, we're told. Which means there probably won't be a ruling by the parliamentarians until sometime next week. 
Flagging for your situational awareness: NYT's Sheryl Gay Stolberg notes that HHS Secretary Xavier Becerra "hinted on Tuesday that the Biden administration may need to ask Congress for more money to fight the coronavirus pandemic, depending on the scope and severity of a potential new wave of infections fueled by the Omicron variant."
Why Facebook supports updated internet regulations, including Section 230
Aaron is one of 40,000 people working on safety and security issues at Facebook.
Hear from Aaron on why Facebook supports updating regulations on the internet's most pressing challenges, including reforming Section 230 to set clear guidelines for all large tech companies.
2022 CONGRESSIONAL SCHEDULE
The Senate will be in town a lot more than the House in 2022. Pigs fly.
The Senate released its proposed schedule for next year on Tuesday. And compared to the House, senators are slated to be in Washington pretty often.
Now we know the calendar released by Senate Democrats is "aspirational." And the Senate also doesn't work too hard most weeks — let's be real about that. Monday 5:30 p.m. to early Thursday afternoon isn't exactly heavy labor.  A lot of Americans would like that schedule. We'd like that schedule!
The battle for control of the 50-50 Senate also means every vulnerable senator is going to be spending a lot of time back home next year, despite what the official calendar says.
But thanks to the folks at Rational 360 — who did an overlay of the proposed House and Senate schedules — we can actually compare the two.
Per this document, the Senate will be in session for 75 days in 2022 when the House isn't. That's a lot. Now, we'll throw out 19 of those days because they're Fridays. And the Senate doesn't really work on Fridays. But that currently leaves 56 days where the Senate is in and the House isn't. That's still a lot.
Now, this doesn't include "Committee Work Days," which have become a House staple during the pandemic. House committees can meet, conduct hearings and pass legislation during these periods, but there are no floor votes. 
However, not all House committees meet every day during "Committee Work Week," so it's difficult to equate this to the Senate being in session, since there will be floor votes at that time. That means senators have to show up.
This comparison we can make: There are a grand total of four days when the House is in session and voting and the Senate isn't.
House Democratic leaders will tell you that their 2022 schedule is on par with historical norms for midterm election years. We believe that.
But there's one further note we'd like to make, though. Those "historical norms" didn't include proxy voting on the House floor, which means members don't have to come to Washington for weeks or even months on end if they choose.
PUNCHBOWL NEWS COCKTAILS & CONVERSATIONS
Punchbowl News hosted a small invite-only event to celebrate our last installment of "Cocktails & Conversation" this year. The event was in partnership with Sazerac House. Big thanks to Laura Pinsky and Elizabeth Wise of Sazerac.
Raising a glass: Adrienne Elrod, Cristina Antelo, Xochitl Hinojosa, Candi Wolff, Missy Edwards, Ashley Lerner, Lauren Crawford Shaver, Sena Fitzmaurice, Monica Popp, Erin Billings, Marissa Padilla and more!
Public policy, comms shop holding company is going public
Big downtown news: Public Policy Holding Company — the portfolio entity which contains Seven Letter, Forbes Tate, Crossroads Strategies, Alpine Group, and O'Neill and Associates — is going public in London.
Here are some details from The Times of London:
Public Policy Holding, which specialises in government lobbying and public relations for more than 500 clients, placed almost 23 million shares yesterday at 135p, giving it a market capitalisation of £146.1 million when dealings start on Thursday on the junior Aim market.

The group's clients represent a cross-section of US businesses in areas including financial services, energy, agriculture, foreign policy, transportation, healthcare and technology.

Stewart Hall, chief executive of the company, which was founded in 2014 and is based in Washington DC, said: "The US strategic communications industry represented $17.6 billion in 2020, yet the marketplace for lobbying and public affairs is dominated by small and mid-sized firms. We believe this market is ripe for consolidation." He added: "Admission to Aim will support the next phase of our development."
This could result in a windfall for some of the companies' founders.
Majority Forward launches campaign boosting Mark Kelly in Ariz.
Majority Forward, a non-profit that boosts Senate Democrats, is launching a $1 million TV and digital campaign to urge Sen. Mark Kelly to "keep fighting for Arizona families." Kelly's race in Arizona, of course, will be one of the most hotly contested of the 2022 cycle. 
 PUNCHBOWL NEWS x SEN. SUSAN COLLINS
Collins talks broadband, BBB and bipartisanship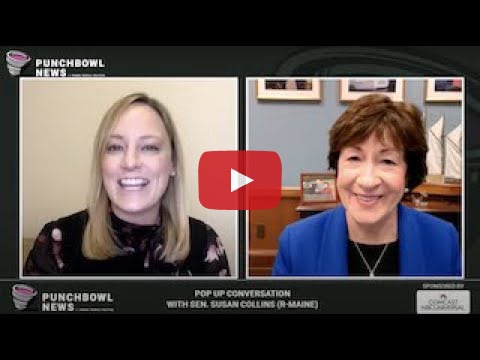 Sen. Susan Collins (R-Maine) joined us for a virtual pop-up conversation on Tuesday to discuss the broadband provisions of the bipartisan infrastructure law, her concerns on the Child Tax Credit and the prospects for more bipartisanship in 2022. Thanks to Comcast NBC Universal for sponsoring the conversation. 
Here are our key takeaways from the event:
→ Collins on the importance of broadband for rural states: 
"It's become not a luxury, but a necessity. So in a rural state, that's a large rural state like Maine, having access to high speed internet and making it future-proofed so that we don't have to redo things in just a few years, makes a real difference in terms of the economy, health care, and education. And that's why I'm so excited about the $65 billion that we negotiated, Jeanne [Shaheen] and I, negotiated with the Secretary of Commerce, Gina Raimondo, who was terrific. And I'll tell you, we were in my office at times till midnight working on this. It wasn't easy."
→ Collins on potential areas for bipartisan legislation in 2022: 
"There's so much that I think cries out for a bipartisan approach. I wish that the president would separate off parts of the Build Back Better bill because I think that if it went through our group or the normal committee process or both, that there are issues there such as on child care, where we could reach an agreement that would involve increasing access and affordability to childcare. That would be one example. Another really tough issue, but one that we're going to have to tackle sooner or later, is immigration reform. And to me, you could put together a border security section with a pathway to citizenship for Dreamers — those young people who are brought to this country by their parents at a very young age. And I think this opportunity of working together on immigration, we have a real shortage of workers and need more for the important tourism and agricultural and health industries, for example, and that's a scenario where I think we could work together."
→ Collins sheds light on her conversations with Sen. Joe Manchin (D-W.Va.) on BBB: 
"Well, I don't presume to speak for Joe. But I do know from conversations I've had with him as recently as last night that he remains concerned, as many of us are, about the cost of the package and its impact on inflation, which is now at a 40-year high. So I think that the bill is still being shaped to try to respond to those concerns. I also really wonder how the bill can be done in time for Christmas, when we don't even have final text yet."
→ Collins explains her concerns over the Child Tax Credit: 
"This is a perfect example of an issue that should be referred to the Finance Committee. Have them work on it, see if there's a compromise that we could come up with. But I am wary of severing the link between the credit and work. That's always been like the Earned Income Tax Credit. It's always had that link — you get assistance from the government, but you also try to encourage people to work."
Broderick Johnson, Comcast executive vice president and a former Obama administration official, joined us afterwards for a fireside chat.
→ Here's Johnson on the current digital divide: 
"We know that there are two core parts of the digital divide. As the senator mentioned, there are unserved locations and there are millions of our fellow citizens who haven't adopted broadband. Now on the good news side, adoption rates — and adoption is extremely critical to focus on — but adoption rates for low income households, underrepresented minorities, rural households and individuals with lower levels of educational attainment have been increasing steadily over the last decade. And yet, despite these gains, broadband adoption — not deployment, but adoption — remains the most significant barrier to achieving digital equity. While only approximately 2% of Americans lack access to fixed broadband, over 20% do not subscribe to fixed broadband at home."
Watch the full conversation here.
All times eastern
8 a.m.: President Joe Biden will get his daily intelligence briefing.
9 a.m.: Biden will leave the White House for Andrews, where he will fly to Fort Campbell, Ky. Karine Jean-Pierre will gaggle on Air Force One. 
10:45 a.m.: Speaker Nancy Pelosi will hold her weekly news conference.
11 a.m.: The Covid-19 team will brief the press.
11:10 a.m.: Biden will arrive in Kentucky.
11:35 a.m.: Biden will survey storm damage from the air over Mayfield.
12:05 p.m.: Biden arrives in Mayfield and will get a briefing from local leaders.
1:45 p.m.: Biden will tour a neighborhood in Mayfield.
2:35 p.m.: Biden will leave Mayfield for Princeton, Ky., where he will tour a neighborhood in Dawson Springs and speak about the response to the tornado. 
5:10 p.m.: Biden will leave Princeton for Fort Campbell and will fly back to Andrews, where he will arrive at 7:10 p.m.
7:30 p.m.: Biden will arrive back at the White House.
NYT
→ "Marginalized by Her Party, Cheney Takes Center Stage in Jan. 6 Inquiry," by Catie Edmondson and Luke Broadwater
→ "Muslim Lawmaker Comes Under Fire in House Debate on 'Islamophobia'" by Jonathan Weisman 
→ "Trump Fraud Inquiry's Focus: Did He Mislead His Own Accountants?" by William K. Rashbaum, Ben Protess and Jonah E. Bromwich
WaPo
→ "Trump tax records can be released by Treasury Department to House, judge rules," by Spencer S. Hsu
WSJ
→ "Proud Boys, Oath Keepers Face Lawsuit Over Capitol Riot," by Alexa Corse 
AP
→ "US COVID death toll hits 800,000, a year into vaccine drive," by Heather Hollingsworth
Working to stop harmful content and improve our platforms every day
We're committed to stopping illicit content and keeping you safe on Facebook. That's why we've quadrupled our safety and security teams to more than 40,000 over the last five years.
But there's more to do. See how we're working to help you connect safely.
Enjoying Punchbowl News AM?
Subscribe 10 friends with your unique link (below) and get a Punchbowl News hat!
You currently have: 0 referrals
Was this email forwarded to you? Sign up https://punchbowl.news
Punchbowl News All Rights Reserved
You are subscribed to our Punchbowl News AM list
Crucial Capitol Hill news AM, Midday, and PM—5 times a week
Join a community of some of the most powerful people in Washington and beyond. Exclusive newsmaker events, parties, in-person and virtual briefings and more.
Subscribe to Premium
The Canvass Year-End Report
And what senior aides and downtown figures believe will happen in 2023.
Check it out
A message brought to you by SourceAmerica
SourceAmerica® connects government customers and other organizations to a national network of nonprofit agencies that hire a talented segment of the workforce – people with disabilities. To learn more, visit SourceAmerica.org.