Every issue of the Punchbowl News newsletter, including our special editions, right here at your fingertips.
Join the community, and get the morning edition delivered straight to your inbox.
A message brought to you by RTX
We're taking smarter steps toward a sustainable future. By investing in hybrid-electric propulsion and developing systems that operate on alternative fuels, we're creating a safer, more connected world. Learn more at RTX.com
BY JOHN BRESNAHAN, ANNA PALMER AND JAKE SHERMAN
This Sunday is March 14. That's the deadline Democrats set for passing their nearly $2-trillion Covid relief package. And as of now, as we sit here Monday morning, they're on track.
House Democrats haven't yet gotten the American Rescue Plan from the Senate. The 600-page bill underwent significant changes in the Senate, but it hasn't yet been formally sent to the House as of late Sunday night. Democrats, though, are planning to pass the bill Tuesday, per House Majority Leader Steny Hoyer (Md.). 
The biggest tripwire for progressives in the House is the new unemployment insurance provisions. The House will have to swallow a $300-per-week supplement instead of the $400 that they had passed. But Speaker Nancy Pelosi and the Democratic leadership seems to have their factions in line. The Congressional Progressive Caucus said it would support the Senate bill.  Much of the left has taken the position that, while the bill may not be everything they want, it's a significant win for the left and for Americans. 
This is also a huge moment for Joe Biden, Pelosi and Senate Majority Leader Chuck Schumer (D-N.Y.). The whole process of getting this bill through Congress wasn't always pretty. The Senate parliamentarian stripped out the $15 minimum wage, then eight Democrats voted against a motion to add in the wage hike. Senate Democrats changed the income threshold for direct payments. It got a little bit messy.
Yet in the end, the Senate only made changes around the edges. Schumer's slim 50-seat majority held together and put Biden on the path to his first signature legislative achievement in the face of overwhelming GOP opposition. 
And let's note that eight weeks after the deadly Jan. 6 attack on the Capitol, the two parties are as ideologically divided as ever. Not one Republican voted for the American Rescue Plan in the House or Senate. None. This is an enormous political gamble for one side or the other. Only time will tell who made the right call.
This huge partisan gap will be on display again later this week in the House. The House will pass a worker rights bill and two gun bills — universal background checks, authored by Rep. Mike Thompson (D-Calif.) and legislation by House Majority Whip Jim Clyburn (D-S.C.) to close the so-called "Charleston Loophole." All three bills passed the House last Congress only to be stalled on the Senate. All three will pass the House again this Congress only to be stalled in the Senate once again.
Google.org Impact Challenge for Women and Girls committing $25 million in funding to organizations supporting economic empowerment
COVID-19 has exacerbated gender inequity, and organizations around the country are working to support economic empowerment for women and girls. 
In total, selected organizations will receive $25 million in funding and other support from Google.
Schumer leaving no room to his left
Let's talk about Senate Majority Leader Chuck Schumer (D-N.Y.) for a minute. 
We're said repeatedly — in fact, everyone has said repeatedly — that Schumer could face a primary challenge from his left from Rep. Alexandria Ocasio-Cortez (D-N.Y.). Yet that seems less and less likely now to us. And, perhaps better said, it seems more ill advised for a challenger to take Schumer on from the left.
Here's why: 
→ Schumer as majority leader is a lot harder to challenge than Schumer as minority leader. Yes, Senate majority leaders have lost re-election, but it's been a good 80 years since this happened. Jon Ossoff and Raphael Warnock's victories made a Schumer challenge much tougher to see.
→ The American Rescue Plan could've been called the "Chuck Schumer Rescue Plan." Senate Minority Leader Mitch McConnell (R-Ky.) called it a "liberal wish list." Sen. Bernie Sanders (I-Vt.) said it was "the most significant piece of legislation to benefit working families in the modern history of this country." "The American Rescue Plan will make a real difference to get more Americans vaccinated, safely reopen our schools, and help struggling families make ends meet," Sen. Elizabeth Warren (D-Mass.) said. These quotes should all appear in Schumer's 2022 ads. The Senate won't do anything as big as this, and Schumer is all over it.
→ "In the Stimulus Bill, a Policy Revolution in Aid for Children." That's the New York Times headline on a Sunday night story about the $3,600 child tax credit included in the American Rescue Plan. Which Schumer helped push through the Senate. Again, this has to delight Team Schumer.
→ Look at the bills Schumer is backing this Congress: A minimum wage increase; creation of a permanent "Special Envoy for the Human Rights of LGBTQI Peoples" inside the State Department; a major immigration reform initiative that includes a path to citizenship from 11 million undocmented immigrants (something Schumer has long supported); a "Baby Bonds" proposal by Sen. Cory Booker (D-N.J.) and Rep. Ayanna Pressley (D-Mass.) that sets up a federally funding savings account for every child and is designed to close the racial wealth gap. How do you get to the left of this?
→ Schumer held a press conference recently with Warren and several members of "The Squad" — but not AOC — to talk about getting President Joe Biden to cancel up to $50,000 in student loan debt per person. Biden has said no, but Schumer and Warren continue to pressure the White House.
Put together, you have to come to this conclusion: The room to the left of Schumer is shrinking. The New York Democrat was already going to be very tough to beat. Now he's trying to out-progressive the progressives. 
Manchin signals openness to filibuster changes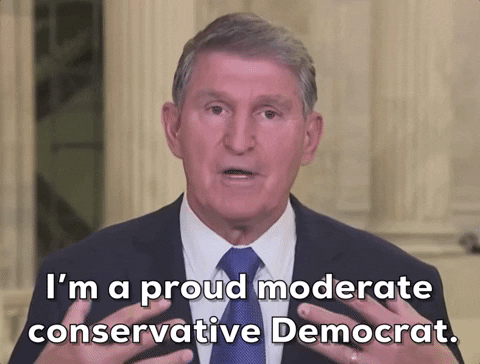 Sen. Joe Manchin (D-W.Va.) is one of the principal stumbling blocks in the way of getting rid of the filibuster. Manchin has said that, under no circumstance, would he vote to eliminate the 60-vote threshold to pass most pieces of legislation. 
But on Sunday, on NBC's "Meet the Press," Manchin said something new. It represents a subtle but important opening for filibuster haters.
Here's the quote:
The Senate is the most unique body of government in the world, of governing body in the world. It's deliberate. It's basically designed, Chuck, to make sure the minority has input. That's exactly our Founding Fathers. And now if you want to make it a little bit more painful, make him stand there and talk, I'm willing to look at any way we can. But I'm not willing to take away the involvement of the minority. I've been in the minority. I've been in the majority. And I can tell you the respect I have on both sides when I've been there should be "I've got something to say, listen to me," and I want that to happen.
Here's what it means: Manchin is referring to the "talking filibuster." Under this approach, if a senator or group of senators want to filibuster a bill, they need to stay on the floor and talk. Right now, any senator can force a 60-vote threshold by just alerting their leadership of opposition to a bill. This would make a filibuster more vivid, and frankly, more difficult for any senators looking to stop the legislation. 
But it does preserve the filibuster, which Manchin has vowed to do. We'll also need to see how the Manchin plan works. Remember, there are several other Democrats who are opposed to eliminating the filibuster as well, including Sens. Jon Tester (Mont.) and Kyrsten Sinema (Ariz.).
This is interesting too: Manchin told Axios' Mike Allen that he wouldn't vote for an infrastructure bill if it Democratic leaders used the reconciliation process. This is a big statement, of course, since Democrats need to stick together to do anything. If Democrats are forced to actually cooperate with Republicans, it would result in a very different bill. We'll see if he sticks with this. But that's an important statement by Manchin.
Cheney leaves leadership retreat early
The House Republican leadership held their elected leadership retreat this weekend in Florida, where they received political briefings from the NRCC and their super PAC and chatted in a members-only session about earmarks.
But we got multiple text messages and phone calls as the weekend wrapped that House GOP Conference Chair Liz Cheney (Wyo.) — who has had a rocky relationship with the Republican leadership of late — was MIA after Friday morning's session and didn't attend the dinner that night. The retreat ended Saturday after lunch. Cheney-world said she had a family obligation pop up.
BTW: House Republican leaders didn't come to a conclusion on whether they were in favor of earmarking. They'll talk to the membership about member-directed spending this week. House Minority Leader Kevin McCarthy (R-Calif.) is going to have to lean in one way or another here — if he lets the membership drive this conversation, they'll be at an internal stalemate. This will be an interesting window into McCarthy's leadership style on big decisions. 
9:50 a.m.: President Joe Biden and VP Kamala Harris will get their daily intelligence briefing.
11 a.m.: The White House Covid-19 response team will brief.
11:30 a.m.: Jen Psaki will brief alongside Julissa Reynoso and Jennifer Klein.
1 p.m.: Biden will visit a veterans medical center that's administering the Covid-19 vaccine with Veterans Affairs Secretary Denis McDonough.
4:20 p.m.: Biden, Harris and Defense Secretary Lloyd Austin will speak about International Women's Day. 
​Also today: Russel Honore will be on Capitol Hill today to brief about his proposed security changes to the Capitol complex.
Biden's week: Tuesday: Biden will visit a small business that benefited from the PPP … Wednesday: Biden will host an event with the CEOs of Merck and Johnson & Johnson. … Thursday: Treasury Secretary Janet Yellen will brief Biden and Harris. Biden will speak about the anniversary of the Covid-19 shutdown. 
NYT: "Top State Leader Says 'Cuomo Must Resign.' Governor Says 'No Way.'" by Jesse McKinley and J. David Goodman in Albany, N.Y.: "In a potentially crippling defection in Gov. Andrew M. Cuomo's efforts to maintain control amid a sexual harassment scandal, the powerful Democratic leader of the New York State Senate declared on Sunday that the governor should resign 'for the good of the state.'
"The stinging rebuke from the Senate leader, Andrea Stewart-Cousins — along with a similar sentiment from the Assembly speaker, Carl E. Heastie, who questioned the 'governor's ability to continue to lead this state' — suggested that Mr. Cuomo, a third-term Democrat, had lost his party's support in the State Capitol, and cast doubt on his ability to withstand the political fallout."
"Josh Hawley Is 'Not Going Anywhere.' How Did He Get Here?" by Elaina Plott and Danny Hakim
"Preparing for Retaliation Against Russia, U.S. Confronts Hacking by China," by David Sanger, Julian Barnes and Nicole Perlroth
"Biden Endorses Female Generals Whose Promotions Were Delayed Over Fears of Trump's Reaction," by Eric Schmitt and Helene Cooper
WaPo: "'An essential service': Inside Biden's struggle to meet his school reopening promise," by Ashley Parker, Laura Meckler, Fenit Nirappil and Annie Linskey
"Narrow relief bill victory provides warning signs for broader Democratic agenda," by Ashley Parker and Marianna Sotomayor
"U.S. proposes interim power-sharing government with Taliban in Afghanistan," by Karen DeYoung: "Worried that Afghan peace talks are going nowhere, and facing a May 1 deadline for the possible withdrawal of all U.S. troops, the Biden administration has proposed sweeping plans for an interim power-sharing government between the Taliban and Afghan leaders, and stepped-up involvement by Afghanistan's neighbors — including Iran — in the peace process."
WSJ: "Russian Disinformation Campaign Aims to Undermine Confidence in Pfizer, Other Covid-19 Vaccines, U.S. Officials Say," by Michael R. Gordon and Dustin Volz
AP: "With virus aid in sight, Democrats debate filibuster changes," by Hope Yen
"Pence to give speech in SC, his 1st since leaving office," by Meg Kinnard in Columbia, S.C.
Politico: "How Biden is betting on Buttigieg to drive a new era of racial equity," by Sam Mintz
"Vaccine-skeptical Trump country poses challenge to immunization push," by Joanne Kenan
Some news on the job hiring front from the Democratic Congressional Campaign Committee.
→ Pavitra Abraham is the new national organizing director
→ Erica Joy Baker is the new CTO
→ Jon Bosscher is the new research director
→ Chris Hayden is the comms director
→Chris Taylor is the new national press secretary
Applications are open for the $25 million Google.org Impact Challenge for Women and Girls
The Google.org Impact Challenge for Women and Girls, which is providing $25M in grants and other support to organizations supporting economic empowerment, is now accepting applications. Interested organizations can submit their proposals, and an all-female panel of industry experts will assist Google in selecting organizations that will receive funding.
In addition to funding, the best and boldest ideas will receive the opportunity for mentorship and additional support from Google.
Enjoying Punchbowl News AM?
Subscribe 10 friends with your unique link (below) and get a Punchbowl News hat!
You currently have: 0 referrals
Was this email forwarded to you? Sign up https://punchbowl.news
Punchbowl News All Rights Reserved
You are subscribed to our Punchbowl AM list
Crucial Capitol Hill news AM, Midday, and PM—5 times a week
Join a community of some of the most powerful people in Washington and beyond. Exclusive newsmaker events, parties, in-person and virtual briefings and more.
Subscribe to Premium
The Canvass Year-End Report
And what senior aides and downtown figures believe will happen in 2023.
Check it out
A message brought to you by RTX
We're taking smarter steps toward a sustainable future. By investing in hybrid-electric propulsion and developing systems that operate on alternative fuels, we're creating a safer, more connected world. Learn more at RTX.com