Every issue of the Punchbowl News newsletter, including our special editions, right here at your fingertips.
Join the community, and get the morning edition delivered straight to your inbox.
Finding the news you care about has never been easier!
From polling to policy, explore the top stories and trending topics that matter most to you.
Check out our content here.
BY JOHN BRESNAHAN, ANNA PALMER AND JAKE SHERMAN
News: Senate Majority Leader Chuck Schumer is expected to file cloture Thursday on Lina Khan to be an FTC commissioner. Khan is a noted critic of Big Tech, which has won her support on both the left and right. Schumer's move will set up a vote on Khan's confirmation next week. 
The House Democratic Caucus has erupted into an open brawl. The dividing line is familiar: It's Jewish Democrats versus Rep. Ilhan Omar (D-Minn.). This fight threatens to leave a deep divide among Democrats, is likely to be exploited by Republicans and could even put Omar's seat on the Foreign Affairs Committee in jeopardy.
Here's what happened: On Wednesday, a group of Jewish Democratic lawmakers were on a regularly scheduled call, listening to a speaker discuss anti-Semitism from the right. But the conversation quickly turned to Omar's recent remarks and what they should do in response.
This is what Omar posted on Twitter Monday that started it all. It involved her questioning Secretary of State Antony Blinken during a Foreign Affairs Committee hearing about the International Criminal Court and why the U.S. government opposes the court's investigation into the "Palestinian situation" and Afghanistan. Omar didn't say all of this directly to Blinken, just on Twitter:
Omar's comparison of Hamas and Israel — the two just fought a brief but bloody battle that saw thousands of Hamas rockets fired at Israel's cities, with Israel's military responding with airstrikes and artillery barrages — was too much for some House Democrats.
Remember, the House voted on two separate resolutions in 2019 in response to Omar's criticism of AIPAC and support of Israel by American Jews. A number of Omar's fellow Democrats believe Omar is an anti-Semite, even if they don't say so publicly.
So on Wednesday night, a group of 12 House Democrats issued their own statement slamming Omar and calling on her to "clarify her words," which is a nice way of suggesting the second-term lawmaker should apologize and/or retract what she said.
Omar, though, wasn't having any of it. Omar said her colleagues' statement was "shameful" and questioned why they just didn't speak to her directly
So now we have the makings of a full-fledged controversy that could pull in Democratic Party leaders, instead of just the standard anti-Omar fodder from conservative media.
House Republicans are certain to jump all over this today, from House Minority Leader Kevin McCarthy (R-Calif.) on down asking why Omar is being treated differently than Rep. Marjorie Taylor Greene (R-Ga.). And we wouldn't be surprised to see Republicans offer a resolution next week to remove Omar from the House Foreign Affairs Committee. If that happens, it'll be worth watching how some of Omar's Democratic colleagues vote.
There was a lot of discussion Wednesday behind-the-scenes about how to respond to this latest Omar incident among Jewish House Democrats. Here's a good story from Ron Kampeas of the Jewish Telegraphic Agency spelling out what happened.
We know that there were two statements drafted by this group — a "harsh" and a "less harsh" alternative. The "less harsh" statement was eventually issued by Democratic Reps. Brad Schneider (Ill.), Jake Auchincloss (Mass.), Ted Deutch (Fla.), Lois Frankel (Fla.), Josh Gottheimer (N.J.), Elaine Luria (Va.), Kathy Manning (N.C.), Jerry Nadler (N.Y.), Dean Phillips (Minn.), Kim Schrier (Wash.), Brad Sherman (Calif.), and Debbie Wasserman Schultz (Fla.). 
Here's their full statement:
"Equating the United States and Israel to Hamas and the Taliban is as offensive as it is misguided, Ignoring the differences between democracies governed by the rule of law and contemptible organizations that engage in terrorism at best discredits one's intended argument and at worst reflects deep-seated prejudice.

"The United States and Israel are imperfect and, like all democracies, at times deserving of critique, but false equivalencies give cover to terrorist groups. We urge Congresswoman Omar to clarify her words placing the U.S. and Israel in the same category as Hamas and the Taliban."
So things are going very well in the House Democratic Caucus, thank you very much.
The internet has changed a lot since 1996 – internet regulations should too 
It's been 25 years since comprehensive internet regulations passed. See why we support updated regulations on key issues, including: 
– Protecting people's privacy
– Enabling safe and easy data portability between platforms
– Preventing election interference
– Reforming Section 230
Schumer's 'Big and Bold' runs into McConnell's 'Nah and nope'
Congressional leadership politics is often a battle for momentary advantage, a daily round of hand-to-hand combat where each side seeks even the slightest advantage over its opponent. And at the moment, Senate Minority Leader Mitch McConnell seems to be getting the best of Senate Majority Leader Chuck Schumer.
Just during the last day, look at what has gone McConnell and the Republicans' way:
→ Republicans shut down a conversation about raising taxes in infrastructure talks.
→ Sen. John Cornyn (R-Texas) pulled out of bipartisan talks with Sen. Chris Murphy (D-Conn.) on gun control. Murphy had been clear in recent weeks that he didn't see a deal coming together. But the reality of Cornyn's action means that when the Senate votes on this issue later in the month, GOP opposition will doom it to failure, barring some last-minute miracle.     
→ Sen. Jackie Rosen (D-Nev.) clearly told Jackie Alemany of the Washington Post she was against changes to the filibuster — making it clear that opposition to changing the rules is far more widespread than just Sen. Joe Manchin (D-W.Va.)and Kyrsten Sinema (D-Ariz.). Rosen later walked this back, making it an embarrassing episode for Senate Democrats.
→ Sen. Mark Kelly (D-Ariz.) refused to back changes to the filibuster as well during a conversation with Elizabeth Landers of Vice News.
Schumer's biggest challenge, of course, is infrastructure and election reform. President Joe Biden has proposed the multi-trillion dollar American Jobs Plan and American Family Plan, but despite some ongoing talks by the bipartisan "G20" group of senators, it's hard to see Schumer finding 10 Republican votes for an infrastructure bill at this time. That means reconciliation and passing it with 50 Democratic votes alone, a very tough order.  
And on S.1, the For The People Act, a massive Democratic-drafted election reform bill, Manchin is strongly opposed to it, so it doesn't look like it will move right now.
That's three key issues — infrastructure, election reform and guns — where Schumer faces very difficult choices with little or no room to maneuver, thanks to McConnell's hold on his senators.
However, police reform — these discussions are being led by Sens. Cory Booker (D-N.J.) and Tim Scott (R-S.C.), as well as Rep. Karen Bass (D-Calif.) — is making progress, and negotiators hope to have a potential compromise in hand later this week or next. A deal on this issue would be huge for the Congress and the country. Scott is reviewing text from legislative counsel at the moment, sources told us. 
Senate insiders also said Senate Majority Whip Dick Durbin (D-Ill.) led a "productive discussion" on immigration reform with a number of senators from both parties. It was "a lot better" than the previous discussion, and there's some new hope for progress on this controversial issue, although a deal isn't close yet.
Schumer is also trying to help his odds in the House on the U.S. Innovation and Competition Act, a $250 billion bill passed by the Senate on Tuesday that is designed to dramatically boost American research and manufacturing to compete with China. This legislation was a top priority for Schumer, who helped shepherd it through the chamber in a months-long effort.
There have been doubts about whether House Democrats will move on this legislation, or when they will if it does happen. 
But a source told us that during a virtual meeting on Wednesday with Senate committee chairs, Schumer directed them to work with their House counterparts "to pave the path" for the legislation. The USICA was the product of work by a half-dozen Senate committees, so these chairs all have a stake in whether it actually becomes law.
BTW: The House Transportation and Infrastructure Committee passed its infrastructure spending bill early this morning after 19 hours of debate.
Pop Up Conversation w/ Sen. Tim Scott
TODAY (THURSDAY, JUNE 10) @ 11:00 A.M. EST
Join Punchbowl News for an interview with Sen. Tim Scott focused on the role private capital is playing to spur investment in energy and infrastructure industries. The event, brought to you by the American Investment Council, is the kick-off for a two-part series on "Investing in America." Afterward, AIC's CEO Drew Maloney and Ann Barnes, the CEO of Intelligent Medical Objects, will join Anna for a fireside conversation.
RSVP for this conversation below to view the livestream at 11 A.M. EST.
News: Stefanik raises more than $250K with Trump
House Republican Conference Chair Elise Stefanik (R-N.Y.) raised north of $250,000 during a visit to former president Donald Trump's Bedminster resort. 
It's not only the most recent example of the House Republican leadership aligning itself with Trump, but it's truly a full-circle moment. Rep. Liz Cheney (R-Wyo.) was booted out of leadership because she constantly criticized Trump, and Stefanik was elevated, saying she wanted to be one team with the former president.
Trump held a roundtable for more than an hour with donors and then held a photo line with all attendees. 
Here's some intrigue: The Kemmerers, owners of the Jackson Hole Mountain Resort and former big boosters of Cheney, attended the event.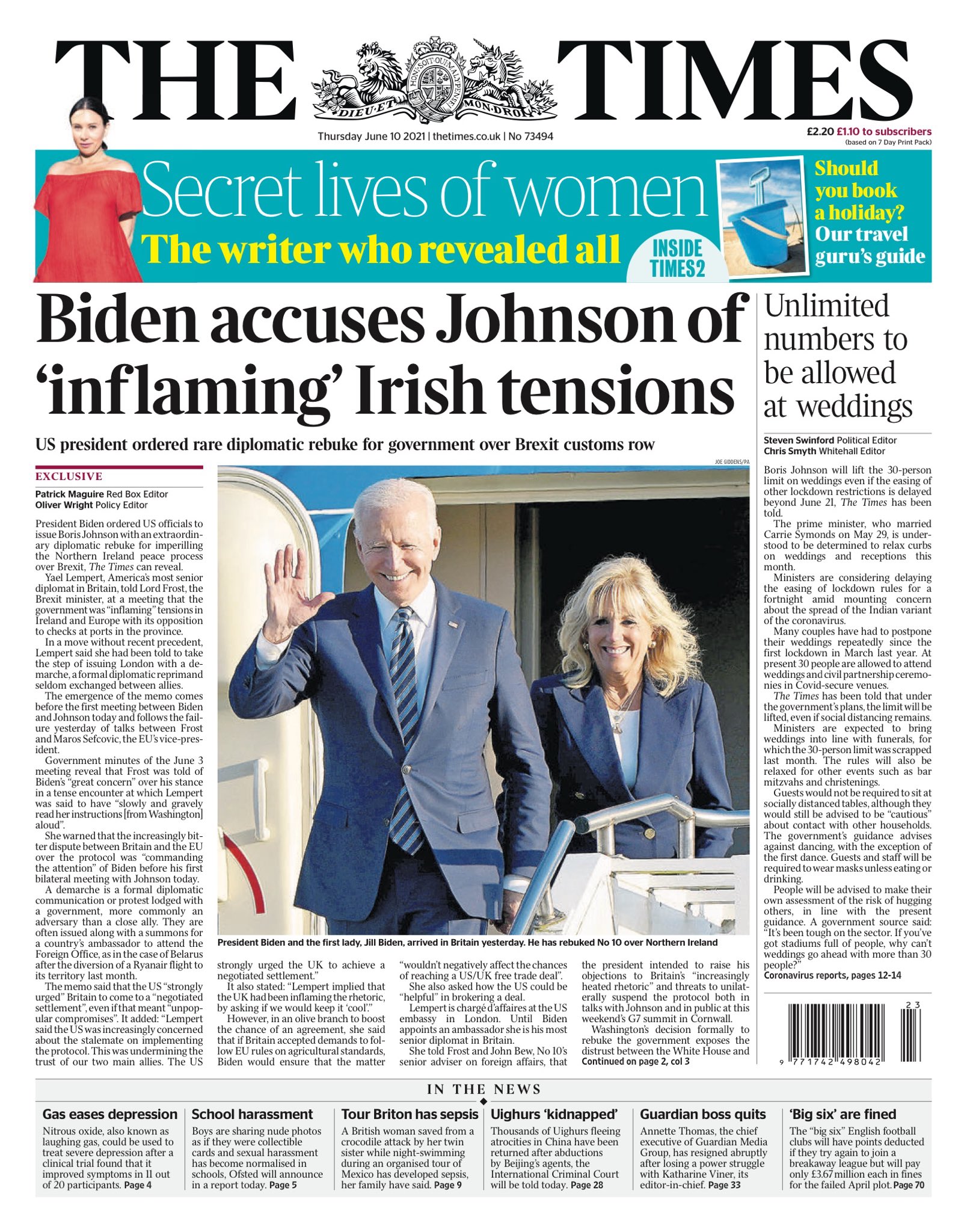 Here is the headline in The Times this morning, as President Joe Biden readies to meet with UK Prime Minister ​Boris Johnson.
The Coverage:
The Sun: "TENSE TALK Joe Biden accuses Boris Johnson of 'inflaming' tensions in Ireland ahead of their first meeting in Britain today," by Claudia Aoraha
WaPo: "Biden's personal diplomacy to be tested by allies — and one adversary — on his first trip abroad," by Anne Gearan and Ashley Parker in Newquay, England
AP: "Biden, Johnson to stress close ties, manage differences," by Jonathan Lemire, Aamer Madhani and Jill Lawless in Plymouth, England
All times here in East Coast time.
8:30 a.m.: The president will get his intelligence briefing. 
9:55 a.m.: President Joe Biden and First Lady Jill Biden leave for Carbis Bay.
10 a.m.: The Bidens greet UK Prime Minister Boris Johnson. 
10:10 a.m.: Biden and Johnson view the Atlantic Charter.
10:15 a.m.: Biden and Johnson will hold a bilat.
11:30 a.m.: Biden leaves for St. Ives, where he will arrive at 11:35.
1:15 p.m.: Biden will speak about his global effort provide the world with Covid-19 vaccine.
First Gentleman Doug Emhoff is flying to Tallahassee, Fla. He is visiting a vaccination clinic at 10:55 a.m.
NYT
→ "U.S. Weighs Possibility of Airstrikes if Afghan Forces Face Crisis," by Helene Cooper, Eric Schmitt and Thomas Gibbons-Neff
→ "CNN Lawyers Gagged in Fight With Justice Dept. Over Reporter's Email Data," by Charlie Savage
→ "How Trump's Political Legacy Is on the Ballot in the Virginia Governor's Race," by Jonathan Martin in Chesapeake, Va.: "There is a far-reaching and oh-so-familiar shadow stretching across Virginia's political landscape that could have profound implications for the election of a new governor, a contest that figures to be the only major competitive race in the country this fall.
"Former President Donald J. Trump won't be on the ballot in Virginia, but his political legacy will be. Glenn Youngkin, an affable former private equity executive, is testing whether a Republican can sidestep Mr. Trump without fully rejecting him and still prevail in a state where the former president lost re-election by 10 points but where he remains deeply popular with conservative activists.
"And in what could be an equally revealing strategy, former Gov. Terry McAuliffe, a Democrat seeking to reclaim his old job, is going to determine whether linking Republicans to Mr. Trump — a tactic that helped turn Virginia's suburbs a deeper blue during the last four years — is as potent when he's no longer in the Oval Office, or even on Twitter."
WaPo
→ "Democratic establishment tightens its hold on the party as far-left candidates fall short," by Michael Scherer, Gregory S. Schneider and David Weigel
→ "Keystone XL pipeline developer pulls plug on controversial project," Brady Dennis and Steven Mufson: "The firm behind the Keystone XL pipeline officially scrapped the project on Wednesday, months after President Biden revoked a cross-border permit for the controversial pipeline and more than a decade after political wrangling over its fate began.
"The pipeline, which would have stretched from Alberta's boreal forests to the refineries along the U.S. Gulf Coast, became the center of a broader controversy over climate change, pipeline safety, eminent domain and jobs. Those same concerns have spawned similar battles to stop pipelines in states including Montana, Minnesota and Virginia, part of an effort to keep fossil fuels in the ground."
WSJ
→ "JBS Paid $11 Million to Resolve Ransomware Attack," by Jacob Bunge
→ "GameStop Remakes C-Suite, Board in Turnaround Push," by Sarah E. Needleman
AP
→ "Allies hope to bond, look beyond virus at G-7 summit in UK," by Jill Lawless in London
Politico
→ "Kyrsten Sinema gets her make-or-break moment with Republicans," by Burgess Everett
Why Facebook supports updated internet regulations
2021 is the 25th anniversary of the Telecommunications Act of 1996, the last major update to internet regulation. It's time for an update to set clear rules for addressing today's toughest challenges.
See how we're taking action on key issues and why we support updated internet regulations.
Enjoying Punchbowl News AM?
Subscribe 10 friends with your unique link (below) and get a Punchbowl News hat!
You currently have: 0 referrals
Was this email forwarded to you? Sign up https://punchbowl.news
Punchbowl News All Rights Reserved
You are subscribed to our Punchbowl News AM list
Crucial Capitol Hill news AM, Midday, and PM—5 times a week
Join a community of some of the most powerful people in Washington and beyond. Exclusive newsmaker events, parties, in-person and virtual briefings and more.
Subscribe to Premium
The Canvass Year-End Report
And what senior aides and downtown figures believe will happen in 2023.
Check it out
Finding the news you care about has never been easier!
From polling to policy, explore the top stories and trending topics that matter most to you.
Check out our content here.