Every issue of the Punchbowl News newsletter, including our special editions, right here at your fingertips.
Join the community, and get the morning edition delivered straight to your inbox.
PRESENTED BY PRATT & WHITNEY, AN RTX BUSINESS
BY JOHN BRESNAHAN, ANNA PALMER AND JAKE SHERMAN
WITH MAX COHEN AND CHRISTIAN HALL
News: The United States Capitol Police department is running out of money.
Five sources told us Thursday that, in the worst case scenario, the department could end up furloughing dozens — if not hundreds — of employees if it doesn't get additional funding before the end of the fiscal year, which is Sept. 30. These sources tell us mid-August is "crunch time" for the department, when the funding issue will become critical.
The account used to pay USCP officers' salaries is running dangerously low and is in dire need of replenishment by Congress. Officers have racked up a massive amount of overtime since the Jan. 6 attack on the Capitol, even with thousands of National Guard troops assisting them.
The House passed a $1.9 billion security supplemental funding bill in May that included more money for the Capitol Police, but that legislation has been stalled in the Senate. The supplemental package includes more than $31 million that would go toward covering overtime costs for the USCP, as well as hazard pay and retention bonuses.
"It is urgent that Congress meet the needs of the Capitol Police, who were brutally attacked on January 6," House Appropriations Committee Chair Rosa DeLauro (D-Conn.) said in a statement to Punchbowl News. "That is why, nearly two months ago, the House passed legislation to provide overtime pay, retention bonuses, and wellness and trauma support for these heroes. It is past time for the Senate to act."
This is the latest problem for a police force already in crisis since the Jan. 6 attack by supporters of former President Donald Trump. A number of officers have retired or left the force since then, further exacerbating the staffing problems for a force that's already short-handed. Morale among members of the force is low. 
It's unclear if and to what extent the USCP is going to need to cut down on services or remove posts because of its cash crunch. One source told us the fiscal picture may improve somewhat when Congress leaves for the August recess. The USCP could also transfer funds from other accounts to the salaries account, although this would lead to shortfalls in other areas, such as equipment purchases.
The department has announced a massive expansion. Yogananda Pittman, the interim chief of the USCP, wrote in a letter earlier this week that the department will open field offices in California and Florida to help protect members of Congress.  
The Capitol Police declined to comment.
Heads up! We'll send Premium members a special edition this morning with the Punch Power Matrix. Subscribe to Premium ahead of an incredibly busy legislative rush this summer and fall. 
Aon is focused not only on helping clients navigate the risks they face today, but we are also keenly focused on helping them see around the corner to help prepare for what comes next through more advanced predictive models. Read more in our report, "Respecting the Grey Swan", which analyzes 40 years of reputation crises.
THE THIRD INSTALLMENT OF THE BOUNCEBACK … COMING TUESDAY
On Tuesday, The Bounceback will focus on Oklahoma City Mayor David Holt. We'll dive into how Oklahoma City, which had one of the lowest unemployment rates in the country in March 2020, handled the pandemic.
Before then, catch up on The Bounceback profiles to date focused on Miami's Mayor Francis Suarez and San Francisco's Mayor London Breed.
Key Senate panel will get closed AUMF briefing as it considers repeal
With the Senate set to return on Monday, the Foreign Relations Committee will get a closed briefing on repealing the 1991 and 2002 authorizations for using military force in Iraq. 
The debate comes, however, as U.S. forces in Iraq and Syria have come under repeated attack during the last week by Iranian-backed militias, which may complicate the AUMF repeal drive. President Joe Biden ordered U.S. airstrikes against militia groups on the Iraq-Syria border two weeks ago in response to earlier militia attacks.
Per the AP today:
"Increasing rocket and drone attacks targeting American troops in Iraq and Syria have alarmed Western and coalition officials. There have been at least eight drone attacks targeting the U.S. presence since Biden took office in January, as well as 17 rocket attacks, according to coalition officials.

The attacks are blamed on the Iranian-backed militias that make up the bulk of Iraq's state-supported Popular Mobilization Forces. The Biden administration has responded by twice targeting Iraqi militia groups operating inside Syria, including close to the Iraqi border."
The stepped-up pace of attacks against American forces comes despite talks between the United States, Iran and Western powers over reinstating the 2015 nuclear accord. Iran has begun to produce enriched uranium metal, which could be used to help make a nuclear weapon. Officials from Britain, France and Germany warned they had "grave concern" over the Iranian decision.
A number of Senate Republicans have also raised concerns over whether to repeal the 2002 AUMF, including Minority Leader Mitch McConnell (R-Ky.).
Sens. Tim Kaine (D-Va.) and Todd Young (R-Ind.) have offered a resolution to repeal the 2002 AUMF, arguing that it's no longer needed. The White House supports repeal, as does Senate Majority Leader Chuck Schumer (D-N.Y.), who has vowed to hold a Senate vote on the issue. White House officials say Biden has sufficient authority to defend U.S. troops and regional interests without the 2002 AUMF.
Avenatti brings NYDN and Trump together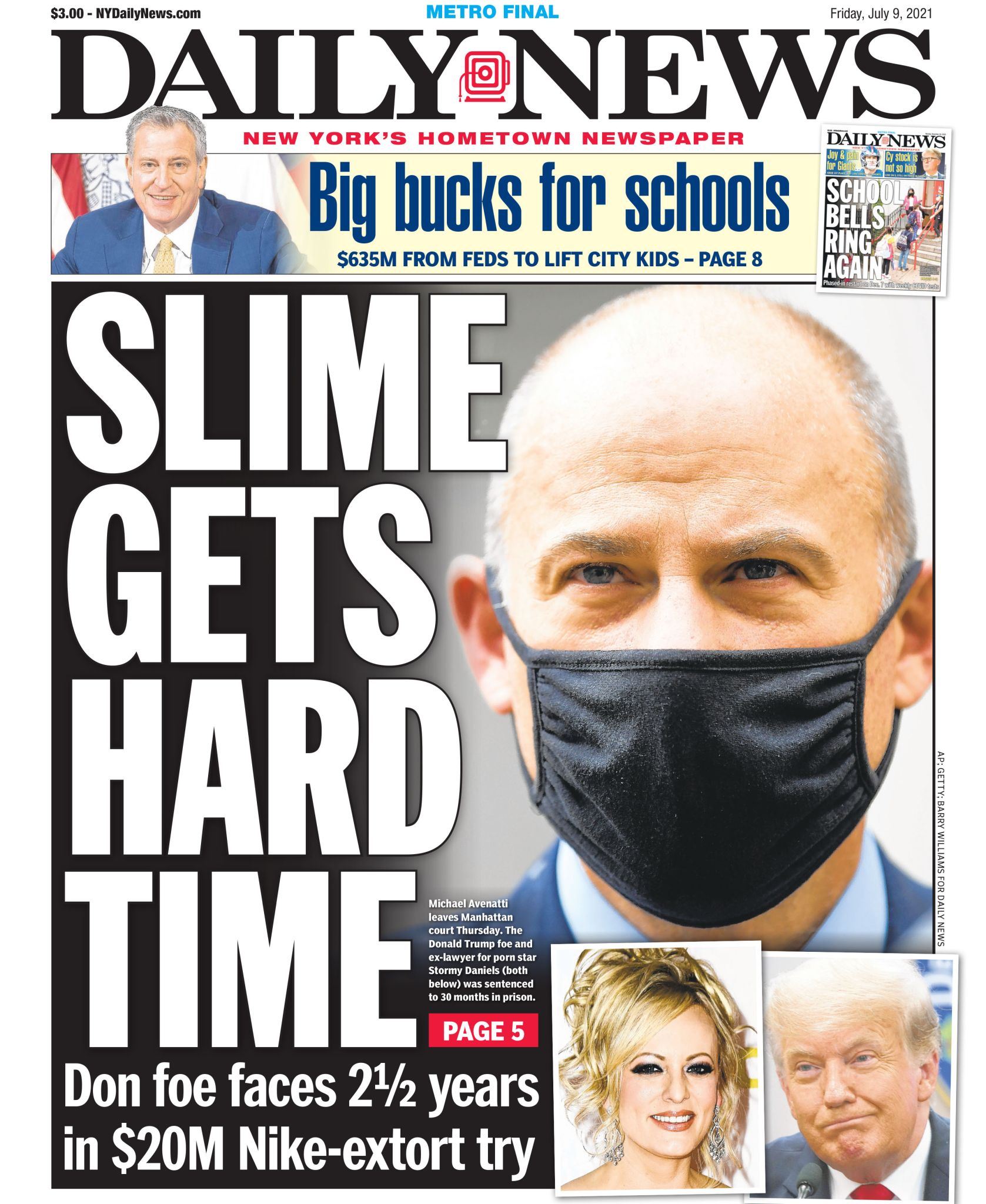 → A reminder: Former Sen. Bob Corker (R-Tenn.) has a lot of money in his campaign account. He reported yesterday that he has $6.3 million on hand. He made $266,741 on investments last quarter. 
→ John Ratcliffe, who left Congress to be former President Donald Trump's director of national intelligence, has $333,000 on hand, and spent nearly $3,000 on airfare. Former lawmakers are allowed to spend their campaign cash on political matters.
10 a.m.: President Joe Biden and Vice President Kamala Harris will receive the daily intelligence briefing.
12:30 p.m.: Jen Psaki will brief.
1 p.m.: Harris will speak at the National Association of Counties' annual conference.
1:30 p.m.: Biden will sign an executive order on "promoting competition in the American economy." He will also speak. 
5:15 p.m.: Biden will leave the White House for Wilmington. He'll arrive at 6:10 p.m.
AP
→ "2 US men, ex-Colombia soldiers held in Haiti assassination," by Evens Sanson in Port Au Price, Haiti, Danica Coto in San Juan, P.R. and Joshua Goodman in Miami: "Seventeen suspects have been detained so far in the stunning assassination of Haiti's president, and Haitian authorities say two are believed to hold dual U.S.-Haitian citizenship and Colombia's government says at least six are former members of its army. 
"Léon Charles, chief of Haiti's National Police, said Thursday night that 15 of the detainees were from Colombia. The police chief said eight more suspects were being sought and three others had been killed by police. Charles had earlier said seven were killed."
→ "DeSantis parts with Trump in response to Surfside tragedy," by Bobby Caina Calvin in Surfside, Fla., and Steven Sloan in D.C.
NYT
→ "Citizens, Not the State, Will Enforce New Abortion Law in Texas," by Sabrina Tavernise: "Ordinarily, enforcement would be up to government officials, and if clinics wanted to challenge the law's constitutionality, they would sue those officials in making their case. But the law in Texas prohibits officials from enforcing it. Instead, it takes the opposite approach, effectively deputizing ordinary citizens — including from outside Texas — to sue clinics and others who violate the law. It awards them at least $10,000 per illegal abortion if they are successful."
→ "Finance Ministers Meet in Venice to Finalize Global Tax Agreement," by Alan Rappeport in Venice, Italy
→ "Biden to Urge More Scrutiny of Tech Mergers and Data Privacy," by David McCabe and Cecilia Kang
WaPo
→ "Deal of the art: White House grapples with ethics of Hunter Biden's pricey paintings," by Matt Viser: "White House officials have helped craft an agreement under which purchases of Hunter Biden's artwork — which could be listed at prices as high as $500,000 — will be kept confidential from even the artist himself, in an attempt to avoid ethical issues that could arise as a presidential family member tries to sell a product with a highly subjective value.
"Under an arrangement negotiated in recent months, a New York gallery owner is planning to set prices for the art and will withhold all records, including potential bidders and final buyers. The owner, Georges Bergès, has also agreed to reject any offer that he deems suspicious or that comes in over the asking price, according to people familiar with the agreement."
WSJ
→ Mike Bender book preview: "Inside Donald Trump's Last Days in the White House and Plans for a Comeback" Buy the book, out Tuesday
→ "Pfizer to Ask Regulators to Authorize Covid-19 Vaccine Booster," by Joseph Walker
Texas Tribune
→ "What's in the new voting restriction legislation introduced in the Texas House and Senate," by Alex Ura
Because of the impacts of the COVID-19 pandemic, we are witnessing a fundamental reordering of client priorities on a global scale. It is also why — now more than ever — reputational crises remain one of the major risk concerns for any organization anywhere in the world. Our recent report found that the average impact of a "grey swan" event generates a total of USD $1.2 trillion in destroyed value, and that in more than 1 in 10 crises, over 50% of shareholder value is destroyed. Aon provides clients with the guidance and tools needed to prepare for what comes next.
Enjoying Punchbowl News AM?
Subscribe 10 friends with your unique link (below) and get a Punchbowl News hat!
You currently have: 0 referrals
Was this email forwarded to you? Sign up https://punchbowl.news
Punchbowl News All Rights Reserved
You are subscribed to our Punchbowl News AM list
Crucial Capitol Hill news AM, Midday, and PM—5 times a week
Join a community of some of the most powerful people in Washington and beyond. Exclusive newsmaker events, parties, in-person and virtual briefings and more.
Subscribe to Premium
The Canvass Year-End Report
And what senior aides and downtown figures believe will happen in 2023.
Check it out
PRESENTED BY PRATT & WHITNEY, AN RTX BUSINESS