Every issue of the Punchbowl News newsletter, including our special editions, right here at your fingertips.
Join the community, and get the morning edition delivered straight to your inbox.
PRESENTED BY PRATT & WHITNEY, AN RTX BUSINESS
BY JOHN BRESNAHAN, ANNA PALMER AND JAKE SHERMAN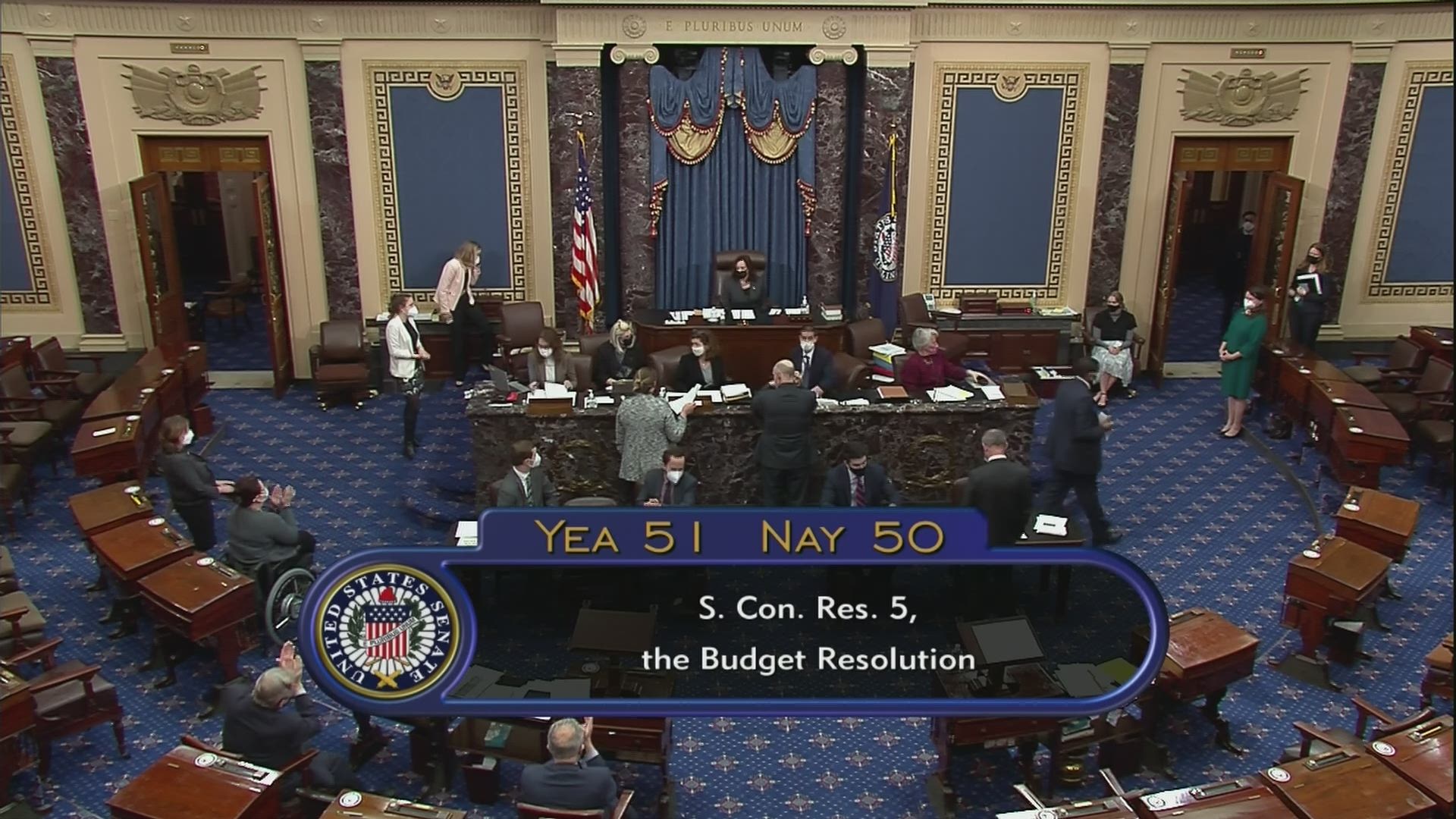 From Craig Caplan of CSPAN's Twitter feed.
Breaking: The Senate passed a budget this morning around 5:35 a.m. after 15 hours of debate. This allows Congress to try to fast-track Joe Biden's stimulus bill without Republican support
The Senate pulled an all-nighter. VP Kamala Harris was in the Senate chamber just after 5 a.m. to break the tie. Some of these lawmakers are in their 80s, so don't complain about working late ever again. The House is going to take this budget up today.
Senate Majority Leader Chuck Schumer (D-N.Y.) noted from the floor that it's been one month since Democrats won a pair of Senate seats in Georgia. "Just a month from that day, we have taken a giant step to begin to fulfill our promise."
Republicans passed several "messaging" amendments as part of the process, including on the minimum wage and keeping the U.S. embassy in Jerusalem. They believe these amendments will make for a tough vote in the House tonight.
It's time to update internet regulations
The internet has changed a lot in 25 years. But the last time comprehensive internet regulations were passed was in 1996.
We support updated internet regulations to set clear guidelines for addressing today's toughest challenges.
PEEKING AROUND THE CORNER
What's next on Covid relief?
Last night we scooped that the House Democratic leadership and top committee chairs were heading to the White House to meet with President Joe Biden today. This is a large group — 13 lawmakers — so we anticipate this meeting will be mostly show, but hey, much of politics is just theater anyway, right?
Biden and these top House Democrats will discuss the president's $1.9 trillion "American Rescue Plan" and how to get it through Congress by the mid-March deadline. That's going to be really hard — more about that in a minute. But that's when federal unemployment payments expire, and the White House and Democratic leaders are keen to finish work on the huge Covid package by that deadline. 
To meet it, they'll use the budget reconciliation process, which allows Democrats to push the legislation through Congress with a simple majority vote. In other words, they will be able to overcome a Senate GOP filibuster. 
Let's dive into the process. This may get wonky, but you need to understand this if you care about politics and public policy. And if you're reading this, you do. So read on.
The House is expected to pass a Senate-approved version of the budget resolution as early as Friday night — we hope it's not too late — which would keep the process on track.
The House committees will then begin marking up their sections of the reconciliation package for the Biden Covid bill next week; next week is the first of two weeks without floor votes. The Democratic timetable calls for the panels to complete their work and send their sections to the Budget Committee by the following week. The Budget panel will then assemble the final version of the reconciliation package, vote on it and send the measure to the Rules Committee, which preps it for the House floor. That floor vote will happen when the chamber comes back in late February. Sounds complicated? It is. And that's the easy part. Wait until the reconciliation package hits the Senate. That's when it really gets interesting.
Bottom line: Democrats have to keep to this fast pace if they're going to have any chance of meeting the March 14 deadline. It's doable, but it'll still be tough.
The 2 men in the middle of Covid relief
We caught up yesterday with Ways and Means Chairman Richard Neal (D-Mass.), whose panel oversees the biggest piece of the reconciliation package, with a price tag of $941 billion. The Massachusetts Democrat has set aside Wednesday, Thursday and Friday of next week to mark up his portion of the reconciliation package. The panel will work during normal business hours, 10 a.m. to 6 p.m., so Republicans cannot accuse Democrats of trying to rush something through in the dark of night.
Neal, who turns 72 in nine days, vowed to complete his panel's work within the schedule laid out by his leadership. Neal says his GOP counterpart, Rep. Kevin Brady of Texas, wants to support a Covid relief bill, just not this new Democratic package. But Neal insisted his panel will move "with determination" through the reconciliation process.
"I understand the need for vigorous [debate] but not being confrontational," said Neal, who has a good relationship with Brady despite their sharp policy differences. "There's probably a lot of sympathy for what we're doing, even though they don't agree with all of it, all the specifics."
Neal is particularly focused on the $400-per-week federal unemployment payments called for in the American Rescue Plan. The Massachusetts Democrat — who survived a high-profile primary challenge last year — said the federal unemployment payments in the Cares Act were the most impactful piece of that legislation. "If somebody asked me what the most important part of the Cares Act … I would say the unemployment payments. Because it had such a meaningful, direct impact," Neal added.
For his part, Brady, 65, said the Biden package "is exorbitantly expensive for what it will stimulate." To Brady, "Everything should be focused on crushing this virus or rebuilding the economy. To do that, the focus has to be on how we save Main Street businesses, how we save those jobs."
Brady said his GOP colleagues on Ways and Means have studied the $618 billion Covid initiative put forth by Sen. Susan Collins (R-Maine) and other Senate Republicans, although he noted House Republicans "have their own ideas as well."
"I regret that we've not had hearings or a bipartisan discussion on all of this," Brady said. "We will offer substantive amendments … I'd be shocked if we went three days."
Sasse on being censured at home
No secret here: Sen. Ben Sasse (R-Neb.) is not a big Donald Trump fan. So, the Nebraska Republican Party is readying to censure him. Sasse didn't seem to care much, and he used the opportunity to tell the state party central committee that they have lost the plot.
For what it's worth, Nebraskans seem to be pretty cool with Sasse. He won re-election in 2020, notching record-high vote totals.
Here are some highlights of Sasse's speech, which you can see above:
As a friend and fellow Republican, I want to shoot straight. I'm not going to spend any time trying to talk you out of another censure. I listen to Nebraskans every day, and very few of them are as angry about life as some of the people on this committee. Not all of you, but a lot. Political addicts don't represent most Nebraska conservatives. …

Something's definitely changed over the last four years, but it's not me. Personality cults aren't conservative. Conspiracy theories aren't conservative. Lying that an election has been stolen? It's not conservative. Acting like politics is a religion, it isn't conservative. … 

You are welcome to censure me again. But let's be clear about why this is happening: It's because I still believe, as you used to, that politics isn't about the weird worship of one dude.
9:15 a.m.: President Joe Biden and VP Kamala Harris will get their intelligence briefing.
9:45 a.m.: Biden and Harris will meet with House Democratic leadership and committee chairs about the Covid-relief bill.
11 a.m.: The Covid response team will brief. … Rep. Marjorie Taylor Greene will host a news conference on her losing her committee assignments. This will be outside the Capitol at the House Triangle.
11:45 a.m.: Biden will speak about the economy and the need for a Covid-relief bill. 
1 p.m.: Jen Psaki will brief with Jared Bernstein.
3 p.m.: Harris and Treasury Secretary Janet Yellen will hold a virtual event with Black Chambers of Commerce on the Covid-relief bill. 
4:45 p.m.: Biden will leave the White House for Andrews, where he'll fly to Wilmington, Del.
5:50 p.m.: Biden will arrive in Wilmington.
N.Y. POST: STILL DUNKING ON BIDEN
NYT: "Trump Refuses Surprise Call to Testify in His Impeachment Trial," by Nick Fandos, Mike Schmidt and Maggie Haberman: "Mr. Trump's lawyers, Bruce L. Castor Jr. and David Schoen, wasted little time in swatting away the invitation. They said that Mr. Trump wanted no part of a proceeding they insisted was 'unconstitutional' because he is no longer in office, and called Mr. Raskin's request a 'public relations stunt.'
"'Your letter only confirms what is known to everyone: You cannot prove your allegations against the 45th president of the United States, who is now a private citizen,' they wrote in a letter to Mr. Raskin.
"Mr. Schoen and another adviser to Mr. Trump, Jason Miller, later clarified that the former president did not plan to testify voluntarily before or after the trial begins. Instead, his defense team intends to argue that the case should be dismissed outright on constitutional grounds, and that Mr. Trump is not guilty of the bipartisan 'incitement of insurrection' charge in which the House asserts he provoked a mob with baseless voter fraud claims to attack the Capitol in a bid to stop Congress from formalizing his loss."
"To 'Re-engage the World,' Biden Looks to Win Over U.S. Diplomats First," by Lara Jakes
WaPo: "Republicans worry their big tent will mean big problems in 2022 elections," by Michael Scherer and Josh Dawsey
"Bipartisan support emerges for domestic-terror bills as experts warn threat may last '10 to 20 years'," by Karoun Demirjian: "An apparent bipartisan majority of the House Homeland Security Committee on Thursday endorsed the idea of new laws to address domestic terrorism in the wake of last month's riot at the U.S. Capitol, as experts warned such internal threats would plague the country for decades to come."
WSJ: "Johnson & Johnson Asks U.S. Regulators for Emergency Approval of Its Covid-19 Vaccine," by Peter Loftus
AP: "US virus deaths surpass 450K; daily toll is stubbornly high," by Michelle R. Smith and Amy Taxin
Boston Globe: "Cruz blocks Senate vote on Raimondo for Commerce Secretary over concerns about Huawei," by Lylah Alphonse 
AJC: "To her N. Georgia constituents, Greene is either an 'embarrassment' or a conservative champion," by Jeremy Redmond and Tia Mitchell
Politico: "Biden health team hatches new vaccine strategy as variant threat builds," by Sara Owermohle and David Lim
Internet regulations need an update
It's been 25 years since comprehensive internet regulations were passed.
But a lot has changed since 1996. We support updated regulations to set clear guidelines for protecting people's privacy, enabling safe and easy data portability between platforms, and more.
Subscribe 10 friends with your unique link (below) and get a Punchbowl News hat!
You currently have: 0 referrals
Crucial Capitol Hill news AM, Midday, and PM—5 times a week
Join a community of some of the most powerful people in Washington and beyond. Exclusive newsmaker events, parties, in-person and virtual briefings and more.
Subscribe to Premium
The Canvass Year-End Report
And what senior aides and downtown figures believe will happen in 2023.
Check it out
PRESENTED BY PRATT & WHITNEY, AN RTX BUSINESS