Every issue of the Punchbowl News newsletter, including our special editions, right here at your fingertips.
Join the community, and get the morning edition delivered straight to your inbox.
A message brought to you by SourceAmerica
SourceAmerica® connects government customers and other organizations to a national network of nonprofit agencies that hire a talented segment of the workforce – people with disabilities. To learn more, visit SourceAmerica.org.
BY JOHN BRESNAHAN, ANNA PALMER AND JAKE SHERMAN
WITH MAX COHEN AND CHRISTIAN HALL
Democratic leaders on Capitol Hill are planning a big week. Their goal is for the House to vote on the $1 trillion bipartisan infrastructure bill and reach an agreement on the outlines of the Democrats' massive reconciliation bill, the Build Back Better Act.
Whether all this happens remains to be seen. But it's going to be a frantic few days.
President Joe Biden is heading to Rome on Thursday, and White House officials had wanted both bills — infrastructure and reconciliation — on the House floor before his departure. That doesn't seem possible now due to the painfully slow nature of the talks, which is frustrating Democrats in the White House and on Capitol Hill. We were very skeptical, as you'll remember, although there's a heavy push for a Wednesday vote on the infrastructure bill so Biden can sign something — anything! — before leaving for Europe. 
A framework deal on reconciliation is possible, more likely required, in order to pass the infrastructure bill. In September, House progressives forced Speaker Nancy Pelosi to delay the infrastructure vote for a month. But Biden and Pelosi very badly want the House to pass the legislation right away, especially as a high-profile gubernatorial battle in Virginia comes down to its closing days. They may need to reassure skittish progressives once again that a reconciliation floor vote will happen soon, perhaps within the next month or so.
There was a lot of action over the weekend, although the compromises being discussed are going to leave a lot of Democrats unhappy, especially on the House side. We're talking about taxes, paid leave, Medicare prescription drugs, SALT and other hot-button issues.
Let's get into it.
→ Biden, Senate Majority Leader Chuck Schumer and Sen. Joe Manchin (D-W.Va.) met Sunday in Wilmington to hash out their differences over key elements of the reconciliation package, including the total cost. Manchin remains adamant about keeping the price tag as near as possible to $1.5 trillion, although he's shown some flexibility on this front, according to sources familiar with the discussions. Biden, Schumer and other top Democrats want $2 trillion or so. This is a critical question. The cost of the package ultimately drives decisions on what's in the legislation. 
Manchin also has concerns about expanding Medicare to cover vision, dental and hearing programs, which Sen. Bernie Sanders (I-Vt.) and other progressives are demanding. There's a lot of confusion about whether these programs will be included, and talks continue on this issue. 
Sen. Kyrsten Sinema (D-Ariz.) wasn't in Wilmington, but her opposition to higher tax rates for individuals and corporations has driven Democrats to embrace a "wealth tax" for billionaires as a way to raise the hundreds of billions of dollars they need to offset new social spending. Sinema and her aides have spent big chunks of time meeting with senior administration officials, from Biden on down.
→ Speaker Nancy Pelosi discussed all of this on CNN's "State of the Union."
"In terms of where we are, I have said already we have 90 percent of the bill agreed to and written," Pelosi told Jake Tapper. "We just have some of the last decisions to be made."
→ One of those still outstanding issues is on Medicare expansion, Pelosi indicated: "Well, that's part of the negotiation.  Dental is very expensive. So, hearing and visual and dental, but dental will take a little longer to implement. But that's part of the negotiation right now."
Other unresolved issues include dealing with SALT. Schumer is putting a hard push on for full repeal. But a two-year delay has always been where the northeastern Democrats figured they'd land. Again, this package will not pass without some sort of SALT fix. 
And Medicare may be allowed to negotiate on drug prices, but only for a very limited number of drugs, we're told by sources close to the talks.
→ So what happens if there is a reconciliation deal? What would occur then?
First off, that would be a green light for a vote on the bipartisan infrastructure bill in the House. But to get to that, Schumer and Pelosi — especially Pelosi — would have to sell the framework agreement to restive progressives who've seen their "Once in a generation" opportunity whittled down by Sinemanchin.
Selling reconciliation: Pelosi and Schumer would have to go to their respective caucuses to sell their deal. And there's a lot to sell here, and a lot of bitter pills to be swallowed. Ways and Means Committee Democrats and their chair,  Richie Neal (D-Mass.), don't love the Senate's "wealth tax" proposal. Ways and Means rushed to get its portion of the reconciliation package together by Sept. 15 as instructed, and six weeks later, there's still no solid proposal from the Senate Finance Committee as the leadership has to deal with Manchin and Sinema. There hasn't been any Finance Committee hearings on the proposal or official scoring; no one has seen more than a framework crafted by the panel's chair, Sen. Ron Wyden (D-Ore.). Wyden hasn't released legislative language in the two years he's been talking about this wealth tax. That's because it's incredibly complicated. 
Here are some difficulties, via WSJ's Kristina Peterson and Rich Rubin:
The tax on unrealized gains faces hurdles. Mr. Wyden and his staff have been working on the idea for two years but they haven't released legislative text yet. The proposal is expected to have provisions dealing with enforcement, unrealized losses and the tricky administrative challenge of valuing illiquid assets such as closely held businesses and artwork. And it is likely to encounter well-financed legal challenges over whether it fits within the 16th Amendment's definition of an income tax.
​​House progressives, who have taken a hard line throughout these negotiations, are going to be asked to make a lot of concessions as well. Expanded Medicare is taking a hit. No free community colleges. So there will be a lot of reminding of the left that this will be one of the largest social spending packages in American history. 
→ Then cometh reconciliation: Large chunks of this reconciliation package are already drafted, Democrats say, but not all. It will take time to get the rest. And designing a new "billionaires tax" will be very complex — and that's putting it mildly. An entirely new tax structure designed on the fly, essentially. Once the entire package is drafted, then the negotiators have to make sure the text matches with the deal. Then House and Senate Democrats need to score it. 
→ The floor: There will be no shortcuts when it comes to voting for this package. There's only a three-vote margin in the House for Pelosi, and of course, the 50-50 Senate. And remember, whatever package is finalized will begin as a managers' amendment in the House. Progressives will be asked to trust that the Senate Democrats will clear this deal. But if Democrats have the votes, there's nothing they can do to stop them thanks to the reconciliation process.
Also: Wrightson ICAP, which keeps a close eye on the debt limit, says that the government may have enough borrowing authority to last until mid January.
PRESENTED BY HCA HEALTHCARE
At HCA Healthcare, we work to ease the stress that the healthcare insurance and billing process can create. We provide assistance when people need it most, helping patients understand and access generous programs designed to significantly reduce their financial burden. Additionally, we care for more Medicaid inpatients than any other U.S. health system, and offer patients with no insurance – or exhausted insurance benefits – a discount (averaging 90% of the total bill) for emergency services.
The wealthy end up on top in new Democrats' plan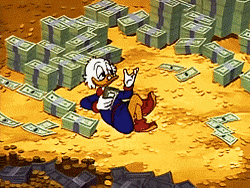 At the beginning of Joe Biden's presidency, it seemed as if America's rich were going to get soaked. 
→ There was a proposed hike of the capital gains tax.
→ Top earners were going to see their tax rates go back to pre-Donald Trump levels. The House also proposed a 3% surtax on incomes over $5 million.
→ Corporations would be taxed at 28%, up from the 21% they are now levied.
→ Democrats were going to do something about the "carried interest loophole" exploited by private equity fund managers to pay lower tax rates.
→ Inheritance taxes would increase to get at the vast fortunes of this new Gilded Age.
Several of these provisions didn't make it through the Ways and Means Committee. But when Democrats had to start drafting their new tax plan, politics and lobbyists got involved.
The outline of the reconciliation package emerging from talks between the House, Senate and White House is still fluid, but it seems likely that there will be a "wealth tax" or "billionaires tax." There are few details as of now, so we'll have to wait and see what it looks like. But it seems like the merely rich — let's leave out billionaires — are going to do ok. Depending on what happens on state and local income tax (SALT) repeal, some wealthy Americans could even see a tax cut, a number of Democratic lawmakers and Hill aides believe.
Rich people should thank Sens. Kyrsten Sinema (D-Ariz.) and Joe Manchin (D-W.Va.) especially. 
Manchin only wanted a $1.5 trillion package, which is less than half what the House proposed. So with a smaller package, there's less reason to hike taxes. Although $1.5 trillion is still a lot of money.
Manchin also didn't like the proposed corporate rate hike (to be fair, neither did some other Senate Democratic moderates), so it was going to be scaled back.
Sinema, though, didn't like any individual or corporate rate hikes at all, essentially blowing up big chunks of the Ways and Means bill. Sinema is open to a corporate minimum tax, and the "wealth tax" is being crafted to address her concerns about America's mega rich.
But the merely rich will get off in this deal, as only billionaires and the uber wealthy look like they will get hit hardest. Taxes on the simply filthy rich do not look like they will be increasing dramatically.
In some respects, this is good politics for Democrats. Republicans understand that taxing billionaires and the uber rich is incredibly popular, so they can't bash Democrats for that. 
But Democrats have spent years saying corporations and rich folks aren't paying their "fair share." And now, as they get ready to spend several trillion dollars, the rich are gonna do ok, thank you very much.
Thanks to our pals at AdImpact, here's a look at some interesting spots on the air right now.
Here's two 30-second commercials reminding Ohio voters that J.D. Vance was vocally against President Donald Trump.
One from Club for Growth: ​
And another from USA Freedom Fund:
Heads up Suozzi: Rep. Tom Suozzi (D-N.Y.) is getting dinged in a new SALT ad on Long Island. The Coalition for American Workers — run by former Mike Pence chief of staff Marc Short — has $200,000 on air in Suozzi's district. 
PRESENTED BY HCA HEALTHCARE
HCA Healthcare cares for more Medicaid inpatients than any other U.S. health system. Our assistance programs also reduce financial burdens for underinsured or uninsured patients.
8:30 a.m.: President Joe Biden will get his daily briefing.
9:40 a.m.: Biden will leave Delaware for Newark, where he'll arrive at 10:20 a.m.
11:20 a.m.: Biden will visit East End Elementary School in Plainfield, N.J., to talk about his legislative agenda.
12:20 p.m.: Biden will leave Plainfield for Newark.
1:45 p.m.: Biden will speak about infrastructure at the NJ Transit Meadowlands Maintenance Complex.
2:55 p.m.: Biden will leave Newark for Andrews. 
3:45 p.m.: Biden will arrive at Andrews and head to the White House, where he'll arrive at 4:05 p.m.
5:30 p.m.: Biden will meet with the delegation of the Orthodox Christian Church at the White House.
Biden's week: Tuesday: Biden will participate in the U.S.-ASEAN summit. He'll campaign with Terry McAuliffe at Virginia Highlands Park in Arlington. Wednesday: Biden will participate in the East Asia Summit. 
Thursday: Biden and First Lady Jill Biden will fly to Rome. Friday: Biden will visit Vatican City and meet with the pope. Saturday and Sunday: Biden will participate in the G20 Leader Summit in Rome.
PRESENTED BY HCA HEALTHCARE
At HCA Healthcare, we work to ease the stress that the healthcare insurance and billing process can bring. We have developed several programs and resources designed to provide help when people may need it most, including pricing information, financial counseling, patient-friendly billing practices and generous financial assistance programs for uninsured and underinsured patients.
HCA Healthcare's patient benefit advisors help patients understand and access programs and discounts — which we believe are among the most generous and comprehensive — in order to significantly reduce their financial burden. These resources are available to any patient who needs assistance in applying for Medicaid or other eligible coverage.
In fact, HCA Healthcare cares for more Medicaid inpatients than any other health system in the U.S. In addition, our Uninsured Discount Policy offers patients with no insurance, or exhausted insurance benefits, a discount (averaging 90% of the total bill) for emergency services.
Enjoying Punchbowl News AM?
Subscribe 10 friends with your unique link (below) and get a Punchbowl News hat!
You currently have: 0 referrals
Was this email forwarded to you? Sign up https://punchbowl.news
Punchbowl News All Rights Reserved
You are subscribed to our Punchbowl News AM list
Crucial Capitol Hill news AM, Midday, and PM—5 times a week
Join a community of some of the most powerful people in Washington and beyond. Exclusive newsmaker events, parties, in-person and virtual briefings and more.
Subscribe to Premium
The Canvass Year-End Report
And what senior aides and downtown figures believe will happen in 2023.
Check it out
A message brought to you by SourceAmerica
SourceAmerica® connects government customers and other organizations to a national network of nonprofit agencies that hire a talented segment of the workforce – people with disabilities. To learn more, visit SourceAmerica.org.