Every issue of the Punchbowl News newsletter, including our special editions, right here at your fingertips.
Join the community, and get the morning edition delivered straight to your inbox.
PRESENTED BY PRATT & WHITNEY, AN RTX BUSINESS
BY JOHN BRESNAHAN, ANNA PALMER AND JAKE SHERMAN
WITH MAX COHEN AND CHRISTIAN HALL
Happy Friday morning. We made it. 
We wanted to pause for a moment and analyze the state of play with the Build Back Better Act. The big question facing Senate Democrats right now is whether they'll be able to finish President Joe Biden's top legislative priority before the end of 2021 — or at all.
Senate Majority Leader Chuck Schumer is pushing frantically to finish the BBB this year. On Thursday alone, even as he sought to pass a key debt-limit process bill, Schumer met separately with Sens. Joe Manchin (D-W.Va.) and Kyrsten Sinema (D-Ariz.), huddled with Finance Committee Democrats, and then sat down with Sens. Bernie Sanders (I-Vt.), Robert Menendez (D-N.J.) and Michael Bennet (D-Colo.) to try to work out a deal on the state and local tax deduction (SALT), a key issue for him and blue state Democrats.
White House officials said they've been in "constant contact" with Senate committees "providing technical assistance and in regular communication with the Budget Committee." Our friend Alayna Treene of Axios reported that the Senate Finance Committee hopes to release its portion of BBB today. And the Senate parliamentarian continues to review the legislation for Byrd Rule-related issues. That process, which won't be complete until next week, has big ramifications for immigration advocates especially as they push for inclusion of House-passed provisions.
Senate Republicans, for their part, will release a CBO analysis of the BBB today that assumes none of the programs ever expire. Sen. Lindsey Graham of South Carolina, ranking Republican on the Budget Committee, and other Republicans will argue that this is the true cost of the legislation since Congress will never allow these programs to lapse — which is probably true, to some degree. Democrats are countering that the CBO analysis fails to include hundreds of billions of dollars in offsets outlined in the proposal that fully pay for the legislation as it currently stands.
A key monthly report on inflation will be released today, as well. Republicans are expected to be able to use that as well to attack the BBB, arguing that the $1.7 trillion proposal will only make inflation worse. The issue has already become a top concern for voters, and National Republican Senatorial Committee Chair Rick Scott (Fla.) is pounding this message every chance he gets.
Our friend Laura Barron-Lopez at Politico reported that Treasury Secretary Janet Yellen sent a memo Thursday night to Democratic senators as "a prebuttal to two government reports that could impact key senators' support for the social spending plan serving as a centerpiece of Biden's economic agenda."
With so much at stake, we always find it a useful exercise to step back and look carefully at the situation. We'll lay out three reasons why we believe Schumer will be able to get the BBB through the Senate before the end of the year, and three reasons why he won't. Decide which ones sit best with you, or use this to help understand the arguments. Enjoy your day. 
Why the Democrats get it done:
1) The Child Tax Credit. Schumer and Senate Democrats talk a lot about how the American Rescue Plan helped bring the U.S. economy back from the brink of collapse after the depths of the Covid-19 pandemic. One of the most highly touted policies in the ARP was the expanded Child Tax Credit. Democrats expanded eligibility to include children up to 17 years old, they made the credit fully refundable and increased the amount families could get under the tax credit. All in all, a huge plus for millions of American families.
Guess what? It expires in 21 days if the Congress doesn't pass the BBB. Speaker Nancy Pelosi has all but guaranteed that she's not going to try to bail the Senate out by passing a short-term extension of the CTC, so it's up to senators to get their act in gear. 
After hollering about putting extra money in people's pockets, how can Democrats let this popular provision expire?
2) Politics. Let's put this as bluntly as possible — time hasn't been very kind to this proposed legislation. Sure, individual elements of the package remain immensely popular. But the longer the BBB sits out there, the more Republicans get to try to define the proposal negatively for voters. And more rifts inside Democratic ranks burst out into the open. At some point, the negotiating has to stop. If you ask Democrats close to Schumer, that time is right now.
3) Do you remember 2009-2010? We've seen this movie before. Nancy Pelosi was speaker, Harry Reid was Senate majority leader and it took months on end to pass the Affordable Care Act. Democrats argue that Obamacare is an historic piece of legislation. It has had a huge impact on the lives of millions of Americans. 
But at the same time, the extraordinary grueling effort it took to pass that legislation prevented Democrats from moving other bills heading into a critical midterm election. They got so distracted by the battle in Washington that they failed to address the economic angst sweeping the nation. Does that feel familiar? Surely Democrats want to tackle other issues next year, so they should wrap up the BBB now and get on with governing.
Why they won't get it done:
1) Joseph Manchin III. Need we say more? The senior senator from West Virginia has a pocket card with a list of already approved bills that he says Democrats don't talk about enough. Manchin thinks inflation is out of control. He criticizes his party's view on big spending programs. He has issues with many of the key elements in the BBB. Manchin says all of these things all of the time and yet somehow, we're to believe he's going to suddenly throw his support behind this bill?
2) They're just not ready. Here's a simple yet inexorable problem Democrats have yet to overcome — there's no bill yet! We haven't seen the full legislative text of the Build Back Better Act from Senate Democrats in the three weeks since the House approved its version of the bill. Next week, Senate Democrats and Republicans will take elements of the package to the parliamentarian to battle over immigration and other contentious priorities. Once they're done with that, Schumer still needs to get agreement within his caucus. For example, if the immigration provisions approved by the House are rejected by the parliamentarian, do they try to rework the language to get it back into the package? How long will that take? How many votes will they lose without immigration in the bill? And remember — once the Senate passes its bill, the House has another crack at it. And that will take some time. 
3) Congress sucks. When all else fails, and everything seems tough, what does Congress do? It delays. It obfuscates. It punts. Congress punts because it's easy. It punts because — why not? Why should this be any different?
Comcast's Internet Essentials has connected 10 million people from low-income families to high-speed Internet for less than $10/month. But Americans need laptops, tablets and digital skills too. That's why, through Project UP, we're investing $1 billion over the next 10 years to connect people to the Internet, advance economic mobility, and open doors for the next generation of innovators, entrepreneurs, storytellers and creators. Learn more.
A final judgement on McConnell in the debt ceiling drama
Mitch McConnell blinked on the debt limit. There's no doubt about it. That's the final review of the Kentucky Republican in this battle. McConnell said he would never help the Democrats on the debt limit, and he did — twice.
McConnell sought the conflict, yet his original plan didn't work. He tried to get Senate Majority Leader Chuck Schumer to bend to his will and include the provision in the reconciliation package. But Schumer stared him down and didn't give in. In the bare-knuckle brawl that is congressional legislative politics, Schumer won this round.
Now, people close to McConnell say he's made the best out of a bad situation. McConnell wasn't willing to provoke a debt default, so, in essence, he took a hostage he wouldn't shoot. And once Schumer and Senate Democrats didn't give in, McConnell had to switch tactics and press the eject button. The eject button, in this case, was a convoluted legislative mechanism that paired  a delay in Medicare sequestration cuts to a debt-limit process vote. McConnell leaned heavily on his leadership team to back him up, and they did, despite complaints from former President Donald Trump, a loud McConnell critic.
The proposal also spared Senate Republicans from having to vote directly on the debt limit. There's no way that McConnell would've found 10 GOP votes to overcome a Republican filibuster on that, not even among his closest allies, so this was his best path out of a jam. Team Mitch says he can now go back to dumping all over the BBB and focusing on 2022. 
Vulnerable Senate Democrats will also have to vote next week in favor of several trillion dollars in new debt authorization. Total U.S. debt will rise above $30 trillion once the limit is reached again, likely in 2023. This isn't great politics for Senate Democrats, although it is necessary governance by the party that holds the majority in Congress and the White House.
The internal battle for a spot on the tax writing committee
After we reported yesterday on the Republican candidates who are vying for a seat on the Ways and Means Committee, we've gotten a flood of text messages with great tips about the contest. We're sifting through the tips, but here are a few we feel comfortable reporting:
→ Rep. Vern Buchanan (R-Fla.), who is vying for the top GOP spot on the panel in the next Congress, is telling colleagues in the Capitol that he has already locked up commitments from the majority of the Republicans on the Steering Committee. It's a bit early for that. There are some members of the Steering Committee who don't believe him, think he's jumping the gun a bit and are put off by his remarks. The race for top Republican on the panel is a long way away from over. There won't be a decision until late 2022 or 2023. Reps. Adrian Smith (R-Neb.) and Jason Smith (R-Mo.) are also taking a look at this race.
→ But a Ways and Means seat will open up early next year following the resignation of Rep. Devin Nunes (R-Calif.). We reported yesterday who we believe to be the leading candidates: Reps. Greg Murphy (R-N.C.), David Kustoff (R-Tenn.), Greg Steube (R-Fla.) and Beth Van Duyne (R-Texas). We were told Murphy and Kustoff are the leading among that bunch.  
But we have more for you. Rep. Randy Feenstra (R-Iowa) is interested in serving on the committee as well. He chaired Ways and Means in the Iowa Senate. He probably won't get seat on the panel during this Congress, but will be in a good position for the 118th Congress.
→ Rep. Michelle Steel (R-Calif.) is making a hard push. She dropped off a bottle of Alpha Omega wine to all Steering and Ways and Means members with a palm card with her experience. She is making the point that, with Nunes resigning, there will be no Republican member from west of Texas on the committee. And she served on California's only elected tax board, where she represented nine million people and returned $400 million to taxpayers.
Pelosi throws surprise birthday for Wendell Primus
There are some people who are institutions on Capitol Hill, aides in both parties whose fingerprints are all over many of the laws enacted by Congress. 
Wendell Primus, Speaker Nancy Pelosi's health and budget policy adviser, is one of those people. Primus started on the Hill in 1975, working for Rep. Tom Foley (D-Wash.), then the chair of the Agriculture Committee. Primus moved over to the Ways and Means Committee in 1977 and worked there until 1993. Primus went to work for HHS in the Clinton administration, but resigned when President Bill Clinton signed the 1996 welfare reform bill. He's worked for Pelosi since 2005, helping navigate massive bills like the Affordable Care Act through the House.
All that said, Primus turned 75, and Pelosi held a surprise birthday for him in her office. Check out the photo.
8:30 a.m.: Speaker Nancy Pelosi will hold a news conference with Rep. Carolyn Maloney (D-N.Y.) on drug pricing and the BBB.
9 a.m.: President Joe Biden will receive his daily intelligence briefing.
11 a.m.: Biden, First Lady Jill Biden, Vice President Kamala Harris and Second Gentleman Doug Emhoff will attend the memorial service for Bob Dole at the National Cathedral. 
12:30 p.m.: Jen Psaki will brief.
1:45 p.m.: Biden will speak to close the Summit for Democracy.
5:45 p.m.: The Bidens will leave for Wilmington, Del. They will arrive at 6:40 p.m.
PUNCHBOWL NEWS x REP. SUZAN DELBENE
Rep. DelBene on BBB, Child Tax Credit, and the debt limit
New Democrat Coalition Chair Rep. Suzan DelBene (D-Wash.) joined us for a virtual pop-up conversation on Wednesday. DelBene weighed in on the child and earned income tax credits, the state of the Build Back Better Act and the debt limit. The Rockefeller Foundation sponsored the event. Watch the full event here!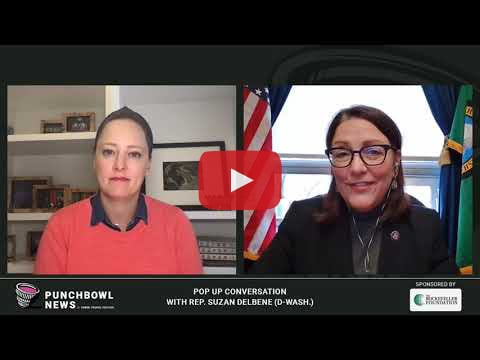 No other provider offers as many affordable Internet options as we do. Our most affordable plan has connected 10 million people from low-income families to high-speed internet for less than $10/month. But Americans need more than an internet connection – they need the right devices and digital skills to make the most of connectivity. That's why we're investing $1 billion over the next 10 years to put laptops in people's hands and provide digital skills training to help low-income families get and stay connected. Learn more.
Enjoying Punchbowl News AM?
Subscribe 10 friends with your unique link (below) and get a Punchbowl News hat!
You currently have: 0 referrals
Was this email forwarded to you? Sign up https://punchbowl.news
Punchbowl News All Rights Reserved
You are subscribed to our Punchbowl News AM list
Crucial Capitol Hill news AM, Midday, and PM—5 times a week
Join a community of some of the most powerful people in Washington and beyond. Exclusive newsmaker events, parties, in-person and virtual briefings and more.
Subscribe to Premium
The Canvass Year-End Report
And what senior aides and downtown figures believe will happen in 2023.
Check it out
PRESENTED BY PRATT & WHITNEY, AN RTX BUSINESS