Every issue of the Punchbowl News newsletter, including our special editions, right here at your fingertips.
Join the community, and get the morning edition delivered straight to your inbox.
A message brought to you by RTX
Brilliant new ideas can come from everywhere. That's why we invest heavily in STEM education, helping build a career-ready, diverse talent pipeline to tackle tomorrow's most complex challenges. Learn more at RTX.com
BY JOHN BRESNAHAN, ANNA PALMER AND JAKE SHERMAN
President Joe Biden is always careful to caveat. Like many politicians, he seems to never directly promise anything. But here are a set of benchmarks, hopes and near promises that the new president has now made — including a set of statements from the CNN town hall last night with Anderson Cooper in Milwaukee. Biden will be held accountable to these pledges by his own party, Republicans and the media.
→  Biden has said he wants Covid-relief bill passed by March 14.
→ He said last night during the CNN event that the "American Rescue Plan"  will create "7 million jobs this year." Biden was quoting "most economists, including Wall Street firms, as well as, you know, think tanks, political think tanks, left, right, and center."
→ "A significant percentage" of schools grades K-8 will be open in the first 100 days, Biden promised. "The goal will be five days a week," Biden said, adding that high schools will be harder to open. This is the president reiterating a pledge that White House officials recently had tried to soften.
→ He predicted there will be enough vaccine doses for all Americans by "the end of July." That's more than 600 million doses.
→ Biden rejected a proposal by Send. Chuck Schumer, Elizabeth Warren and others to forgive up to $50,000 in student debt per borrower. Biden said he could do $10,000, but not more. This isn't going to make proponents happy, including minority lawmakers.
→ Cooper asked Biden when America would be over the coronavirus. Biden said "by next Christmas, I think we'll be in a very different circumstance. … We don't know for certain. But it is highly unlikely that by the beginning of next year, school — traditional school year in September, we are not significantly better off than we are today."
 Biden's agenda may seem aggressive. But to a faction of progressive groups, Biden hasn't been nearly aggressive enough. 
Pressure point: Biden is getting some pressure on the left. A number of groups — including Adam Jentleson and Rebecca Kirszner Katz's Battle Born Collective and Justice Democrats — are saying Biden is not moving fast enough to enact his agenda through Congress. They note that on Feb. 17, 2009, then President Barack Obama signed the stimulus into law. They have a series of suggestions, which you should read here.
"April 21, 2021 will mark 100 days into the new administration and over 75 days of unified Democratic control of Washington. What will President Biden, Leader Schumer, and Speaker Pelosi have to show for it?"
Of course, 2009 is not 2021. Democrats only took the Senate majority on Jan. 20 after the Georgia runoffs were in the books. In 2009, there wasn't a deadly attack on the Capitol and impeachment. The GOP presidential candidate, the late Sen. John McCain of Arizona, promised to help the country get through the Great Recession. Democrats had big majorities in the House and Senate, and the Republican Party of 2009 … well, it's not the Republican Party of 2021. 
Also: Biden on former President Donald Trump: "For four years, all that's been in the news is Trump. The next four years, I want to make sure all the news is the American people. I'm tired of talking about Trump."
Mitch McConnell would probably agree.
Amazon has stepped up our testing, safety measures, vaccination efforts, and economic relief to ensure the safety and well-being of our workers. 
Now, we're supporting the national effort to vaccinate 100 million people in the first 100 days of his presidency. Our recent pop-up clinic in Seattle has already vaccinated thousands.
Amazon is working to help vaccinate front-line workers and community members providing essential services during the pandemic.
PUNCHBOWL NEWS x CLUBHOUSE
We had a really interesting talk last night on Clubhouse with Reps. Patrick McHenry (R-N.C.) and Anthony Gonzalez (R-Ohio) about the GameStop/Reddit/Citadel/Robinhood hearing that will take place Thursday. A bunch of people showed up, asked questions and it was a totally respectful and substantive conversation. Now we see why people are so bullish on Clubhouse!
McHenry and Gonzalez went deep on the issues for more than an hour, and we found a few things interesting. 
→ McHenry on GameStop: "How do you go and police a message board around somebody who's going to go buy $500 worth of a really cheap stock? How do you do that? Well, how do you ban people from talking, right? And so some of this stuff strikes at free speech rights …  you'd have to have a significantly, significantly larger police state, in order to get at these message boards. And so that that's that's the question I've got why we have the CEO of Reddit here, when in essence they're just a message board."
→ Gonzalez: "The SEC is just not designed to go after that, right? Like they're designed to go after the big hedge fund, because they've got a lot of capital and they can move it around and, you know, depending on how they operate they can legitimately move markets. … Going after people with $1,000 in an account, who are coordinating over a message board. I honestly think it's impossible."
Interested in Punchbowl News hosting more Clubhouse events? Email Jake or Anna with topic ideas. 
ANOTHER KINZINGER FAMILY LETTER
Rep. Adam Kinzinger's (R-Ill.) family has been revolting against him for ditching Donald Trump. Reid Epstein had the first installment of Kinzinger's family writing him nasty letters in the Times. We have a new letter this morning, dated Jan. 19 and it starts like this: Unfortunately, we felt another letter was warranted to defend our own position and our opinion of you!"
"You are the one 'being misled' (brainwashed) by the Democrats and the fake news media." Read the full letter here
From providing COVID-19 testing to advocating for vaccinations for front-line workers, Amazon is working to protect the health and safety of our employees and their communities. We've also enhanced safety measures and increased paid time-off in an effort to support those who have long supported us.
AP: "Millions endure record cold without power; at least 20 dead," by Bryan Anderson in Ocean Isle Beach, N.C.
NYT: "Stay or Go? Biden, Long a Critic of Afghan Deployments, Faces a Deadline," by Helene Cooper, Eric Schmitt and David Sanger: "The Pentagon, uncertain what the new commander in chief will do, is preparing variations on a plan to stay, a plan to leave and a plan to withdraw very, very slowly — a reflection of the debate now swirling in the White House. The current deadline is May 1, in keeping with a much-violated peace agreement that calls for the complete withdrawal of the remaining 2,500 American forces.
"The deadline is a critical decision point for Mr. Biden, and it will come months before the 20th anniversary of the Sept. 11, 2001, terrorist attacks that prompted the American-led invasion of Afghanistan to root out Al Qaeda."
"Stumbles, Clashes and Egos: Behind the Scenes With Trump's Legal Team," by Maggie Haberman and Mike Schmidt
WaPo: "Biden indicates he's open to negotiation on $15 minimum wage," by Erica Werner
"McConnell shows that legacies don't matter when facts no longer do," by Robin Givhan
WSJ: "Biden to Meet With Unions Pushing for Infrastructure Spending," by Timothy Puko and Andrew Restuccia: "President Biden is scheduled to meet in the White House on Wednesday with senior labor union leaders, and people familiar with the matter say they are hoping to win commitments for a massive federal investment in infrastructure as well as efforts to create jobs in clean tech and alternative energy.
"Sean McGarvey, president of North America's Building Trades Unions, will be meeting with the president and Vice President Kamala Harris in the Oval Office, and may be joined by AFL-CIO President Richard Trumka and other labor leaders, according to some of the people."
"Alden Global Capital Agrees to Buy Rest of Tribune Publishing," by Lukas I. Alpert
11 a.m.: The White House Covid-19 response team and public health officials will hold a press briefing. 
11:30 a.m.: Joe Biden and VP Kamala Harris will receive the President's Daily Brief.
12:30 p.m.: Biden and Harris will have lunch. … Jen Psaki and Anne Neuberger will hold a press briefing. 
3:30 p.m.: Biden and Harris will meet with labor leaders.
The expansion of The Yards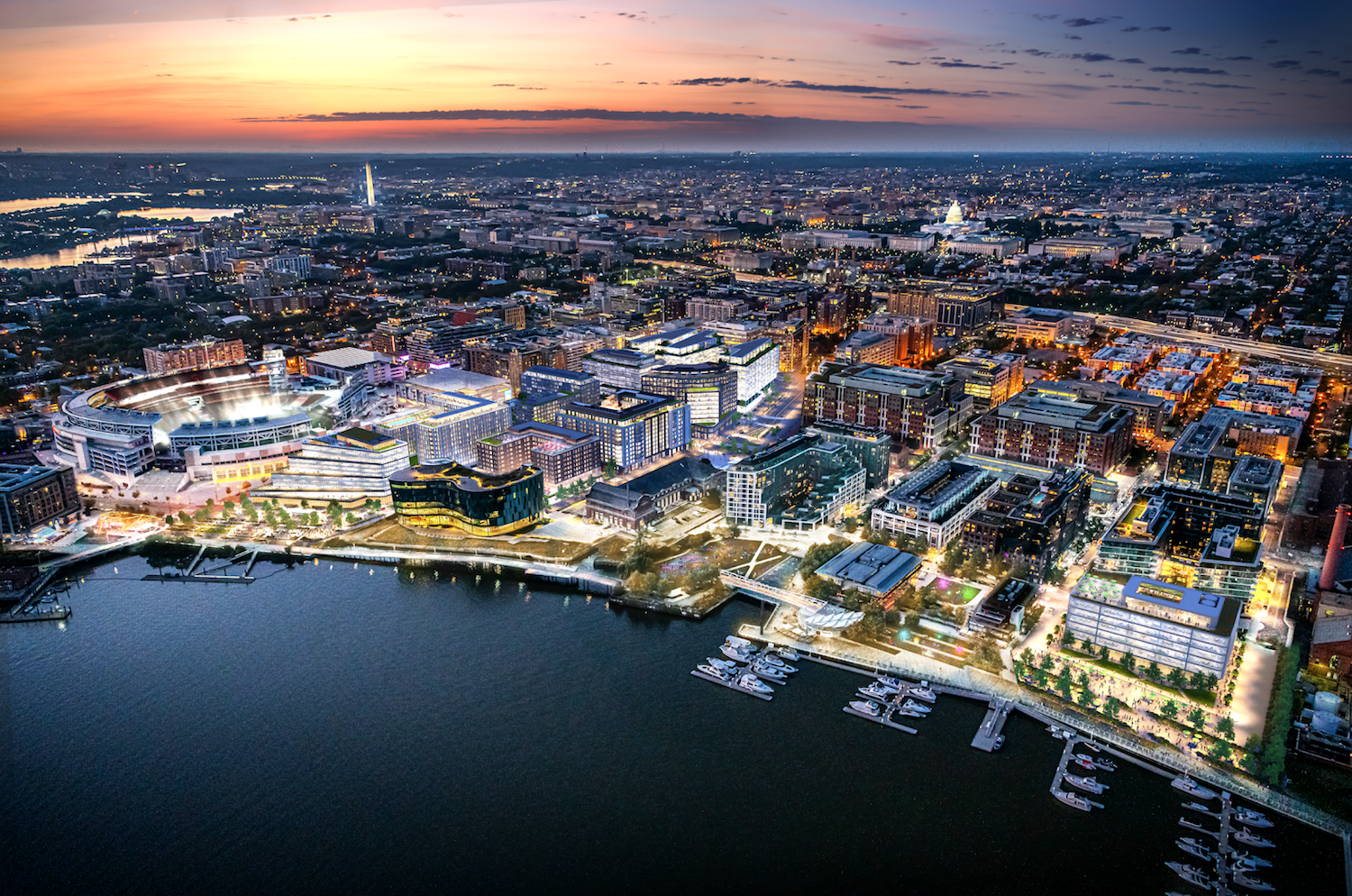 Amazon is stepping up to help ensure that our employees and their communities have access to COVID-19 vaccinations and testing. We've helped vaccinate thousands through pop-up clinics, and quickly ramped-up onsite COVID-19 testing for employees thanks to the ingenuity of our fast-moving response team.
We're also heavily invested in supporting our employees, customers, and communities during the pandemic—from enhancing safety measures to increasing paid time-off. We provided more than $2.5 billion in bonuses and incentives for our teams globally in 2020.
Since the beginning of this crisis, we have worked hard to keep our employees safe. We are committed to vaccination efforts as we work together to protect our employees and continue to provide essential services during the pandemic.
Subscribe 10 friends with your unique link (below) and get a Punchbowl News hat!
You currently have: 0 referrals
Was this email forwarded to you? Sign up https://punchbowl.news
Punchbowl News All Rights Reserved
You are subscribed to our Punchbowl AM list
Crucial Capitol Hill news AM, Midday, and PM—5 times a week
Join a community of some of the most powerful people in Washington and beyond. Exclusive newsmaker events, parties, in-person and virtual briefings and more.
Subscribe to Premium
The Canvass Year-End Report
And what senior aides and downtown figures believe will happen in 2023.
Check it out
A message brought to you by RTX
Brilliant new ideas can come from everywhere. That's why we invest heavily in STEM education, helping build a career-ready, diverse talent pipeline to tackle tomorrow's most complex challenges. Learn more at RTX.com