Every issue of the Punchbowl News newsletter, including our special editions, right here at your fingertips.
Join the community, and get the morning edition delivered straight to your inbox.
A message brought to you by SourceAmerica
SourceAmerica® connects government customers and other organizations to a national network of nonprofit agencies that hire a talented segment of the workforce – people with disabilities. To learn more, visit SourceAmerica.org.
BY JOHN BRESNAHAN, ANNA PALMER AND JAKE SHERMAN
The Republican Party has had some low points in the last two decades: The Mark Foley scandal, the Jack Abramoff mess, the nightmare in Iraq, losing their House majority in 2006, followed by the historic beatdown of 2008.
But we're going to make the case this morning that the Republican Party is more adrift than it has been at nearly any point since Watergate.
Here's why: 
1) There's plenty that Republicans could be hitting Democrats about these days. Democrats have a razor-thin House majority following their disastrous showing in November, and there's a good chance they'll be in the minority by next Congress; the House Democratic Caucus is run by an octogenarian leadership troika that hasn't changed since before the iPhone became a thing (it's true); the Senate is basically controlled by one lawmaker, Sen. Joe Manchin (D-W.Va.), who represents a state with a population smaller than Houston; and Chuck Schumer, the Senate majority leader, gets less ink most days than Rep. Alexandria Ocasio-Cortez (D-N.Y.), a potential primary challenger to him in 2022. 
But, ah, then there's the Republicans. You know, the Democrats' last, best hope for victory. Some of them defy easy explanation. Rep. Lauren Boebert (R-Colo.) showed up to a virtual committee hearing with multiple assault weapons on display in the background. Rep. Andy Harris (R-Md.) allegedly tried to bring a gun onto the House floor. After being kicked off her committee assignments — a move even some Republicans supported — Rep. Marjorie Taylor Greene (R-Ga.) has now embarked on a quixotic campaign to impeach President Joe Biden. 
Rep. Madison Cawthorn (R-N.C.) met recently with Jewish constituents after "posting photos from a past trip to Hitler's vacation home," telling the Jewish Insider that "he has attempted to convert Jews to Christianity," and "expressed regret over a tweet that appropriated a poem about the Holocaust…." Sen. Ted Cruz (R-Texas) decided last week it would be a good time to go to Cancun in the middle of a huge crisis in his home state. And Sen. Ron Johnson (R-Wis.) doesn't think the armed insurrection at the Capitol on Jan. 6 was, well, an armed insurrection.
Towering above this entire GOP mess, of course, is former President Donald Trump. After being impeached a second time over his role in inciting the Jan. 6 Capitol attack — later acquitted, of course — Trump is now in Mar-a-Lago plotting to retain his stranglehold on the party. GOP lawmakers are already trekking down to the Sunshine State to kiss his ring. Just this weekend, there was a fundraiser at Trump's club benefiting Sen. Mike Lee (R-Utah), with Boebert and Rep. Matt Gaetz (R-Fla.) as special guests. House Minority Leader Kevin McCarthy (R-Calif.) and Minority Whip Steve Scalise (R-La.) have visited. Sen. Lindsey Graham (R-S.C.) played golf with Trump over the weekend. The two talked about the former president's prospective role in the midterms. "He's very focused, working the phones," Graham said of Trump to reporters on Monday. "He's very involved in helping the team win. … Trying to get the best team on the field."
This comes as Trump is openly feuding with Senate Minority Leader Mitch McConnell (R-Ky.), Rep. Liz Cheney (R-Wyo.), Sen. John Thune (R-S.D.) and a host of other top elected leaders from his own party. He is basically targeting anyone who he believes wants a Trump-less future for the GOP. "We can't let him define us for the future because that would just further divide our country, and it would hurt our Republican Party," Arkansas GOP Gov. Asa Hutchinson said Sunday on CNN.
Trump, however, sees it very differently. He'll be center stage Sunday at the CPAC conference in Florida. Axios reported that Trump wants to declare himself the "presumptive nominee in 2024." And he might be right; a USA Today poll showed nearly half of Republicans — 46 percent — said they'd leave the party if Trump wanted to create one. That's a staggering repudiation of the GOP establishment and shows just how deep the split inside the GOP remains. As long as Trump is out there, it'll stay this way. All this gives Democrats hope for 2022 and beyond.
2) Republicans are trying to reprise their 2009 stimulus play and brand Biden's Covid relief bill as extreme and unnecessary. McCarthy and Scalise are lobbying all their members to vote against the $1.9 trillion package when it hits the House floor later this week. The only problem here is that the Republican lawmakers have supported much of this spending in the past, and the country is hurting, sick and yearning for a return to normal. Numerous experts — although it's not universal, as the White House claims — also predict the "American Rescue Plan" could bolster a potentially strong rebound for the U.S. economy later this year.
3) So far, Republicans' main push has been to try to label Biden a "radical." Biden's foreign policy is "radical." Biden's immigration policy is "radical." Biden's climate change policy is "radical."Biden's nominees are "radical." Biden's Covid relief bill is a "payback to the radical left." Biden is the "most radical left wing president in history, period." Something, something, "Biden is radical."
The challenge for Republicans is that most Americans simply don't see Biden that way. You may not like Biden, his policies or his demeanor, but the "radical" tag just hasn't stuck. It didn't work during the campaign, it hasn't worked during his first month in office. Biden just doesn't give off the radical vibe. There's plenty to criticize Biden for, but yelling "radical" at every turn isn't going to work.
Budget ruling could come as soon as Wed.
The Senate Parliamentarian could rule as soon as Wednesday on whether Democrats will be allowed to include an increase in the minimum wage into the Covid relief bill. 
Senate Democratic and GOP committee staff have been presenting policies to the parliamentarian, Elizabeth MacDonough, and she rules whether they violate the Byrd Rule — the arcane rule that govern budget reconciliation. The parliamentarian can either rule immediately, or say she needs more time. This is expected to happen during the next few days.
Meanwhile, Sen. Joe Manchin (D-W.Va.) told CNN's Manu Raju that he would try to amend the Covid relief bill with an $11 minimum wage as a compromise. Manchin and Sen. Kyrsten Sinema (D-Ariz.) both oppose the $15 figure. It's all moot if the parliamentarian rules it violates the Byrd Rule, though. 
Preview of today's Jan. 6 hearing
At 10 a.m. today, the Senate Homeland Security and Governmental Affairs and Senate Rules committees will hold a joint hearing into the deadly Jan. 6 attack on the Capitol. This is the first public hearing by congressional panels on the insurrection — and it's sure to be newsy. The former Capitol Police chief and former House and Senate sergeant at arms will all testify. All three lost their posts following the attack as lawmakers complained about how they responded to the most serious breach in the Capitol's security in two centuries
"Obviously we're going to hear some folks for the first time testifying before Congress and the public," said Sen. Gary Peters (D-Mich.), chair of Homeland Security. Peter said senators have "Questions about intelligence — what did they know, what did they expect, why were they not fully prepared to deal with what was a very large violent attack on the Capitol, questions related to [the delay calling in] the National Guard. There's a long list of questions."
This is the first appearance of any kind for former House Sergeant at Arms Paul Irving and Senate Sergeant at Arms Michael Stenger. Former U.S. Capitol Police Chief Stephen Sund has publicly blamed a massive intelligence failure among security and law-enforcement agencies for underestimating the scale and intensity of the riot. Robert Contee, head of the D.C. Metropolitan Police, will also testify.
Five people died on Jan. 6, including Capitol Police Officer Brian Sicknick, and dozens of officers were seriously wounded. Two officers have taken their own lives in the period afterward. Thousands of National Guard troops remain on patrol at the Capitol complex, as threats continue to pour in against lawmakers.
Sen. Roy Blunt (Mo.), top Republican on the Rules Committee, said it may be time to look at the structure of the board that oversees the Capitol Police. Irving, Stenger and Sund all sat on the board. The House and Senate sergeant at arms reported to Speaker Nancy Pelosi (D-Calif.) and then Senate Majority Leader Mitch McConnell (R-Ky.) at the time of the attack.
Blunt questioned whether "the Police Board structure really works… Does this system really work, and even if it works day to day, is it likely not to work in a crisis?"
When asked whether he believes Sund, Irving and Stenger are being blamed unfairly for the debacle, Blunt added, "Let's see what they have to say. It's a good reason to get that information out."
FUN IN THE SUN WITH THE GOP
Big Senate Republican fundraiser in Fla. this weekend
GOP Sens. Jerry Moran of Kansas, John Thune of South Dakota and Roy Blunt of Missouri will be in Miami this weekend for a fundraiser for Moran's victory committee. The three Republican lawmakers are all up for re-election in 2022. Blunt and Thune are both members of the Republican leadership. Thune is seen as a potential successor to Senate Minority Leader Mitch McConnell (R-Ky.).
9:50 a.m.: President Joe Biden and VP Kamala Harris will receive their intelligence briefing. 
10 a.m.: Joint Senate HSGAC/Rules hearing on the events of Jan. 6. 
Noon: Jen Psaki will brief.
1:15 p.m.: Biden will hold a roundtable with "Black essential workers," which will be moderated by Susan Rice. 
4 p.m.: Biden will hold a virtual bilateral meeting with Candian Prime Minister Justin Trudeau.
5:45 p.m.: Biden and Trudeau will make statements after their meeting.
Also today: The Senate will vote to confirm Tom Vilsack as Agriculture secretary and Linda Thomas-Greenfield as ambassador to the U.N.
TONIGHT … PUNCHBOWL NEWS JOINS THE LATE SHOW WITH STEPHEN COLBERT
Tune in tonight to watch Jake and Anna on The Late Show with Stephen Colbert (and if that's not enough of a reason … Billie Eilish will be on as well).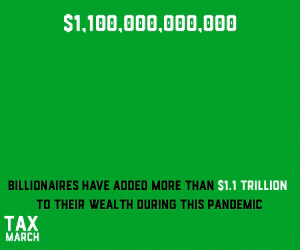 NYT: "Trump's Tax Returns Aren't the Only Crucial Records Prosecutors Will Get," by Mike McIntire: "When New York prosecutors finally get to examine the federal tax returns of former President Donald J. Trump, they will discover a veritable how-to guide for getting rich while losing millions of dollars and paying little to no income taxes. Whether they find evidence of crimes, however, will also depend on other information not found in the actual returns."
"State Lawmakers Defy Governors in a Covid-Era Battle for Power," by Trip Gabriel
"Fight Over Deb Haaland, First Native American Cabinet Pick, Reflects Partisan Divide," by Coral Davenport
WaPo: "At stake in Senate hearing Tuesday: The story of the Capitol riot, and who is responsible," by Mike DeBonis and Karoun Demirjian: "The public inquest into the deadly Jan. 6 riot at the Capitol begins a new phase Tuesday when four law enforcement officials — three of whom resigned their posts and some of whom have never before spoken publicly about the attack — face lawmakers aiming to uncover what led to the violence and prevent future unrest.
"But Tuesday's hearing before members of two Senate committees could also become a battleground for competing narratives over what prompted the riot and who was responsible for it — a question that has become even more pointed following former president Donald Trump's acquittal on impeachment changes earlier this month."
"How blue is Trump's shadow in Virginia? This year's governor's race is already shaping up as a key barometer," by Gregory S. Schneider and Laura Vozzella in Richmond
Politico: "Trump taunts don't shake McConnell's hold on Senate GOP," by Burgess Everett
WSJ: "Consumer Demand Snaps Back. Factories Can't Keep Up," by Bob Tita and Austen Hufford 
AP: "Deb Haaland hearing is Indian Country's Obama moment," by Felicia Fonesca in Flagstaff, Ariz.LAT: "California legislators approve $7.6-billion COVID-19 package, including $600 stimulus checks," by Patrick McGreevy in Sacramento
How the GOP will run against Covid relief
The Congressional Leadership Fund — the top House Republican super PAC — is going into 11 districts with digital ads and phone calls, criticizing Democrats for their Covid-relief bill. If you  were wondering about Republicans supporting the bill in any significant number, this should put that to rest.
CLF is branding the bill as a liberal wishlist.
The members that will be targeted: Reps. Carolyn Bourdeaux (Ga,), Cindy Axne (Iowa), Sharice Davids (Kan.), John Yarmuth (Ky.), Jared Golden (Maine), Elissa Slotkin (Mich.), Kurt Schrader (Ore.), Conor Lamb (Pa.), Elaine Luria (Va.), Abigail Spanberger (Va.) and Ron Kind (Wis.).
Americans are more united behind passing Biden's $1.9 trillion American Rescue Plan than they were when Republicans pushed through $1.9 trillion in tax breaks for the wealthy. 
72% of Americans support President Biden's emergency legislative package, versus just 29% of Americans who supported the 2017 tax law before its passage.
Subscribe 10 friends with your unique link (below) and get a Punchbowl News hat!
You currently have: 0 referrals
Was this email forwarded to you? Sign up https://punchbowl.news
Punchbowl News All Rights Reserved
You are subscribed to our Punchbowl AM list
Crucial Capitol Hill news AM, Midday, and PM—5 times a week
Join a community of some of the most powerful people in Washington and beyond. Exclusive newsmaker events, parties, in-person and virtual briefings and more.
Subscribe to Premium
The Canvass Year-End Report
And what senior aides and downtown figures believe will happen in 2023.
Check it out
A message brought to you by SourceAmerica
SourceAmerica® connects government customers and other organizations to a national network of nonprofit agencies that hire a talented segment of the workforce – people with disabilities. To learn more, visit SourceAmerica.org.