Every issue of the Punchbowl News newsletter, including our special editions, right here at your fingertips.
Join the community, and get the morning edition delivered straight to your inbox.
Introducing The Vault
We're excited to bring you The Vault, Punchbowl News' pipeline from Washington to Wall Street.
Each quarter reporter Brendan Pedersen will deliver buzzy financial services coverage that will include breaking news, high-profile industry and regulator interviews.
Subscribe to Punchbowl News to get the indispensable, of-the-moment financial services coverage you need straight to your inbox.
BY JOHN BRESNAHAN, ANNA PALMER AND JAKE SHERMAN
The House is in session this week, but after the chamber adjourns Friday, there are no floor votes until April 13. So we thought this would be a good time to evaluate how Speaker Nancy Pelosi (D-Calif.) and House Minority Leader Kevin McCarthy (R-Calif.) have handled the first 10 weeks of the 117th Congress. The Senate is in session for another two weeks, so we'll look at Senate Majority Leader Chuck Schumer (D-N.Y.) and Minority Leader Mitch McConnell (R-Ky.) next Monday.
Overview: There's one word to describe the mood in the House: Toxic. It's the worst it's been in decades, worse than the Newt Gingrich-Tom DeLay era. And that was pretty bad. Even simple unanimous consent agreements can't get approved in the House right now. 
Democrats remain furious over Jan. 6. They're still stunned that 138 Republicans — including McCarthy — voted against certifying President Joe Biden's Electoral College victory just hours after a pro-Donald Trump mob had sacked the Capitol. They're going to figure out if any Republicans played a direct role in the incident, and if they find that evidence, they'll act.
As for Republicans, they see Biden as a weak president and most House Democrats as socialists trying to use tax dollars to prop up their razor-thin majority (a majority that will get even smaller in the next few weeks.) They feel like it's 2010 all over again, and many of them are openly talking about being in the majority in Jan. 2023.
Nancy Pelosi: Although Pelosi was only narrowly reelected as speaker on Jan. 3, that was more show than a serious threat. While she will be 81 in less than two weeks, Pelosi shows no signs of slowing down. This may be Pelosi's last term, and there's already stories out there on who could replace her in the speaker's chair or California's 12th District, but there's no question she remains the single most-powerful person on Capitol Hill.
Following the Jan. 6 attack, Pelosi has become the avenging arm of a very angry House Democratic Caucus. She led a one-day impeachment proceeding for Trump over his role instigating the insurrection, a breathtaking display of Democratic fury. She installed metal detectors outside the House chamber, and when Republicans balked, implemented a rule to automatically fine anyone who violates the regulation (so far snagging two GOP lawmakers.) Democrats kicked Rep. Marjorie Taylor Greene (R-Ga.) off her committees in an unprecedented move, and they may take further action against other Republicans. Pelosi ordered a security review of the Capitol complex, which could lead to $1 billion or more in new fences, infrastructure, and hundreds of additional cops. Republicans have dubbed it "Fort Pelosi," but this is what her Democratic members want.
Best Moment: Pelosi and Schumer pushed the $1.9 trillion "American Rescue Plan" through Congress losing only one Democratic vote (Rep. Jared Golden of Maine.) If you're a Republican, you'd argue this is a "Worst Moment," but it was still an enormously consequential piece of legislative maneuvering. Whether it helps pull the country out of the Covid-19 pandemic and economic slowdown that followed it — and saves the House Democratic majority in 2022 — remains to be seen.
Worst Moment: Pelosi has had a couple awkward occasions so far this Congress. She suggested the "enemy is within the House of Representatives" during a press conference in late January, although there's no proof that any Republicans lawmaker aided the Jan. 6 rioters. Pelosi's attempt to create a "9/11 commission" to look into the attack fell apart after her initial offer skewed too heavily toward Democrats. 
But one issue that doesn't get near enough attention is what's happening in Iowa's 2nd District. Democrat Rita Hart lost to Republican Mariannette Miller-Meeks. Miller-Meeks defeated Hart in an incredibly tight contest; out of nearly 400,000 votes cast, the winning margin was six votes. Hart didn't challenge the outcome in court. Instead, she appealed to the Committee on House Administration, which — of course — is run by Democrats. The bipartisan state election board has certified Miller-Meeks' victory, and she's been seated in the House. Pelosi and the Democratic leadership, however, continue to suggest Hart can still win. "Well, it was six votes. It was six votes, and our candidate Rita Hart, the Democratic candidate, asked for this process to begin," Pelosi said Sunday on ABC's "This Week with George Stephanopoulos." While the House does have the right to look into the election, this case should have gone to court instead. Like Democrats demanded — rightly — during the whole Biden-Trump election controversy.
Kevin McCarthy: McCarthy, 56, is in his third year as the top House Republican. After a surprisingly strong showing on Election Day and House Republican Conference Chair Liz Cheney's problems inside the GOP, McCarthy is more firmly in control than ever before. House Minority Whip Steve Scalise (R-La.) isn't a threat to leapfrog McCarthy to become the Republican leader. Rep. Jim Jordan (R-Ohio), once a rival, is a McCarthy booster now. McCarthy's fundraising operation is growing, and he can go anywhere in the country and rake in donations. He's never going to light the world on fire with his oratory skills, but neither does Pelosi or Biden, so that's not an issue. 
Best Moment: McCarthy came to Cheney's defense when hardline Trump loyalists wanted to oust her from the GOP leadership for supporting Trump's impeachment. This was an important spot for McCarthy, especially when Scalise was standing on the sideline taking no action. There was some risk for McCarthy here, since he knew Trump wasn't going to like it one bit. Cheney's camp will say she was fine, she didn't need McCarthy's help to keep her job as conference chair. Maybe. But it still was a symbolically critical moment for McCarthy.
Worst Moment: Being a minority leader — especially when you think you're going to be speaker in two years — isn't easy. You say and do things you might wince at later. Like McCarthy sending out a video of himself reading Dr. Seuss' "Green Eggs and Ham" to prove he's against "cancel culture." Or calling everything "socialism." We get it.
Yet McCarthy's decision to vote against certifying Biden's Electoral College victory on Jan. 6, just hours after the bloody storming of the Capitol was questionable. And three weeks later, McCarthy went to Mar-a-Lago to meet with Trump, despite his screaming match with the former president the day of the insurrection. If you're Team McCarthy, you claim both of these moves were necessary, although it looks like pandering from the outside. A majority of House Republicans voted against certification, so, in McCarthy's view, he had to vote with them. And as minority leader, you can't have Trump backing primary challengers to your incumbents if the GOP is going to win the House in 2022. Still, neither of these moments look great.
THANK YOU, AMERICAN RESCUE PLAN
Goldman says economy will grow 8% this year
Put this in the "good news" category for House and Senate Democrats.  Goldman Sachs wrote this in a research note Sunday:
We have raised our GDP forecast to reflect the latest fiscal policy news and now expect 8% growth in 2021 (Q4/Q4) and an unemployment rate of 4% at end-2021 — the lowest among consensus forecasts—that falls to 3.5% in 2022 and 3.2% in 2023.
To review: 8% growth and a 3.5% jobless rate. These are gangbuster numbers and would certainly be very helpful for the Dems in the 2022 elections. That kind of economic growth would help offset soaring government spending by cutting into the deficit, and it could make a debt ceiling vote easier this fall. Republicans would have to focus more on cultural issues, which is a tougher play for them post-Trump.
Bloomberg: Dems weigh tax increases
From Bloomberg's Nancy Cook and Laura Davison:
President Joe Biden is planning the first major federal tax hike since 1993 to help pay for the long-term economic program designed as a follow-up to his pandemic-relief bill, according to people familiar with the matter. … 

The White House is expected to propose a suite of tax increases, mostly mirroring Biden's 2020 campaign proposals, according to four people familiar with the discussions.

The tax hikes included in any broader infrastructure and jobs package are likely to include repealing portions of President Donald Trump's 2017 tax law that benefit corporations and wealthy individuals, as well as making other changes to make the tax code more progressive, said the people familiar with the plan.

The following are among proposals currently planned or under consideration, according to the people, who asked not to be named as the discussions are private:

Raising the corporate tax rate to 28% from 21%

Paring back tax preferences for so-called pass-through businesses, such as limited-liability companies or partnerships

Raising the income tax rate on individuals earning more than $400,000

Expanding the estate tax's reach

A higher capital-gains tax rate for individuals earning at least $1 million annually. (Biden on the campaign trail proposed applying income-tax rates, which would be higher)
Just like the Goldman forecast gives Democrats hope, this Bloomberg story will perk up Republicans' ears. All the NRCC and NRSC will say for the next 20 months is that Democrats sought to hike taxes. And it will blow up any chance of a bipartisan deal on infrastructure since Republicans will never agree to any tax hike — especially in the House — when they believe they'll win in 2022. Moderate and centrist Democrats whose seats are at risk won't like it at all either, and with super-tight margins, this may be a hard sell. 
Maggie Haberman on the Lookahead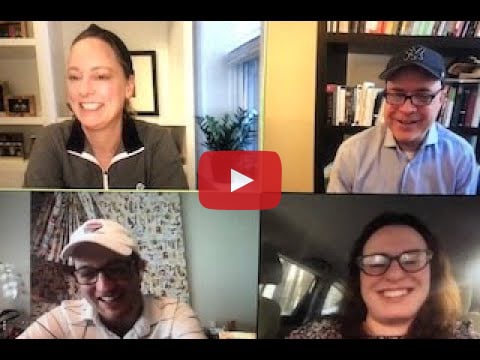 9:50 a.m.: President Joe Biden will get the daily intelligence briefing.
11 a.m.: The White House Covid team will brief the press.
12:30 p.m.: Jen Psaki will hold a briefing. 
1:45 p.m.: Biden will speak about the implementation of the American Rescue Plan.
VP Kamala Harris and Second Gentleman Doug Emhoff are traveling to Las Vegas and will spend the night in Los Angeles.
House Minority Leader Kevin McCarthy will be at the U.S.-Mexico border today with a dozen House Republicans.
NYT: "Stimulus Bill as a Political Weapon? Democrats Are Counting on It," by Jonathan Martin
"Capitol Police Will Begin Scaling Back Fencing Put Up After Riot," by Nick Fandos
"Biden Goals Converge in Asia: Rebuilding Alliances and Countering China," by Lara Jakes, John Ismay and Steven Lee Myers
WaPo: "Gene Sperling to oversee $1.9 trillion stimulus," by Tyler Pager
"New York's vaccine czar called county officials to gauge their loyalty to Cuomo amid sexual harassment investigation," by Amy Brittain and Josh Dawsey: "New York's 'vaccine czar' — a longtime adviser to Gov. Andrew M. Cuomo — phoned county officials in the past two weeks in attempts to gauge their loyalty to the embattled governor amid an ongoing sexual harassment investigation, according to multiple officials.
"One Democratic county executive was so unsettled by the outreach from Larry Schwartz, head of the state's vaccine rollout, that the executive on Friday filed notice of an impending ethics complaint with the public integrity unit of the state attorney general's office, the official told The Washington Post. The executive feared the county's vaccine supply could suffer if Schwartz was not pleased with the executive's response to his questions about support of the governor."
"United States and Iran warily circle each other over reactivating nuclear deal," by Karen DeYoung and Kareem Fahim
WSJ: White House Weighs How to Pay for Long-Term Economic Program," by Kate Davidson: "The Biden administration is looking past its $1.9 trillion coronavirus relief bill and starting to consider how to pay for the next round of programs meant to bolster long-term economic growth with investments in infrastructure, clean energy and education.
"The challenges are twofold. Officials face a decision over how much of the bill to pay for with tax increases and which policies to finance with more borrowing. In a narrowly divided Congress, they must also craft a bill that can win support from nearly every Democrat. The decision will help determine how much of President Biden's Build Back Better economic agenda he can advance in his first year in office."
"Why the Next Big-Tech Fights Are in State Capitals," by Sebastian Herrera and Dan Frosch
AP: "Biden, Harris and others to promote relief plan's benefits," by Darlene Superville
Des Moines Register: "Iowa Poll: A majority of Iowans want U.S. Sen. Chuck Grassley to decide not to run in 2022; 28% hope he will," by Brianne Pfannenstiel
Enjoying Punchbowl News AM?
Subscribe 10 friends with your unique link (below) and get a Punchbowl News hat!
You currently have: 0 referrals
Was this email forwarded to you? Sign up https://punchbowl.news
Punchbowl News All Rights Reserved
You are subscribed to our Punchbowl News AM list
Crucial Capitol Hill news AM, Midday, and PM—5 times a week
Join a community of some of the most powerful people in Washington and beyond. Exclusive newsmaker events, parties, in-person and virtual briefings and more.
Subscribe to Premium
The Canvass Year-End Report
And what senior aides and downtown figures believe will happen in 2023.
Check it out
Introducing The Vault
We're excited to bring you The Vault, Punchbowl News' pipeline from Washington to Wall Street.
Each quarter reporter Brendan Pedersen will deliver buzzy financial services coverage that will include breaking news, high-profile industry and regulator interviews.
Subscribe to Punchbowl News to get the indispensable, of-the-moment financial services coverage you need straight to your inbox.