Every issue of the Punchbowl News newsletter, including our special editions, right here at your fingertips.
Join the community, and get the morning edition delivered straight to your inbox.
THE PREMIUM COMMUNITY AT
BY JOHN BRESNAHAN, ANNA PALMER AND JAKE SHERMAN
News: Senate Parliamentarian Elizabeth MacDonough is expected to issue a ruling today on Senate Majority Leader Chuck Schumer's request to reuse the fiscal year 2021 budget for one more fast-track reconciliation bill, according to a source familiar with the situation. 
Schumer's request is being closely watched by Republicans and the White House. If MacDonough agrees, then Senate Democrats will get multiple opportunities this year to pass the American Jobs Plan and other legislation with a simple majority, rather than 60 votes. And it would be a major change in the Senate's budget procedures. If she says no, then the path for President Joe Biden's infrastructure bill gets that much narrower. It also would make it potentially more difficult for Senate Budget Committee Chair Bernie Sanders (I-Vt.) to try to expand Medicare and reduce prescription drug prices.
Google is helping American small businesses adapt and grow. In 2020, more than 17 million American businesses received phone calls, requests for directions, messages, bookings, reviews, and other direct connections to their customers from Google. Read more in the 2020 Economic Impact Report.
PUNCHBOWL NEWS STRATEGY MEMO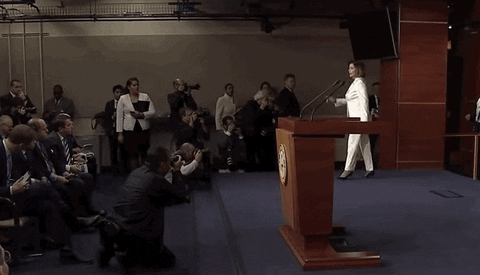 We're just two days into President Joe Biden's push for a multi-trillion dollar infrastructure program, aka the American Jobs Plan. We don't have a bill yet — or anything even close to resembling legislative language. Yet so much has become clear about the politics and legislative climate in Washington.
1) Biden, who ran on the idea that the "fever" plaguing Republicans during the Trump era would break once he took office, is yet again facing unyielding opposition from the GOP on this infrastructure plan. This will likely be the second major legislative package that Biden will have to pass without a scintilla of Republican support. 
2) Why are we so confident that Biden will have to go it alone? Occam's Razor: The simplest answer is usually the right one. And history. Republicans are saying they have no interest in this Biden infrastructure bill, and they mean it. GOP leaders are betting that the political upside for passing this package won't be big enough to truly help for Democrats next year, and they'll be stuck with having raised taxes heading into the midterm elections. Democrats counter that this is good policy; this proposal, combined with the American Rescue Plan, is a strong 1-2 punch for the U.S. economy. They believe the American people will be very happy with it, and no one minds soaking big corporations or the rich.
3) Biden will rely on five members of his Cabinet to help put together this package with members of Congress. Just one of those secretaries — HUD Secretary Marcia Fudge — has experience on Capitol Hill.
4) The Democratic Party is fraying a tiny bit around the edges. Liberals, inherently skeptical of Biden, think he's going too small. Moderates are scared he's going too big. Northeasterners are worried about state and local taxes. 
But, as former President Barack Obama learned in 2009 and 2010, this is where Speaker Nancy Pelosi is at her best. There are a lot of subjective assessments that one can make about Pelosi. But an objective fact is this: She's one of the most effective legislators and members of leadership of the last 50 years. 
And one of Pelosi's great skills is understanding where her caucus is, discerning her own members political needs and fears. And through unbelievable patience and steadiness, Pelosi just grinds them down. Somehow, the end product ends up looking the way Pelosi thought it would all along, and the dissenters' points of disagreement fall to the wayside.
If there was a piece of advice to dispense to this administration at this point, it would be to allow Pelosi to handle this for now. She's been here before. No one else — not even Biden — has.  
How Democrats will sell the Biden plan
Yesterday we went over how Republicans are going to try to blow up President Joe Biden's American Jobs Plan, his $2.5 trillion infrastructure initiative.
So today we're going to lay out how the Democrats will sell it and what it means for them as a party.
This proposal is a risk for Biden and Democrats, no matter what the White House and progressives say. The social welfare portion of the Biden package hasn't even been unveiled yet, and it's likely to come in at more $1 trillion. That would bring the price tag to between $3 trillion to $4 trillion for the entire initiative, making it the most expensive piece of legislation in American history — by a long shot.
The danger here for Biden and the Democrats is that number comes to define the plan, rather than what's in it. And raising taxes on corporations means deep-pocketed business groups will weigh in against it as well.  
Finally, this gives Republicans something to come together on that has nothing whatsoever to do with former President Donald Trump. Biden is potentially doing Kevin McCarthy and Mitch McConnell a huge favor here. Fighting Biden and the Democrats here while Trump works on his putting game would be a boon for the party.
However, Biden and the Democratic leadership also have big selling points going for them too. Here's a list of way Democrats will sell it:
→ This is a chance for a defining moment. Everywhere you go, every Democrat you listen to says the same thing: The party has a chance to do something big. "Big and bold," as Senate Majority Leader Chuck Schumer (D-N.Y.) says repeatedly. Something so transformational that it doesn't fit in the typical definition of legislating. New Deal big. "Space Race" big. The postscript: Don't make the normal political calculations when trying to evaluate what this all means or how voters will see it.
→ The country really needs it. Every state, local and municipal official — no matter which party — says the country's infrastructure is crumbling. Study after study by private and public organizations has found this. This has been true for decades. So if everyone knows it's needed, Congress needs to do something about it. It's Congress's obligation.
White House Press Secretary Jen Psaki said this when told of Senate Minority Leader Mitch McConnell's (R-Ky.) opposition to the Biden plan: "Does he disagree that our nation's infrastructure is outdated and needs repair? Does he disagree that we need to do more to put American workers back to work and to invest in industries that have growth potential over the long term? Does he disagree that one-third of the country who doesn't have broadband access should have access to broadband? There are a lot of areas where there is agreement… across the political spectrum, from investment and infrastructure, doing more to be competitive with China." 
→ If the biggest obstacle is how to pay for it, then the White House will make a deal. They're happy to talk about raising corporate taxes, Democrats feel like this is safe political ground for them. But if someone else has a better plan, Biden will listen. Again, look at what Psaki said from the podium on Thursday: 
"And what we're really talking about here is how to pay for it. And so what we're looking for is proposals of alternatives. If you don't want to raise the corporate tax rate — still lower than it's been over the last 70 years and … you know, across decades — if you don't want to do that, if you don't want to put in place a global minimum tax, what are the alternatives?  We're happy to hear those proposals." 
This could be an important point. Democrats are trying to fight the battle on their turf and put the onus on Republicans to figure another way to pay for what Democrats are framing as a national priority.
→  The American Jobs Plan is more than traditional infrastructure projects, more than roads, bridges and highways, White House and Democratic leaders say. There's $100 billion for broadband, $400 billion for health care and $100 billion for "workforce development," aka job training. The Biden proposal includes $140 billion for research and development, including semiconductor manufacturing and other advanced technologies. It also has $35 billion for climate change research and a big tax credit for solar power. Like the American Rescue Plan, this bill is a grab bag of initiatives that allows lawmakers to look for reasons to back it rather than vote against it. Infrastructure is being defined broadly — and that's by design. The White House is pointing out a host of what they see as critical needs in society, and it's looking to solve them.
→ Jobs, jobs, jobs, jobs. This is Speaker Nancy Pelosi's (D-Calif.) favorite refrain: "It's about jobs. It's about the jobs in building the infrastructure.  It's about the jobs that are created by promoting commerce, good-paying jobs…. But we understand that people need these jobs, jobs, jobs, jobs." 
The White House claims this bill will create millions of jobs. And if they say it enough, people might actually believe it!
Note to all Democrats: Pelosi said the word "jobs" 21 times during her press conference yesterday.
→ Putting the green back into blue collar. Reuters reported this eye-opening statistic that Democrats will clearly use as much as possible: "About 75% of the infrastructure jobs created would go to workers with no more than a high school diploma, while the rest would require an associate's degree or higher, Georgetown University's Center on Education and the Workforce (CEW) in Washington said in a report."
If there's one group of voters that Democrats need to make inroads with in the post-Trump era, it's blue-collar workers. The major unions are all signaling support for this legislation, including the AFL-CIO, Teamsters, AFSCME and SEIU. The White House will look for backing from the building trade and construction unions as well. Unions aren't as powerful as they once were, but they still have millions of members nationwide, and those union members can lobby House members and senators.
When the pandemic hit, Havana Carolina updated their Business Profile on Google to feature online ordering, curbside pickup, and contactless delivery options. Learn more.
SHOWING UP IN THE SHOW ME STATE
SMC raises for Mo. Rep. Ann Wagner
Now this is interesting: Sen. Shelley Moore Capito (R-W.Va.) is raising money for Missouri Rep. Ann Wagner. Wagner is seriously considering a Senate bid, along with most other Republicans in the state. By the way, we are told Rep. Vicky Hartzler is also very seriously considering a bid. 
Pop-up convo with Sen. Chris Coons (D-Del.)
APRIL 7, 2021 @ 9 AM EST on ZOOM
Punchbowl News will interview Sen. Chris Coons (D-Del.) for a pop-up virtual event. In addition to news of the day, the conversation will focus on his role as chairman of the Bipartisan Senate Climate Caucus and what concrete steps need to be taken by Congress and at the agency level to combat climate change, reduce carbon emissions and focus on innovation through research and development. We'll kick off the conversation with a fireside chat with Southern Company's CEO Tom Fanning.
SCHUMER'S WIN ON ELECTRIC VEHICLES
Schumer push on EVs pays off in Biden plan
Senate Majority Leader Chuck Schumer (D-N.Y.) has been pushing for the U.S. government to get behind electric vehicles for several years now, including introducing a bill with Democratic colleagues in 2019 requiring all cars to be "clean" in 20 years.
So the New York Democrat was happy to see President Joe Biden's American Jobs Plan include $174 billion to boost the domestic electric-vehicle industry. Biden wants to give buyers of electric vehicles "point of sale" rebates, as well as tax credits to buy American-made EVs. Grants and incentives would be made available to state and local governments to build a national network of 500,000 charging stations too.
Schumer had similar provisions in a 2019 proposal he introduced with Sens. Debbie Stabenow (D-Mich.), Sherrod Brown (D-Ohio) and Jeff Merkley (D-Ore.).
"This will not only make clean energy and clean transportation affordable, it will create millions of new jobs with good wages, which always occurs when we invest in infrastructure and manufacturing as we will be doing here," Schumer said of the Biden plan.
Biden's American Jobs Plan also includes a $50 billion to overhaul the National Science Foundation, something he and Sen. Todd Young (R-Ind.) have been pushing as a response to China's growing high-tech industries, including semiconductor manufacturing. Schumer has called on the Senate to focus on a China-related package once it comes back from its two-week recess.
NYT gets more on Rep. Matt Gaetz
NYT's Katie Benner and Mike Schmidt: 
A Justice Department investigation into Representative Matt Gaetz and an indicted Florida politician is focusing on their involvement with multiple women who were recruited online for sex and received cash payments, according to people close to the investigation and text messages and payment receipts reviewed by The New York Times.

Investigators believe Joel Greenberg, the former tax collector in Seminole County, Fla., who was indicted last year on a federal sex trafficking charge and other crimes, initially met the women through websites that connect people who go on dates in exchange for gifts, fine dining, travel and allowances, according to three people with knowledge of the encounters. Mr. Greenberg introduced the women to Mr. Gaetz, who also had sex with them, the people said.

One of the women who had sex with both men also agreed to have sex with an unidentified associate of theirs in Florida Republican politics, according to a person familiar with the arrangement. Mr. Greenberg had initially contacted her online and introduced her to Mr. Gaetz, the person said. Mr. Gaetz denied ever paying a woman for sex. … 

Some of the men and women took ecstasy, an illegal mood-altering drug, before having sex, including Mr. Gaetz, two people familiar with the encounters said.
Plus, there's this from CNN's Jeremy Herb, Lauren Fox and Ryan Nobles: "Gaetz showed nude photos of women he said he'd slept with to lawmakers, sources tell CNN"
9:30 a.m.: President Joe Biden will get his daily intelligence briefing.
11 a.m.: Biden will speak about the March jobs numbers … The Covid team will brief reporters.
Noon: Biden will leave for Camp David.
12:30 p.m.: Jen Psaki and Labor Secretary Marty Walsh will brief reporters.
NYT: "To Build Support for Plan, Biden Offers His Own Take on 'Bipartisan'" by Michael Shear, Emily Cochrane and Jim Tankersley
"Biden Seeks to Use Infrastructure Plan to Address Racial Inequities," by Jim Tankersley and Zolan Kanno-Youngs
"Virginia, the Old Confederacy's Heart, Becomes a Voting Rights Bastion," by Reid Epstein and Nick Corasaniti
WaPo: "Emergent plant that ruined Johnson & Johnson vaccine doses had prior FDA violations," by Jon Swaine and Christopher Rowland
"Companies, facing new expectations, struggle with pressure to take stand on Georgia voting bill," by Todd C. Frankel, Jena McGregor, Candace Buckner and Steven Zeitchik
"Oath Keepers founder, associates exchanged 19 calls from start of Jan. 6 riot through breach, prosecutors allege," by Spencer Hsu
WSJ: "S&P 500 Hits Record, Closes Above 4000 for First Time," by Joe Wallace and Paul Vigna
AP: "Train crashes in eastern Taiwan, killing 36, injuring dozens," by Ralph Jennings in  Taipei, Taiwan
Politico: "Dems pine to face Ron Johnson just one more time," by James Arkin and Burgess Everett
Havana Carolina is using Google tools to adapt. Havana Carolina has been serving up a taste of Cuba to Concord, North Carolina locals since 2015. When the pandemic hit, however, they had to adapt. They shifted their business to focus on takeout and delivery, updating their Business Profile on Google to help spread the word. Their loyal customers showed up, helping Havana Carolina adapt. Explore stories from small businesses in every state.
Enjoying Punchbowl News AM?
Subscribe 10 friends with your unique link (below) and get a Punchbowl News hat!
You currently have: 0 referrals
Was this email forwarded to you? Sign up https://punchbowl.news
Punchbowl News All Rights Reserved
You are subscribed to our Punchbowl News AM list
Crucial Capitol Hill news AM, Midday, and PM—5 times a week
Join a community of some of the most powerful people in Washington and beyond. Exclusive newsmaker events, parties, in-person and virtual briefings and more.
Subscribe to Premium
The Canvass Year-End Report
And what senior aides and downtown figures believe will happen in 2023.
Check it out
THE PREMIUM COMMUNITY AT