Every issue of the Punchbowl News newsletter, including our special editions, right here at your fingertips.
Join the community, and get the morning edition delivered straight to your inbox.
A message brought to you by SourceAmerica
SourceAmerica® connects government customers and other organizations to a national network of nonprofit agencies that hire a talented segment of the workforce – people with disabilities. To learn more, visit SourceAmerica.org.
BY JOHN BRESNAHAN, ANNA PALMER AND JAKE SHERMAN
The National Republican Congressional Committee is going through a bit of staff turmoil.
Politico's Alex Isenstadt reported yesterday afternoon that Minnesota Rep. Tom Emmer, the chair, canned Justin Richards, the committee's political director. That's very unusual five months into a cycle. Emmer's team is telling Republicans around town that it wasn't a good fit. Richards is staying on as an adviser, and Mike Thom is taking over. 
But that's not all. 
Kerry Donnelly, a top fundraiser at the NRCC, recently left. And Matt Wall, the NRCC's research director, left last week for a new job. This is an unusual amount of turnover for the party committee especially during a cycle in which the GOP is favored to take back the House. These posts are typically considered two-year assignments.
The NRCC had nothing to say on the record.
The party committee had a very strong 2020 cycle, winning seats when campaign analysts and leaders on both sides of the aisle thought the GOP would fall farther into the minority. But since then, much of the senior staff has turned over or has been let go despite Emmer staying on for a second term as chair. They have a new executive director, a new communications staff and chief financial officer, notably.
The NRCC — long the dominant force in House GOP politics — is losing influence in the era of the super PAC. But even in its diminished state, this kind of staff turnover just five months into the cycle is eye-opening. This is what happens with party committees that lose, not those that win. 
Also, as a side note: the Republican National Committee just transferred $5 million to the NRCC this month. The committee has $34 million on hand.
The internet has changed a lot since 1996 – internet regulations should too.
It's been 25 years since comprehensive internet regulations passed. See why we support updated regulations on key issues, including: 
– Protecting people's privacy
– Enabling safe and easy data portability between platforms
– Preventing election interference
– Reforming Section 230
The Senate's big week ahead
With the Memorial Day recess fast approaching and the House already long gone, the Senate faces a huge week ahead. Infrastructure, China and a possible vote on a Jan. 6 commission are on the agenda, as well as a key Justice Department nomination strongly opposed by Republicans.
The "United States Innovation and Competition Act of 2021" is a complex $250 billion legislative package assembled by Senate Majority Leader Chuck Schumer (D-N.Y.) and lawmakers on both sides of the aisle to boost American research and high-tech manufacturing in order to take on the growing challenge from China.
The centerpiece of the legislation is a proposal by Schumer, Sen. Todd Young (R-Ind.) and a bipartisan group of senators to dramatically overhaul the National Science Foundation. It would authorize more than $110 billion to remake the foundation into a technology directorate while creating "regional hubs" for research across the country.
The legislation also includes $52 billion in emergency funding sought by Schumer and Sens. Mark Warner (D-Va.) and John Cornyn (R-Texas) for the U.S. semiconductor industry, which has seen its once dominant market position dwindle to just a fraction of world production. Warner and Cornyn had originally proposed a tax credit to pay for the program, but there were issues with the Finance Committee approving this provision, so they are seeking emergency funding instead. The Demoocratic leadership greenlighted this proposal, much to the delight of American semiconductor manufacturers, who have complained for years about government subsidies being provided to their foreign competitors.  
Sens. Robert Menendez (D-N.J.) and Jim Risch (R-Idaho), chair and ranking member of the Foreign Relations Committee, also crafted an aggressive proposal to refocus U.S. foreign policy in the Indo-Pacific region to counter the rising economic, military and technological threat from China. The Chinese government has already objected to this legislation, to which Menendez quipped: "We must be on the right track." One of the provisions would require the federal government to "review certain foreign gifts and contracts to universities," a controversial issue stemming from investigations done during the Trump administration.
There's also language from the Senate Banking Committee calling for increased use of sanctions to punish China on human rights, cyberattacks, trade with North Korea, fentanyl production and distribution, and more.
By involving so many senators and committees in helping to craft the bill, Schumer is hoping for a big bipartisan vote on this omnibus China package. However, it's a huge package — the legislation is nearly 1,450 pages long before floor debate. If it passes, it's a signature win for Schumer, who has been pushing it for months. Schumer hopes to get a final vote before the Senate adjourns this week for the Memorial Day holiday.
Some senators believe — and also fear — that this may be the last truly bipartisan bill the Senate passes for months.
The other big legislative issue, of course, is infrastructure. What had started so positively with President Joe Biden having a "very productive" meeting with Senate Republicans led by Sen. Shelley Moore Capito (R-W.Va.) has now morphed into the usual partisan standoff. The two sides can't even agree what "infrastructure" means, they are hundreds of billions of dollars apart on spending and are nowhere close to agreeing on how to pay for the package.
By late last week — as we reported Friday — aides to Schumer and Budget Committee Bernie Sanders (I-Vt.) were meeting with the Senate parliamentarian to talk about using the fast-track reconciliation process. We were cautioned not to read too much into that meeting, so we didn't. Then over the weekend, Senate Republicans and the White House openly soured on the chances of a bipartisan infrastructure deal. So everything is back where it started. How long will Biden and Schumer give for infrastructure talks? Biden said he wanted real progress by Memorial Day, which is one week away. And can Democrats get 50 votes from their own side to pass the Americans Jobs Plan or the American Family Plan under reconciliation? This week may tell us.
Schumer has also begun the process to force a vote on creation of a bipartisan commission to investigate the deadly Jan. 6 insurrection at the Capitol. Democratic aides said it was unclear if that showdown will happen this week or not. Senate Minority Leader Mitch McConnell (R-Ky.) and other top Republican oppose the legislation, which was passed last week by the House by a 252-175 margin. Thirty five House Republicans crossed the aisle to vote for the bill, a priority of Speaker Nancy Pelosi (D-Calif.). But it's unclear if 10 Republicans will do the same on the Senate side.
JOIN THE PUNCHBOWL NEWS PREMIUM COMMUNITY
 MONTHLY                 ANNUAL
 $30    $300
Punchbowl News AM, Midday, PM Newsletters

Access to exclusive virtual events

Weekly Punch Power Matrix

Real- time breaking news and insights from Capitol

Deep dives into the leaders who drive policy and politics

Access to Sunday Night's The Lookahead
Busy week for Biden's appointees
The Senate will vote today on whether to cut off debate on Chiquita Brooks-LaSure's nomination to be administrator of the Centers for Medicare and Medicaid Services. It will be close but cloture is expected to be invoked, meaning Brooks-Lasure's nomination will likely get a final vote as early as Tuesday.
But the big nomination fight of the week will be over Kristen Clarke to head the Justice Department's Civil Rights division. Clarke, who is currently president and executive director for the Lawyers' Committee for Civil Rights Under Law, would be the first woman and first woman of color to hold that prestigious post at DOJ.
Republicans have labeled Clarke — a one-time trial attorney within the Civil Rights division — "radical" and poor choice to head what has been referred to as the department's "crown jewel." The Judiciary Committee deadlocked on her nomination, although Democrats were able to proceed after Sen. Susan Collins (R-Maine) voted with them on a procedural motion discharging it from the panel. Schumer has filed cloture on the nomination, but he hasn't set a date for that vote. It is expected this week, however.
Biden's agenda hits the skids
NYT: "As Talks Bog Down, Hopes for Bipartisan Deals on Biden's Priorities Dim," by Catie Edmundson
WSJ: "No Bridge in Sight for Biden Infrastructure Plan: Compromise appears elusive amid fundamental disagreements over what should be in the bill and how to pay for it," by Rich Rubin
WaPo, Sunday A1: "Biden's big agenda is imperiled as his priorities stall in Congress and a debt fight looms," by Seung Min Kim and Mike DeBonis
Politico: "Summertime scramble: Dems sweating a pileup of big votes on Biden's agenda," by Marianne LeVine and Sarah Ferris
A new nugget from Isaac Dovere's book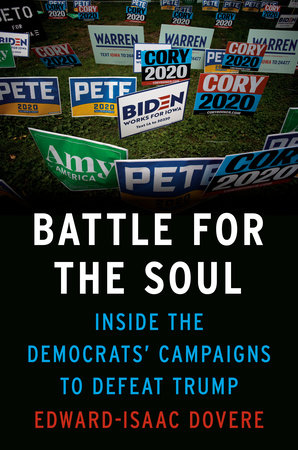 Isaac Dovere, who we all worked with at Politico, has a new book out this week: "Battle for the Soul: Inside the Democrats' Campaign to Defeat Trump." It's getting terrific reviews — you should buy it here.
Here's an interesting nugget for you from the book:
"In February 2019, Pelosi called Ed Markey the night before he was scheduled to help roll out the Green New Deal. She asked him to hold off. She wanted more substantive policy. The politics weren't good right then. Don't give the platform to [Alexandria] Ocasio-Cortez, she urged, anxious about the new congresswoman's notoriety becoming actual power."
The AOC/Pelosi relationship has long been interesting and a tiny bit fraught. And it's worth noting that Pelosi opposed the Green New Deal even before it was formally unveiled. 
After returning as speaker in Jan. 2019 following eight years in the minority, Pelosi brought back the Select Committee on the Climate Crisis. That panel had actually been chaired by then Rep. Ed Markey the last time House Democrats were in the majority.
But as The Hill noted at the time, "The panel will not have the power to subpoena or depose, nor will it have the authority to vote on legislation and send it directly to the House floor for a vote," which is something that Ocasio-Cortez and other progressive Democrats had sought.
In addition, Pelosi told Politico in Feb. 2019 (Bres was in this interview) that the Green New Deal wasn't only one of the plans under consideration. She was certainly throwing a lot of shade in the way only Pelosi can: "It will be one of several or maybe many suggestions that we receive… The green dream or whatever they call it, nobody knows what it is, but they're for it right?"
9:50 a.m.: President Joe Biden and VP Kamala Harris will receive their daily intelligence briefing.
Noon: Jen Psaki will brief reporters.
1:30 p.m.: Biden will go to FEMA HQ for a hurricane briefing.
2:15 p.m.: Harris will "host a listening session on the digital divide, and she will discuss how investments in the American Jobs Plan will ensure every American has access to affordable, high-speed internet."
NYT
→ "Why Arkansas Is a Test Case for a Post-Trump Republican Party," by Jonathan Martin in Little Rock, Ark.
WaPo
→ "Lawmakers worry the toxic atmosphere on Capitol Hill will follow them home, raising safety concerns," by Marianna Sotomayor and Paul Kane
→ "Republicans struggle to define a new governing coalition as Trump closes grip on party," by Michael Scherer and Josh Dawsey in Waterford, Mich.
WSJ
→ "Intelligence on Sick Staff at Wuhan Lab Fuels Debate on Covid-19 Origin," by Michael R. Gordon, Warren P. Strobel and Drew Hinshaw
AP 
→ "India virus death toll passes 300,000, 3rd highest in world," by Sheikh Saaliq in New Delhi
Politico
→ "They tried to overturn the 2020 election. Now they want to run the next one." by Zach Montellaro
Why Facebook supports updated internet regulations
2021 is the 25th anniversary of the Telecommunications Act of 1996, the last major update to internet regulation. It's time for an update to set clear rules for addressing today's toughest challenges.
See how we're taking action on key issues and why we support updated internet regulations. 
Sen. Tammy Duckworth joined us for May's Punchbowl News Book Club last night. We discussed her new memoir, "Every Day is a Gift." Check out her inspiration for writing her memoir here.
Enjoying Punchbowl News AM?
Subscribe 10 friends with your unique link (below) and get a Punchbowl News hat!
You currently have: 0 referrals
Was this email forwarded to you? Sign up https://punchbowl.news
Punchbowl News All Rights Reserved
You are subscribed to our Punchbowl News AM list
Crucial Capitol Hill news AM, Midday, and PM—5 times a week
Join a community of some of the most powerful people in Washington and beyond. Exclusive newsmaker events, parties, in-person and virtual briefings and more.
Subscribe to Premium
The Canvass Year-End Report
And what senior aides and downtown figures believe will happen in 2023.
Check it out
A message brought to you by SourceAmerica
SourceAmerica® connects government customers and other organizations to a national network of nonprofit agencies that hire a talented segment of the workforce – people with disabilities. To learn more, visit SourceAmerica.org.