Every issue of the Punchbowl News newsletter, including our special editions, right here at your fingertips.
Join the community, and get the morning edition delivered straight to your inbox.
A message brought to you by SourceAmerica
SourceAmerica® connects government customers and other organizations to a national network of nonprofit agencies that hire a talented segment of the workforce – people with disabilities. To learn more, visit SourceAmerica.org.
BY JOHN BRESNAHAN, ANNA PALMER AND JAKE SHERMAN
WITH MAX COHEN AND CHRISTIAN HALL
Here's the challenge for the Senate now: Senators were supposed to make serious progress this week on a budget resolution and a bipartisan infrastructure package. And what happened was they took one big step forward on one, and a giant step backward on the other.
Consider this: The Senate Budget Committee announced an agreement on a $3.5 trillion budget resolution designed to deliver on a huge chunk of President Joe Biden's legislative agenda. That deal, however, was just among the Democratic members of the panel. There's still no text for said agreement, and not all of the 50 Democrats are on board. Senate Majority Leader Chuck Schumer wants the "hard decisions" on this wrapped up by next Wednesday, although some Demoratic senators are warning they need to see a lot more information before they sign off on anything.
Schumer — in a gamble — also announced that the chamber will hold a key procedural vote next week on a motion to proceed to debate on the bipartisan infrastructure package, the $974 billion initiative backed by Biden. That vote will take place Wednesday.
However, the bipartisan group hasn't even finished drafting its bill. Schumer's announcement set off a frantic round of negotiations involving the broader "G20" group of senators led by Sens. Rob Portman (R-Ohio) and Kyrsten Sinema (D-Ariz.) trying to put together the package. 
But the group remains stalemated on the pay fors to offset the cost of the proposal. For instance, Republicans and Democrats initially agreed to send more money to the Internal Revenue Service to collect unpaid taxes, but the GOP turned against the initiative this week. (Read WSJ on that.) So there was little real progress despite all the activity. Some GOP senators involved in the talks indicated that they would vote against cloture (the procedural motion) next week, which would make it difficult to reach a final compromise. 
So why the power play by Schumer? The calendar. 
Schumer is facing an increasingly intense time crunch. It's already the middle of July. The Senate is supposed to be out of session for most of August, although that may have to change. Schumer — who wants to go home to campaign for reelection himself — will need the better part of two weeks of floor time just to get the Democrats' massive budget resolution through the chamber, including a vote-a-rama. How long it would take committees in both the House and Senate to turn that huge package into actual legislative language is unclear, but it's going to be months. Schumer will then have to get all 50 Democrats to vote for it, another enormous challenge
Schumer will need weeks of floor time as well to clear the bipartisan infrastructure bill — if it ever gets finished. Meaning he has to force the bipartisan group to cut a deal, or move on. 
Schumer also faces growing pressure on government funding and raising the debt ceiling as well. Movement on these two issues is imperative, and so far the Senate has done nothing. The federal government may hit its funding limit as soon as August, and Democrats are likely to have to carry any effort to increase borrowing authority on their own.
As for the 12 annual appropriations bills the Senate is supposed to consider, well, let's put it this way — senators can't even agree yet to fund the U.S. Capitol Police or National Guard more than six months after a group of supporters of former President Donald Trump attacked the Capitol. The cops who protect the Capitol complex could begin to run out of money in mid-August. And the two sides can't agree on getting them funded. So things aren't looking good on broader government funding issues. A continuing resolution will be needed to fund federal agencies beyond Sept. 30. The only question is how long will that temporary funding bill extend.
Next week, the House returns to Washington, and senators will have to try push forward on both the budget resolution and bipartisan infrastructure package  amid the noise of the other chamber's lawmakers bellyaching about whatever deal they are trying to cut.
A few notes here: 
→ What should you make of Schumer's Wednesday deadline? We were talking about that yesterday. Here's where we landed — it's negotiable. Schumer wants both the budget resolution and the bipartisan infrastructure package to get done, as does the White House. So if senators miss the deadline, is Schumer going to pull the plug? Seems unlikely given everyone in power wants the same outcome. But he needs his Senate colleagues to display a sense of urgency. 
→ Remember how everyone always says infrastructure is always bipartisan? This is precisely where every infrastructure negotiation breaks down: how do you pay for billions or trillions of dollars of spending? So, at the moment, the G20 group is stuck where every group has gotten stuck over the last decade.
→ BTW, this is a smart story by Jonathan Weisman on Sen. Mark Warner's (D-Va.) role in the bipartisan group. The reason Warner is so important, as Weisman points out, is he has the gravitas to go toe to toe with Portman. Warner is also a centrist on the budget committee with good relationships with both liberals and Republicans.
Speaking of Warner … We have a timely conversation teed up with Sen. Mark Warner (D-Va.) — the first installment of our "Road to Recovery" series sponsored by Goldman Sachs 10,000 Small Businesses. Anna and Jake will talk with him about small businesses, access to capital and the economic recovery coming out of the pandemic. Goldman Sachs CEO David Solomon will join afterward for a fireside chat.
When: July 28 at 8:45 a.m. 
Where: We've already filled all of our in person seats, so please register to attend virtually. Wish you could be there in person? Well, you should become a Premium member to have the chance to sign up!
The internet has changed a lot since 1996 – internet regulations should too 
It's been 25 years since comprehensive internet regulations passed. See why we support updated regulations on key issues, including: 
– Protecting people's privacy
– Enabling safe and easy data portability between platforms
– Preventing election interference
– Reforming Section 230
Kasie Hunt, a true reporter's reporter and television news star, announced this morning that she'll be leaving NBC next week. Whoever gets her next will be very lucky. 
Whose coffers are filled? Who is raising what?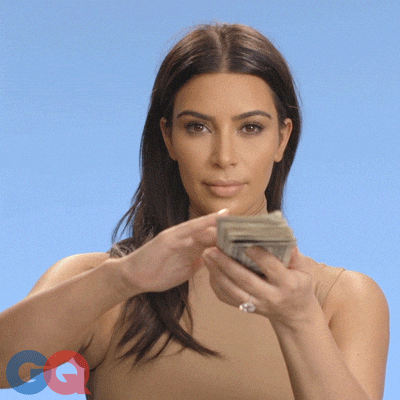 Second-quarter FEC filings are mostly in. We were wondering yesterday just how much cash senators in competitive races had on hand. Cash on hand is massively important in competitive races, obviously.  So, voila — here's a handy list:
→ Sen. Mark Kelly (D-Ariz.): $7.5 million
→ Sen. Raphael Warnock (D-Ga.): $10.5 million
→ Sen. Maggie Hassan (D-N.H.): $6.5 million
→ Sen. Catherine Cortez Masto (D-Nev.): $6.5 million 
→ Sen. Ron Johnson (R-Wis.): $1.7 million
→ Sen. Marco Rubio (R-Fla.): $6.2 million
→ Sen. Lisa Murkowski (R-Alaska): $2.3 million
→ Sen. John Boozman (R-Ark.): $1.9 million
A few other notable filings:
→ Senate Majority Leader Chuck Schumer (D-N.Y.) raised $11 million and has $27 million on hand. That's a tough guy to primary.
→ Rep. Alexandria Ocasio-Cortez (D-N.Y.) raised $1.9 million and has $5.3 million on hand.
→ Katie Boyd Britt, Sen. Richard Shelby's (R-Ala.) former chief of staff who is running for his seat, raised $2 million and has that on hand. She spent almost nothing: just north of $33,000.
→ Rep. Katie Porter (D-Calif.) has continued her fundraising prowess, raising $2.7 million with $12.8 million on hand.
→ Rep. Raja Krishnamoorthi (D-Ill.), who won his district by nearly 50 points in 2020, raised $1 million and has $10 million on hand. 
→ No problem to solve here. Rep. Josh Gottheimer (D-N.J.) raised just shy of $1 million and has $10 million on hand.
Congress has a ton of select committees right now.
Select committees are all the rage at the moment — Speaker Nancy Pelosi (D-Calif.) has launched five select committees since the Democrats regained control of the House in 2018. 
Max Cohen breaks down all you need to know about each special panel below.
Select Committee on the Modernization of Congress
Why Pelosi did it: Modernizing Congress is both good politics and good policy, even if it's a bit wonky. This panel, created to bring the centuries-old institution up to modern standards, has garnered bipartisan support.
What's the impetus: Lawmakers and political observers alike complain Congress is outdated and out of step with the 21st century. The vote to establish the select committee passed by a 418-12 margin and was backed by a variety of good government groups.  
Where they are: Chaired by Rep. Derek Kilmer (D-Wash.), the panel is serious about getting their reforms enacted. The committee has 12 total members, six from each party, and is notably free of partisan flame-throwers. 
What they've achieved: In March 2020, the House passed a resolution that included various committee recommendations, featuring streamlining of House human resources, revamping member orientation, modernizing House technology, and making congressional documents more accessible. In July 2020, the legislative branch appropriations bill approved $2 million for House modernization. 
Where they're going: Now, they're pushing for more money in the current appropriations process to avert a staffer brain drain from the Hill. The committee is proposing raising salaries and benefits while increasing training opportunities for congressional staffers.
Fast facts
Established: Jan. 4, 2019
Number of members: 12 (6 Ds, 6 Rs)
Chair: Derek Kilmer (D-Wash.)
Vice-chair: William Timmons (R-S.C.)
Select Committee to Investigate the January 6th Attack on the United States Capitol
Why Pelosi did it: After a bipartisan commission was blocked in the Senate, Pelosi went alone and created a Democratic-controlled panel where she appointed the majority of the seats. 
What's the impetus: Investigating the deadly Jan. 6 attack at the Capitol that was egged on by former President Donald Trump is vital for the country.
Where they are: Very early stages. As we've chronicled, Pelosi appointed eight members right before the July 4 recess. The biggest coup was Rep. Liz Cheney of Wyoming, to date the lone Republican who has agreed to serve.
What they've achieved: Nothing yet. 
Where they're going: The next steps will be unveiled in the coming months. All eyes now turn to the members that House Minority Leader Kevin McCarthy (R-Calif.) will name to the five remaining spots on the commission. There will be hearings, subpoenas and more. Big questions remain, including whether the panel will call on Trump and GOP members of Congress to see what they knew. The first hearing is July 27.
Fast facts
Established: July 2, 2021
Number of members: Currently 8 (7 Ds, 1 R), 5 R slots remain unfilled
Chair: Bennie Thompson (D-Miss.)
Ranking member: McCarthy hasn't appointed one
House Select Subcommittee on the Coronavirus Crisis 
Why Pelosi did it: Created during the early stages of the pandemic in April 2020, Pelosi wanted to create a panel to investigate the Trump administration's handling of the pandemic.
What's the impetus: An oversight mechanism to make sure the huge pumping of cash due to the CARES Act was spent well. 
Where they are: The panel has focused recently on promoting vaccines and rooting out hesitancy. The committee has also investigated the failure at the Baltimore-area BioSolutions plant that led to tens of millions of vaccine doses being discarded. 
What they've achieved: The panel has investigated government inaction in failing to stop the virus' spread . The panel has also produced reports examining fraud in small business support programs. 
Where they're going: Unclear as of now, but expect the committee to continue promoting vaccine efforts and how to largely eradicate the coronavirus.
Fast facts
Established: April 23, 2020
Number of members: 12 (7 Ds, 5 Rs)
Chair: Jim Clyburm (D-S.C.)
Ranking member: Steve Scalise (R-La.)
House Select Committee on the Climate Crisis
Why Pelosi did it: Progressive members of Pelosi's conference were pushing for a larger focus on climate change. It's a rallying cry for the activist left and is a top priority for many young voters. 
What's the impetus: The climate crisis is threatening all aspects of American life and Democrats argue it deserves to be studied and prioritized. There was a select committee on Energy Independence and Global Warming that lasted from 2007 to 2011, the last time Democrats held the House. But Republicans disbanded it when they reclaimed the House and there had not been a dedicated committee investigating solutions to climate change since.
Where they are: The committee hasn't made too many headlines, but features rising stars of the Democratic conference like Colorado Rep. Joe Neguse. 
What they've achieved: The committee has made 702 total recommendations, with 113 of those being signed into law since the committee was created at the start of the 116th Congress. 
Where they're going: With climate change a big part of President Joe Biden's agenda, lots is on the horizon.
Fast facts
Established: Feb. 7, 2019
Number of members: 16 (9 Ds, 7 Rs)
Chair: Kathy Castor (D-Fla.)
Ranking member: Garret Graves (R-La.)
Select Committee on Economic Disparity and Fairness in Growth
Why Pelosi did it: Another major priority for Pelosi is combatting income inequality. She's modeling the panel after a committee founded by FDR to investigate the Great Depression and the concentration of wealth. Pelosi has said she selected members who can bridge the gap from the Rust Belt to the inner city to rural farmland. 
What's the impetus: The committee wants to propose measures to ensure all Americans can succeed in the modern economy, amid an environment of widening fortunes between the working class and the one percent.
Where they are: Nothing planned as of yet. There are no Republican members. The Democratic members feature big names in the caucus — Rep. Alexandria Ocasio-Cortez (D-N.Y.), Congressional Progressive Caucus chair Pramila Jayapal and rising star freshman Sara Jacobs (D-Calif.).
What they've achieved: Nothing yet. The committee's Democratic members were only announced in mid-June.
Where they're going: Chair Jim Himes (D-Conn.) has said he will hold hearings, issue a report with recommendations and launch investigations into inequality, the tax code, regulation and antitrust issues. 
Fast facts
Established: Dec. 30, 2020
Number of members: 8 (8 Ds), no Rs announced yet
Chair: Jim Himes (D-Conn.)
TOP OF THE PILE FOR THE DEM LEADERSHIP/WHITE HOUSE
7:30 a.m.: President Joe Biden will participate in the APEC leaders virtual retreat to discuss Covid-19 and the recovery.
10 a.m.: Biden and Vice President Kamala Harris will receive their daily briefing.
12:20 p.m.: Biden and Harris will have lunch.
12:30 p.m.: Jen Psaki will brief reporters.
1 p.m.: Biden will get a Covid briefing. 
2:30 p.m.: Biden will leave the White House for Camp David.
3:45 p.m.: Biden will receive his economic briefing at Camp David.
The New Yorker 
→ "You're Gonna Have a Fucking War": Mark Milley's Fight to Stop Trump from Striking Iran," by Susan Glasser
WaPo
→ "Records reveal how Haitian American held in assassination probe financed a 'personal security' team," by Shawn Boburg, Anthony Faiola, Samantha Schmidt and  Dalton Bennett 
→ "Matt Gaetz's campaign paid $25,000 to lawyer who represented Jeffrey Epstein," by Isaac Stanely-Becker
→ "Canada may open its borders to vaccinated travelers by early September, Trudeau says," by Erin Cunningham
→ "'I Alone Can Fix It' book excerpt: The inside story of Trump's defiance and inaction on Jan. 6," by Phil Rucker and Carol Leonnig
WSJ
→ WSJ Editorial Board: "Congress Goes AWOL on Global Taxation"
AP
→ "The long, 'surreal' days of the runaway Texas legislators," by Ashraf Khalil
Why Facebook supports updated internet regulations
2021 is the 25th anniversary of the Telecommunications Act of 1996, the last major update to internet regulation. It's time for an update to set clear rules for addressing today's toughest challenges.
See how we're taking action on key issues and why we support updated internet regulations.
Enjoying Punchbowl News AM?
Subscribe 10 friends with your unique link (below) and get a Punchbowl News hat!
You currently have: 0 referrals
Was this email forwarded to you? Sign up https://punchbowl.news
Punchbowl News All Rights Reserved
You are subscribed to our Punchbowl News AM list
Crucial Capitol Hill news AM, Midday, and PM—5 times a week
Join a community of some of the most powerful people in Washington and beyond. Exclusive newsmaker events, parties, in-person and virtual briefings and more.
Subscribe to Premium
The Canvass Year-End Report
And what senior aides and downtown figures believe will happen in 2023.
Check it out
A message brought to you by SourceAmerica
SourceAmerica® connects government customers and other organizations to a national network of nonprofit agencies that hire a talented segment of the workforce – people with disabilities. To learn more, visit SourceAmerica.org.