Every issue of the Punchbowl News newsletter, including our special editions, right here at your fingertips.
Join the community, and get the morning edition delivered straight to your inbox.
PRESENTED BY PRATT & WHITNEY, AN RTX BUSINESS
BY JOHN BRESNAHAN, ANNA PALMER AND JAKE SHERMAN
WITH MAX COHEN AND CHRISTIAN HALL
Happy Tuesday. Jeff Bezos is going to space today. But we're going to take stock of where we are with the bipartisan Senate infrastructure talks. 
Last night, Senate Majority Leader Chuck Schumer filed cloture on a bill that could become the vehicle for a nearly $1 trillion infrastructure bipartisan package that gets President Joe Biden's approval. Or maybe not.
Schumer has set a procedural vote Wednesday for the Senate to begin debating this issue on the floor. It will require 60 votes; Schumer needs to get 10 Republicans and all 50 Democrats to invoke cloture on the proposed bipartisan compromise package. He'd use this compromise plan to amend the underlying legislation, a $760 billion surface transportation and water infrastructure measure approved by the House.
But Schumer faces a big hurdle — he needs Senate negotiators to finish talks on the compromise package, and we're not sure they will. The two sides still haven't figured out how to pay for their plan, and they're still squabbling about the policy particulars.
Schumer had previously set a hard deadline for Wednesday for the bipartisan group to wrap up their talks. He's now giving the group at least one more day — until Thursday — to get a deal. 
Sen. Rob Portman of Ohio, the lead GOP negotiator, told reporters about a seemingly endless series of Zoom calls over the weekend and into Monday night. White House officials are participating in those calls too.  Portman has also asked for a meeting of the "G20" group — the 10 Republicans and 10 Democrats who originally began these negotiations — on Wednesday as a last-ditch effort to find a deal. But even he won't vote for cloture "on something we haven't accomplished yet."
"It's absurd to move forward with a vote on something that's not yet formulated," Portman said.
If they somehow get a deal by Thursday, Schumer will amend the underlying bill with that compromise. If not, Schumer has offered to take already existing Senate legislation that the bipartisan group supports and add it to the underlying bill.
So we were gaming out Monday night about how this all may unfold. There are three distinct paths here worth considering:
1) Schumer can't get 60 votes for cloture, and a bipartisan deal is nowhere close. This seems by far the most likely scenario. Both sides have turned more bearish in recent days about the prospect for an agreement. Dynamics shift quickly in negotiations like this one, so we're well aware that this could all change. 
If Schumer fails to get 60 votes for cloture on the motion to proceed and a bipartisan deal doesn't come together, he's in a challenging spot. For Democratic moderates, however, this is the worst scenario. Remember, Biden's agenda at the moment hinges on Congress passing a bipartisan infrastructure bill and then Democrats hanging together to clear a big, multi-trillion dollar budget resolution that calls for huge changes to the social safety net. But can Democratic moderates vote for the latter without having passed the former?
Even worse, the budget resolution could balloon from $3.5 trillion to north of $4 trillion because Senate Democrats would have to include "hard" infrastructure funding on top of the "human infrastructure" portion. Good luck getting moderate Democrats in the House and Senate to vote for $4 trillion. Schumer and Speaker Nancy Pelosi will need to begin meeting quickly to hash out a budget plan, and Schumer will have to prep for a vote-a-rama on the Senate floor.
Schumer will say something like this to his colleagues: Democrats gave Republicans every opportunity to both come to a bipartisan agreement. Republicans said no. As majority leader, my job is to get the Senate moving forward on the next order of business, which is the budget resolution. And as Democrats, we need to deliver on what we promised to the American people.
2) There aren't 60 votes for cloture, but a bipartisan deal is still possible. Ok, so let's say talks between the bipartisan group of senators are chugging along but not wrapped up, and Schumer forces a cloture vote Wednesday and it fails. The Senate can't proceed onto the bill, but a deal remains somewhat likely.
At that point, we have a new operative question: How much longer does Schumer give the bipartisan group? He's already given them several weeks, how much more time do they need? The clock will be ticking and Schumer needs to get moving on the budget resolution and other matters, like funding the government and raising the debt ceiling. That whole governing thing.
We assume that Schumer wouldn't give the group that much leeway here. He'd have to be very sure a deal is achievable.
3) Cloture is invoked and the Senate moves forward on the bipartisan package. And here we have arrived at the least likely scenario — somehow a deal gets wrapped up in the next few days, and Schumer gets 60 on cloture. This would be a major win for the New York Democrat and the Senate's moderates, yet it seems like the least plausible outcome right now. 
It would still take a week or more — probably two — for the Senate to finish work on the bipartisan package. Then there would be the question of how House Democrats would react, as they passed a very different piece of infrastructure legislation. They're already unhappy with having to wait for the Senate on this issue anyway, as House Transportation and Infrastructure Committee Chair Peter DeFazio (D-Ore.) made clear yesterday, per Politico.
In the meantime, Schumer would move onto the budget resolution, since he'd have the bipartisan deal in his back pocket. 
The bottom line is this: Each day between now and Thursday is critical.
Here's what you should be looking for in the immediate future: 
→ The negotiators — Portman, Sen. Kyrsten Sinema (D-Ariz.) and the White House — need to come to an agreement on how to pay for this legislation.
→ Then the bipartisan group will need buy-in from the 20 other senators involved — especially 10 Republicans to invoke cloture — on the pay fors. 
→ Party leaders on both sides would have to feel comfortable with it.
→ They'd need to finish drafting a bill and then get a score from the Congressional Budget Office. Several Republicans have told us they won't vote for cloture until they see a CBO score.
August at risk? All of the sudden, the August recess could be squeezed down because of the looming budget resolution fight. 
The Senate is already scheduled to be in session the first week in August. If Schumer and Democrats can get the budget resolution through, the House would then almost certainly need to come back into session to pass it. The House is currently set to leave town on July 30 and not return until Sept. 20. That would have to change.
The Coverage
→ WaPo's Seung Min Kim: "Infrastructure deal in precarious state as endgame nears"
→ NYT's Jim Tankersley and Emily Cochrane: "Senators and Biden Aides Struggle to Save Bipartisan Infrastructure Deal"
→ AP's Josh Boak and Alexandra Jaffe: "Biden wants spending to boost economy, but GOP to block vote"
We've created a network with one simple purpose – to keep customers connected. Since 2017, Comcast has invested $15 billion to grow and evolve a smart, reliable network. Since working, learning, and entertaining moved to our homes last year, our coverage has helped millions of people stay connected when they need it most. Learn how the network keeps you connected. 
Pair of Senate Republican groups have $33M on hand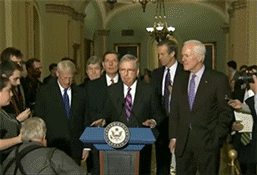 Senate Leadership Fund and One Nation — the Senate GOP super PAC and related non-profit entity — raised close to $25 million and have $33 million on hand after the first half of this year. This is more total cash on hand than the two groups have ever had at this point in an off year. This represents an uptick in GOP enthusiasm, the group says.
"This record-breaking haul reflects growing concern over the Democrats' economically risky agenda, and it gives us the firepower we need to push back against it," said Steven Law, who leads the groups.
SLF is the super PAC, and it raised $4.4 million in the first six months of the year. This is down somewhat from the $5.4 million it raised in 2019 and $8.2 million it raised in 2017. The group says this is due to the Georgia Senate runoffs extending into the new year. SLF has $6.5 million on hand.
One Nation, which is not required to disclose its donors, raised $20.4 million — $5 million more than at this point last cycle. One Nation has $27 million on hand.
Immigration groups drop ads in the wake of Texas DACA decision
Multiple immigration advocacy groups are launching ad campaigns to push Congress on an immigration deal after a federal judge in Texas ruled that DACA is illegal. We are Home and United We Dream Action are launching a six-figure TV and digital ad buy inside the Beltway called "Devastating" to highlight the urgency for congressional action following the Texas court ruling.
At the same time, Building Back Together, a nonprofit organization formed by Biden allies, is launching another six-figure TV and digital ad buy that will run on Texas and D.C. cable calling on Congress to act.
Kevin McCarthy appearing at a fundraiser for Eric Cantor-linked group
Young Guns assemble!
House Minority Leader Kevin McCarthy is appearing at an event with Eric Cantor for VA Majority Makers, a group aimed at helping rebuild the Virginia Republican bench.
The event is Wednesday evening at Washington Golf and Country Club in Arlington. Tickets to see Cantor and McCarthy reunited range from $250 to $1,000 per person.
Cantor was instrumental in McCarthy's rise. Cantor appointed the California Republican to be his chief deputy whip in 2008. When Cantor retired from Congress following his embarrassing defeat in a 2014 GOP primary, McCarthy moved up in the leadership. And here we are.
Cantor is a vice chairman at Moelis and Co., an investment bank.
Punchbowl News is growing!
We're super excited to announce that Leigh Steinberg is joining us as business operations manager. Steinberg, who most recently was finance director for Rep. Mikie Sherrill (D-N.J.), has also worked at EY-Parthenon as an associate. She is a 2018 Dartmouth grad and grew up outside of Philadelphia. Leigh is standing between Jake and Bres. 
8:45 a.m.: Jordan's King Abdullah will have breakfast with Vice President Kamala Harris at the VP's residence.
9:15 a.m.: President Joe Biden will get his intelligence briefing.
10 a.m.: House Minority Whip Steve Scalise, House Republican Conference Chair Elise Stefanik and Rep. Tony Gonzalez (R-Texas) will hold a press availability.
10:15 a.m.: House Democratic Caucus Chair Hakeem Jeffries and Vice Chair Pete Aguilar will hold an availability after their party meeting. 
11 a.m.: Senate Majority Leader Chuck Schumer and Speaker Nancy Pelosi will hold a press conference "with mothers helped by the child tax credit." This is in the Rayburn Room, and represents the first chance to see Pelosi and Schumer together in a while. 
11:15 a.m.: The Tampa Bay Buccaneers will visit the White House to celebrate their Super Bowl win. 
11:45 a.m.: Jen Psaki will brief.
3:15 p.m.: Biden will host a Cabinet meeting.
2020 was historic. In the span of four months in the wake of pandemic lockdowns, Comcast's network experienced almost two years' worth of traffic growth. 2020 saw a 38% increase in downstream traffic and 56% increase in upstream traffic over 2019 levels. Comcast's network was prepared. Since 2017, Comcast has invested $15 billion to grow and evolve a smart, reliable network that helped millions of people stay connected when they need it most. Learn how the network keeps you connected.
Enjoying Punchbowl News AM?
Subscribe 10 friends with your unique link (below) and get a Punchbowl News hat!
You currently have: 0 referrals
Was this email forwarded to you? Sign up https://punchbowl.news
Punchbowl News All Rights Reserved
You are subscribed to our Punchbowl News AM list
Crucial Capitol Hill news AM, Midday, and PM—5 times a week
Join a community of some of the most powerful people in Washington and beyond. Exclusive newsmaker events, parties, in-person and virtual briefings and more.
Subscribe to Premium
The Canvass Year-End Report
And what senior aides and downtown figures believe will happen in 2023.
Check it out
PRESENTED BY PRATT & WHITNEY, AN RTX BUSINESS