Every issue of the Punchbowl News newsletter, including our special editions, right here at your fingertips.
Join the community, and get the morning edition delivered straight to your inbox.
A message brought to you by SourceAmerica
SourceAmerica® connects government customers and other organizations to a national network of nonprofit agencies that hire a talented segment of the workforce – people with disabilities. To learn more, visit SourceAmerica.org.
BY JOHN BRESNAHAN, ANNA PALMER AND JAKE SHERMAN
WITH MAX COHEN AND CHRISTIAN HALL
As President Joe Biden struggles with the crisis in Afghanistan — by far the most serious foreign policy dilemma he's faced during nearly seven months in office — we're struck by how many contrasting threads are playing out at once. 
All of these can be true at the same time:
→ The Feb. 2020 agreement between former President Donald Trump's administration and the Taliban was a deeply flawed one. Trump and former Secretary of State Mike Pompeo have defended the deal as calling for a "conditions-based withdrawal," but some of the most important provisions were included in classified annexes never seen by the American public. Trump also excluded former Afghan President Ashraf Ghani and his government from the talks leading up to the original agreement. There's no way to judge whether this current debacle would've happened under Trump.
→ Biden's execution of the Afghanistan withdrawal has been awful. Biden was given a poor hand on Afghanistan by Trump, and he's played it poorly. There has to have been a better way. 
→ Americans are tired of the war, and the White House knows this. Biden administration officials believe they have public sentiment on their side, despite the nightmarish scenes coming out of the Kabul airport. 
→ It's absolutely heartbreaking that thousands of Afghans who risked their lives to help Americans and NATO forces may be forced to remain in the country, facing potential reprisal from the Taliban. Lawmakers in both parties are deeply focused on this, making personal appeals to administration officials for help.
→ Republicans are going to use this debacle to bash Biden and Vice President Kamala Harris over the head for a long time to come. Republicans continue to angrily criticize Biden, saying he has no idea what he's doing and failed todevelop or carry out an adequate withdrawal plan. 
→ Biden has portrayed himself as a "wise old man" on foreign policy for years, but this episode lays bare how difficult being commander-in-chief actually is. Playing president, or even campaigning for the job, is a far cry from being president.
The Coverage:
→ NYT: "U.S. Veterans View Afghan Collapse With Anguish, Rage and Relief," by Dave Phillips
→ NPR: "6 Political Takeaways For President Biden From The Chaotic Afghanistan Withdrawal" by Dominic Montanaro
→ WaPo: "Last images from the Afghan war capture a 20-year failure to acknowledge how badly the conflict was going," by Greg Jaffe and Greg Miller
→ WaPo: "​​As Afghanistan collapse triggers desperate scenes, European officials vow to avoid another 2015," by Loveday Morris in Berlin and Reis Thebault in Brussels
→ WSJ: "Kabul Under Taliban Control: Checkpoints, Beatings, Fear," by Sune Engel Rasmussen, Ehsanullah Amiri and Alistair MacDonald
→ WSJ Editorial Board: "Biden to Afghanistan: Drop Dead"
Ross Wilson, the U.S. chargé d'affaires in Kabul, tweeted late last night that he is still in Kabul. 
Internet regulations are as outdated as dial-up.
The internet has changed a lot in the last 25 years. That's why Facebook supports updated internet regulations to address today's toughest challenges, including:
– Combating foreign election interference
– Protecting people's privacy
– Allowing people to safely transfer data between services
– Reforming Section 230
Pelosi charges ahead with budget with W.H. focused on Afghanistan
Next week is a pivotal moment for President Joe Biden's domestic agenda as the House prepares to vote on a $3.5 trillion budget resolution. Passing that measure — which passed the Senate on party line 50-49 vote Aug. 11 — will allow Democratic congressional leaders to start assembling a massive reconciliation bill this fall that includes big chunks of Biden's American Jobs Plan and American Families Plan (some pro-Democratic groups are calling this the "American Jobs and Families Plan" now). Combined with the $1 trillion Senate bipartisan infrastructure bill, this would be an enormous legislative win for Biden and the Democrats, one that the president and party bosses hope saves their embattled Hill majorities in 2022.
The problem is that right now, there aren't enough Democratic votes to pass the budget resolution. A serious split has emerged between House Democratic moderates and progressives on these proposals, one that threatens to imperil passage of both measures. See our interview with Rep. Josh Gottheimer (D-N.J.) below for more on this.
Speaker Nancy Pelosi isn't backing down on her plan to bring the bipartisan infrastructure bill up for a vote only after the Senate passes the reconciliation bill, which will be sometime this fall. Moderates are demanding a vote on the infrastructure bill now, asserting they won't vote for the  budget resolution until infrastructure passes. They're in a showdown now.
Pelosi doesn't want to hear it. She is planning to bring up the rule for the budget resolution early next week. She has offered to have that rule spell out the floor debate for both measures as a concession to moderates. Moderates haven't been moved by this offer.
Basically, Pelosi is daring moderates to vote against the budget resolution, and the rest of the House Democratic leadership is with her.
"It is essential that we show results," Pelosi told other House Democratic leaders during a call on Monday night, according to a source familiar with the discussions "This is no time for amateur hour." Pelosi is clearly trying to isolate Gottheimer and his crew and lay the blame at their feet.
Pelosi added: "For the first time America's children have leverage. I will not surrender that leverage."
Hat tip to our friend Heather Caygle of Politico, who tweeted about these Pelosi comments last night.
Yet with this intraparty battle brewing, the president and top White House officials are currently overwhelmed by the Afghanistan crisis.
That's not surprising, considering the gravity of what's transpiring in Kabul and throughout Afghanistan. But for Biden and his senior staff, the timing of this foreign policy disaster couldn't occur at a worse time.
The White House already faces huge challenges as Covid surges across the country, and the migrant crisis at the U.S.-Mexico border continues to grow. Now throw in the Afghanistan debacle, as well as a potentially protracted battle on Capitol Hill over Biden's agenda, the debt limit, government funding and what's going to happen to the party in next year's midterms. Biden's August just keeps getting longer.
Rep. Josh Gottheimer on his tussle with the Democratic leadership
New Jersey Rep. Josh Gottheimer is in a staring contest with his leadership. He and eight other Democratic lawmakers have demanded a vote on infrastructure before they consider voting yes on the budget. Speaker Nancy Pelosi appeared to call them amateurs yesterday on a conference call. Here's Gottheimer and Jake talking about his game plan and strategy.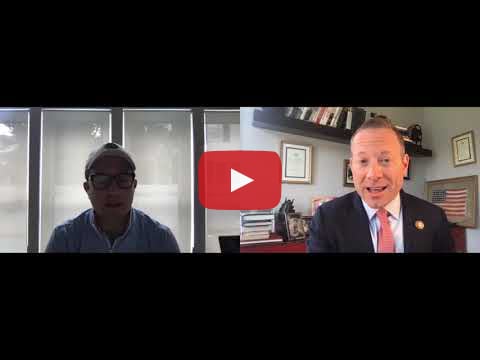 Republicans try to cash in on Biden's Afghanistan announcement
Here is Rep. Brian Mast (R-Fla.) and the NRSC raising money off of the Afghanistan situation.
And here is Mike Pompeo's PAC.
President Joe Biden is at Camp David. 
1:30 p.m.: Jen Psaki and Jake Sullivan will brief.
NYT
→ "U.S. to Advise Boosters for Most Americans 8 Months After Vaccination," by Sharon LaFraniere
→ "Man Pleads Guilty to Threatening to Kill Newly Elected U.S. Senator,", by Eduardo Medina
WaPo
→ "First-ever water shortage declared on the Colorado River, triggering water cuts for some states in the West," by Karin Brulliard and Joshua Partlow in Boulder, Colo.
AP 
→ "Tropical storm drenching earthquake-stricken Haiti," by Mark Stevenson and Evens Sanon in Les Cayes, Haiti
Politico
→ "Pence convenes GOP donors, luminaries at Jackson Hole retreat," by Alex Isenstadt
Why Facebook supports reforming Section 230
The internet has changed a lot in the last 25 years—the last time comprehensive internet regulations were passed. There are more ways to share than ever before—and more challenges, too.
That's why we support updating internet regulations—including reforming Section 230, to set standards for the way larger tech companies enforce rules about content.
Learn more about the steps we've taken and why we support updated internet regulations next.
Enjoying Punchbowl News AM?
Subscribe 10 friends with your unique link (below) and get a Punchbowl News hat!
You currently have: 0 referrals
Was this email forwarded to you? Sign up https://punchbowl.news
Punchbowl News All Rights Reserved
You are subscribed to our Punchbowl News AM list
Crucial Capitol Hill news AM, Midday, and PM—5 times a week
Join a community of some of the most powerful people in Washington and beyond. Exclusive newsmaker events, parties, in-person and virtual briefings and more.
Subscribe to Premium
The Canvass Year-End Report
And what senior aides and downtown figures believe will happen in 2023.
Check it out
A message brought to you by SourceAmerica
SourceAmerica® connects government customers and other organizations to a national network of nonprofit agencies that hire a talented segment of the workforce – people with disabilities. To learn more, visit SourceAmerica.org.